The Royal Canadian Regiment and
The First World War - 1914-1919
Flesquieres Hill British Cemetery
Flesquieres is a village at the junction of the D92 and D89 roads, about 5 kilometres south-west of the main road from Cambrai to Bapaume. The Cemetery lies a little east of the village on the south (right) side of the D92 road to Cantaing.
For more information - CWGC
Royal Canadians buried at the Flesquieres Hill British Cemetery are listed below.
Regt. No.
Rank.
Given Names.
Surname.
Date of Death.
Remarks.
CVWM/CWGC Link; Grave Ref.
228341
Pte
John
McCOACH
20-Oct-16
CVWM
IV. C. 10.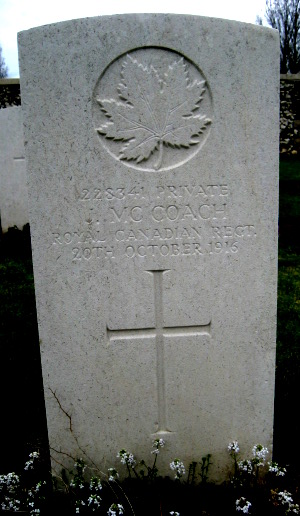 Photo by Maj G., while serving at SHAPE in Mons Belgium.
Pro Patria