The First World War
Soldiers and Non-Commissioned Officers
of The Royal Canadian Regiment
---
477974 Sergeant George Webb
Sergeant George Webb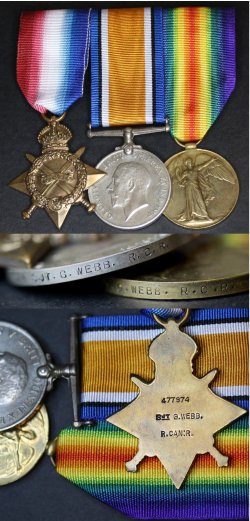 First World War medals awarded to 477974 Sergeant George Webb.
By: Captain Michael M. O'Leary, The RCR
George Webb was born at Salford, Lancashire, England on 27 Jul 1881.
Before transferring to the Canadian Army, Webb had previously served in the British Army with the 3rd Battalion, Manchester Regiment. He was one of 156 men and boys taken on strength from the Manchesters in September 1907.
George Webb served with the 3rd Battalion, Manchester Regiment, for 5 years, 124 days before coming to Canada in January 1907. Between 1902 and 1907, the 3rd Manchesters served in South Africa from 1902 until 1906 and then returned to England.
The Manchester Draft
"The difficulty of securing in Canada the number and type of recruits required increased, with the result that a policy of recruiting in England was adopted. As the fruit of this plan, 151 men and 5 boys arrived in Canada and were taken on the Regimental strength on January 12, 1907. Subsequently they were posted to the companies in Halifax." (The Royal Canadian Regiment, 1883-1933; Fetherstonhaugh, 1936)
"On the 19th November, 1906, there landed at Southampton, from South Africa, about 500 officers, N.C.O.'s and men of the 3rd Bn. Manchester Regiment en route to the 2nd Bn. stationed at The Channel Isles. They were for disbandment under Lord Haldane's new army scheme.
"About that time, Colonel Gwatkin, who was employed on the Staff at Ottawa, and was spending some time in England, thought that he would like to secure about 150 N.C.O.'s and men from his old battalion, the 3rd Manchesters whom he had commanded, to volunteer to go out to Canada, and re-inforce The Royal Canadian Regiment stationed at Halifax.
"Consequently after the usual formalities between the War Office and the Militia Council had been gone through, the Officer commanding the 2nd Bn. The Manchesters called for 150 volunteers.
"About 180 responded, but that was too many and they were all assembled in the gymnasium at Fort George and an elimination contest took place which reduced the draft to about 160 all ranks.
"They were given five weeks furlough, and were ordered to report at Ashton-under-Lyne barracks, on 7th January, 1907.
"They left Liverpool on the S.S. Tunisian on 11th January [1907], and arrived at Halifax, on 21st January, where they were met with the Band and a Guard of Honour from the Royal Canadian Regiment. The Officers accompanying them were Colonel Gwatkin and Lieut. Walkley.
Soldiers of The RCR in the Great War;
"Some of those in civil life residing in Halifax are Ex - C.S.M. Webb. (Buggy) ...." (The Connecting File, Volume V, No. 4; December 1926)
One of 156 men and boys taken on strength from the Manchesters in September 1907, George Webb enlisted in The RCR at Ashton-under-Lyne. His Canadian Permanent Force regimental number was 9223.
Webb's enrolment was recorded in the regimental ledger, Army Book 358. A 25-year-old soldier, and an iron-turner by trade, Webb was single on arrival at Halifax. His religion is recorded as Church of England.
George Webb was admitted to hospital in Halifax on 15 Dec 1908 for a "wound of scalp." He was discharged on 21 Dec after 7 days in hospital.
On 10 February 1910 he married Margaret Matilda McLaughlin who was taken on the regimental strength and initially they resided at C1 Wellington Barrack, Halifax, N.S., Canada.
At the outbreak of the Great War, Canada created the Canadian Expeditionary Force under the control of Sir Sam Hughes. The RCR was originally employed as a garrison battalion at Halifax and was then dispatched in August 1914 to relieve the 2nd Battalion, Lincolnshire Regiment, at Bermuda. A Regimental Depot remained at Halifax throughout the War.
9223 Sgt George Webb is listed on the nominal roll for the RCR in Bermuda. (Public Archives of Nova Scotia #Mg 23, Vol 29, #39)
CEF_Service
George Webb attested for overseas service in the First World War with The RCR at Halifax, Nova Scotia, on 23 Aug 1915. This attestation by the Regiment was taken after serving in Bermuda from 14 September 1914 until 23 August 1915.
CEF Soldiers of the First World War database - Webb, George
Once in Europe with the Regiment, George Webb disembarked at Boulogne with The RCR on 1 Nov 1915.
In mid December, while the Regiment was providing working parties every night at La Clytte, Webb was severely reprimanded for Absent from Quarters from 11.00 a.m. to 1.30 p.m. on 14 Dec 1915. His service after that incident is unremarked until he was granted nine days leave in the first half of April 1916.
Having returned to duty, Sergeant Webb was struck Strength to R.C.R. & P.P.C.L.I. Depot at Shornecliffe on 27 April 1916. On 29 April 1916, Webb was Severely Reprimanded for when "commanding a guard, leaving his guard."
On the night of 2 June 1916, while the Regiment was in the trenches in the area of SANCTUARY WOOD and MAPLE COPSE, enemy bombardments and assaults were sustained throughout the 2nd and 3rd. George Webb was among those wounded and was admitted to No. 10 Casualty Clearing Station (C.C.S.) on 3 June 1916 with gun shot wounds (G.S.W.) of the back and foot. Within days he was transferred to No. 8 Ambulance Train, No. 14 General Hospital and then to the Hospital Ship St. Denis.
On 7 Jun 1916, Webb was admitted to the County of London War Hospital at Epsom. On the 18th of July he was transferred to C.C. Hospital Woodgate Park where he spent 55 days until 7 Sep 1916. His medical records note on discharge that he "claims that after a long route march with a heavy pack he fell on the ground unconscious. Says this is the second attack. Was not seen either time by a doctor. Has never had such an attack in hospital. Says he is troubled by headaches. On physical exam except slight systolic murmur at base nothing found. Smokes about 3 packages cigarettes daily and has drunk a good deal. Apparently fully healthy. Returned to duty."
George Webb's service record in annotated that on 4 August 1916 he was struck off strength (S.O.S.) and ceased on command 8th Cadet Bn on appointment to a Commission in the Imperial Army and discharged from the C.E.F. This entry is perhaps in error as he does not appear to be gazetted, nor is there any clear notation of his being returned to duty with the Regiment.
From 3 to 10 July 1917, The RCR was in the line at AVION. The War Diary notes a few killed and wounded each day through this period. Among these was Webb, who was admitted to the Bramshott Military Hospital on 5 July 1917 with gun shot wounds of the back and foot. Webb was also diagnosed with Epilepsy during this stay in hospital. His medical case Sheet provided the following:
Born England in 1881 and lived here until 1890 working as Iron Turner. At this time he joined the army and in course of a year went to Africa - Boer War - six years here (England?) - then to Canada where he has been in R.C.R. in Halifax.
Was never sick before he enlisted - nor in Africa, nor in Canada.
Left Canada Oct 1915. To France Nov 1915 - Invalided to England June 1916. Shrapnel wounds Right Side (not penetrating ribs) and left foot. Not ill in France. Returned to duty about Oct 1916.
3rd Aug 1917 - 2nd Can. Command. On this date after march with heavy pack - misty, wet weather - he fell suddenly and didn't know he was going. This was the 2nd such attack he has had. The first was at Shoreham where he was working in the washhouse he fell just the same. He was not seen either time by a doctor. It was all over in an hour and he would feel fit after this. He has slight headaches, especially in the sun on a hot day. His right knee was injured in the trenches and he suffers much pain here on damp days.
Present Condition - Has mitral systolic murmur at apex conducted into apilr (?). Impulse - 5th space just within. There are stray bronchial whistling roles throughout lungs. Says he has had morning cough for 5 mos. and has been shot, wounded, 12 mos. Smokes 3 pkgs cigarettes daily. Has drunk a good deal, mostly beer. Reflexes normal.
On discharge from hospital at, Webb was attached to the 32 Canadian Convalescent Depot (C.C.D.) for Physical Training from 7 September 1917 until struck off strength to the R.C.R. on 10 March 1917. He was later taken on the permanent cadre of #2 C.C.D. on 9 April 1917.
Webb sailed from England aboard the S.S. OLYMPIC on 31 January 1918. He arrived in New York on furlough on 10 February and was retained in Canada for Instructional purposes effective 22 Apr 1918. Webb was transferred to The RCR Base Depot at Halifax to assume his new duties for the rest of the War.
According to his C.E.F. Discharge Certificate, 477974 Sergeant George Webb was discharged from the service on 11 June 1919 on Demobilization.
At demobilization, Webb was described as: age, 37; marks or scars, tattoo marks on arms (girl (right), flowers (left)); height, 5 ft 6 in; complexion, fresh; eyes, hazel; and hair, dark brown.
CEF_Pay
George Webb served as a Sergeant in the First World War and was paid at a daily rate of $1.35 plus the following allowances:
15 cents daily Field Allowance
25 cents per day Ration Allowance
$7.00 monthly Permanent Force Allowance
He had a monthly pay assignment (including Ration Allowance) to his wife, Mrs. Margaret Webb, who was recorded in his pay records as residing at Pavilion Barracks, Halifax, N.S. His Assigned Pay varied between $34 and $64 per month with a total sent home of $1367 during the War. He ceased his Pay Assignments on 31 May 1918 when he returned to Canada on Instructional Cadre. On demobilization, Webb received a War Service Gratuity of $600.
Post-War
George Webb was discharged from the Canadian Expeditionary Force on 11 June 1919 at Halifax, N.S. His rank and character on discharge at demobilization were Sergeant, and "Good." He was one of the few soldiers who chose to remain in uniform and was accepted for reenrolment in the post war Permanent Force.
George Webb served with "A" Company, The RCR, stationed in the Halifax Citadel. His post-war regimental number was 12140.
On 2 October 1919 he was admitted to Camp Hill Hospital, the veterans' hospital in Halifax. He was described on admission as "an old soldier recovering from an attack of alcoholism" and it was also noted "this man should never have been passed into the Army". Webb was Discharged to Duty on 6 October 1919.
Sergt. Instr George Webb was appointed to be an Acting Company Sergeant Major Instructor (Warrant Officer, Class II) with pay, on 30 May 1925.
The Connecting File, Vol. V., No. 3, September 1926, reporting on the regimental situation in "A" Company at Halifax, N.S. noted that: "C.S.M.I. Webb, retired to pension 12th September, 1926, on completion of twenty years' service. We wish him luck in civil life."
George Webb died on 10 March 1936.
Pro Patria