The First World War
Soldiers and Non-Commissioned Officers
of The Royal Canadian Regiment
---
477040 Sergeant Harry James Barlow, M.M.
By: Captain Michael M. O'Leary, The RCR

First World War Military Medal awarded to 477040 Sergeant Harry James Barlow, M.M., The R.C.R.
Harry James Barlow was born on 18 October 1895 at Winsford, Cheshire, England. At the time of his attestation for the Canadian Expeditionary Force, he gave his trade as Clerk.
Family
On the Regiment's nominal roll for Bermuda (dates 19 Nov 1914), Barlow listed his mother as his next of kin; Mrs Bratt (Mother), "Woodlands", Hartford, Cheshire, England. By the time he attested for overseas service in August 1915, he identified his sister as his next of kin; Miss S. Barlow (Sister), "Woodlands", Hartford, Cheshire, England.
Prior Service
Before the First World War, Harry Barlow had previously served with the 24th Kent Regiment, a unit of the Canadian Militia at Chatham, Ontario.
Harry James Barlow, regimental number 16006, joined The Royal Canadian Regiment in Bermuda, attesting for service with the Regiment on 10 November 1914. Examined on 3 November 1914 at Prospect, Bermuda, Barlow was described as: age 19 years, trade farmer, height 5 ft 7 in, weight 134 1/2 lbs, chest measurement 36 in, physical development good. Barlow reattested for overseas service at Halifax, NS, Canada, on 23 August 1915.
Bermuda 1914-15
In August 1914, it was decided by the Government of Canada that The Royal Canadian Regiment would proceed to Bermuda as a garrison battalion in order to relieve the Lincoln Regiment for service in France. The RCR, then at a strength of approximately 650, received a draft of 400 volunteers from Valcartier Camp, Quebec, where the First Canadian Contingent was forming, to bring it up to strength for duty in Bermuda. This draft of 400 men arrived in Halifax on the S.S. CANADA of the White Star Dominion Line, and on 5 September 1914 the unit embarked on the same vessel for Bermuda.
Barlow arrived in Bermuda with The RCR on 14 September 1914 with a draft sent from Canada to reinforce the unit for its garrison duties on the island. He was formally taken on strength of The Royal Canadian Regiment in Bermuda on 10 November 1914. He was given the regimental number 16006.
In August 1915, The RCR was relieved in Bermuda by the 38th Canadian Infantry Battalion, which arrived aboard the S.S. CALEDONIAN on August 12. On the following day The RCR embarked on the CALEDONIAN and sailed for Halifax. While in Halifax, the unit was reattested for overseas service with the Canadian Expeditionary Force and on 26 August sailed once more aboard the CALEDONIAN, this time for Plymouth, arriving on the 6th of September.
On attesting for overseas service, Harry Barlow was given the new CEF regimental number 477040 in place of his Permanent Force number.
CEF Service
Late on the 1st of November, 1915, The Royal Canadian Regiment disembarked at Boulogne after a rough channel crossing that left many men sea-sick. Moving forward over the next few days, the Regiment would be employed as Corps Troops before joining the 7th Brigade of the newly forming 3rd Canadian Division. The RCR went into Corps Reserve on 19 November and was employed provided working parties well into December, during which the Regiment suffered its first casualties of the War. By the start of 1916 The RCR was starting to take its place in the forward lines.
Harry Barlow is mentioned in the Regiment's history during operations at Mount Sorrel in early June 1916:
Throughout the engagement up to this time, the work of the non-commissioned officers of the Regiment had been of the highest order. In reporting upon their efforts later, officers found difficulty in choosing those deserving special mention, but a number carried out their duties in a manner so outstanding that mention of their names was inevitable. Among such were: Company Sergt.-Major A. A. Giles, whose leadership set a splendid example to all under his command; Corporal H. Brealey, whose bravery inspired his section during the heaviest stage of the German attacks; Sergt. J. Hoban, who went over the parapet in daylight and captured a German scout; Sergt. S. Flansberg, whose gallantry in the action was continuous; Sergt. A. Hunt, who similarly displayed bravery and devotion to duty during the whole engagement; Sergt. W. Lowe, who supplied a number of advanced posts with rations under heavy fire; Lance-Corporal P. Ball and Lance-Corporal H. J. Barlow, who again and again repaired broken telephone wires, ignoring danger; Corporal J. H. Williams, of the Signalling Section, who helped in caring for the wounded; and Corporal C. H. Pope, who, under fire, delivered messages of the utmost importance. Bravery and devotion to duty were also shown, among others, by Privates C. Mattisson, F. G. Walker, W. Dow, H. F. Dorman, L. F. Lally, P. E. E. Vickery, W. E. Bryan, G. S. Applegate, J. W. Miller, G. Donnell, W. O. Crowe, B. J. Sullivan, J. H. Brandon, C. Reynolds, J. A. Bassett, J. C. MacEwan, C. Shipp, E. Barradell, E. F. Rampton, and D. J. Campbell. (pp. 233The Royal Canadian Regiment 1883-1933, by R.C. Fetherstonhaugh, 1936)
Barlow was later awarded the Military Medal, which was recorded in the Regiment's War Diary:
CEF War Diary of The Royal Canadian Regiment
"A" Camp. - 23 July 1916. - Morning spent in cleaning lines and packing. The R.C.R. relieved by 52nd. Bn. Relief completed at 1.00 p.m. The R.C.R. move off at 1.10 p.m. carrying full packs. The march to STEENVOORDE was on account of the heat and dust none too pleasant. On arrival the various companies & detachments marched to their respective billets which were found clean and comfortable. Major C.R.E. WILLETS proceeded on command to 9th. Canadian Infantry Brigade. Lieut. Col. C.H. HILL and Lieut. McCALLUM awarded the D.S.O. Lieut. PENNIMAN awarded the Military Cross. Two other ranks awarded the D.C.M. and three other ranks the Military Cross as under:-
D.C.M.

A/L/Cpl. BALL
A/Cpl. POPE

Military Medal

Pte RAMPTON
A/L/Cpl. BARLOW
Pte MILLER
Barlow's Military medal was gazetted in the London Gazette Issue 29719 published on the 22 August 1916 (Page 7 of 8). A citation for Barlow's Military Medal survives in the records held by the Library and Archives Canada. It reads:
"When communication from the Culvert to the Cellars was broken by very heavy shell fire, he went out on to the line for three times in succession under fire and repaired the line, finally desisting when the wires were cut in very small pieces. On the night of 2/3rd Jule 1916, he gathered in all the small pieces he could find, joined them together and went out under fire and laid a new line. This was also cut shortly after and from then on he acted as a Runner carrying messages from the Culvert to the front line on the right."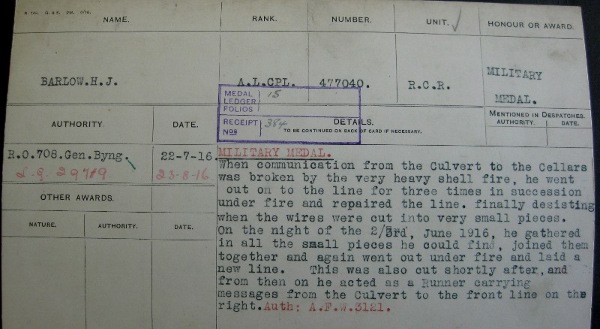 Military Medal citation card for 477040 A/L/Cpl Barlow, held by Library and Archives Canada.
Harry James Barlow was promoted to Lance Corporal on 29 September 1916 and he was later promoted to Corporal on 30 April 1917.
In November 1917, Barlow was transferred to England to the Nova Scotia Regiment Depot, and then joined a Cadet Unit of the Royal Flying Corps. He was placed on course at the R.F.C. Personnel Sup Park in South Farnborough effective 11 November 1917. By 28 June 1918, Cpl Barlow proceeded on attachment to the School of Aeronautics R.A.F. at Hastings.
Barlow was appointed to the rank of Acting Sergeant from 7 September 1918.
He struck off the strength of The RCR 20 September 1918 and recorded as "Discharged in British Isles and appointed Flight Cadet in R.A.F." He was discharged from the CEF in accordance with King's Regulations and Orders article 392 section XXV.
Pro Patria