The First World War
Soldiers and Non-Commissioned Officers
of The Royal Canadian Regiment
---
Acting Lance Corporal John Babcock
By: Captain Michael O'Leary, The RCR
(Published in the regimental journal of The RCR: Pro Patria, Issue No. 88, 2006)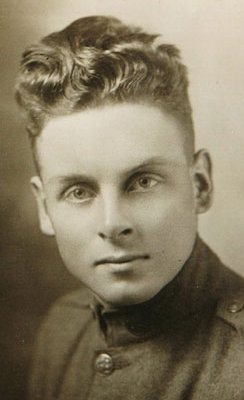 John Babcock (1920)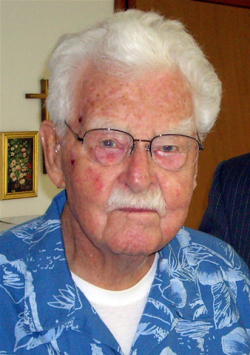 John Babcock (2007)
In the recent exchanges in the media concerning the last surviving veterans of the First World war, it was identified in a Globe and Mail article (11 Nov 2006) that one of these veterans, John Babcock, was a Royal Canadian. Since the Regiment has not maintained a comprehensive roll of those soldiers who served with the Regiment in the Great War, it was necessary to confirm this statement by examining John Babcock's CEF service records. Consequently, the service record of 835571 Acting Lance Corporal John Babcock was acquired by the Regimental Adjutant. The following is a brief summary of information from that file.
John Henry Foster Babcock attested for overseas service with the Canadian Expeditionary Force on 1 February 1916. He originally attested for the 146th Overseas Battalion, which was recruiting at Kingston, Ontario, at that time. Five foot, four and one-half inches in height, with blue eyes and fair hair, Babcock gave his date of birth as 23 July 1900. The medical examiner stated his "apparent age" at the time was 18 years and on 4 February 1916 he was pronounced fit for the Canadian Over-Seas Expeditionary Force.
With his file annotated "Not to be sent overseas until 19 years of age", John Babcock did not sail to England until October, 1916. On the 18th of October he arrived in England aboard the S.S. CALIFORNIA as a designated reinforcement for The Royal Canadian Regiment. He was taken on strength the R.C.R. & P.P.C.L.I. Depot at Caesar's Camp effective the 13th October 1917. This period of service with the R.C.R. & P.P.C.L.I. Depot, and being identified as a reinforcement for The RCR in France, confirms the John Babcock was, and remains, a Royal Canadian.
John Babcock was with the Depot until 1 January 1917 when he was transferred to the 7th Reserve Battalion, located at Seaford, near Newhaven on the southern coast of England. He was subsequently transferred to the 26th Reserve Battalion at Bramshott on 7 February 1917 and then was transferred again, this time to a "Boys", or "Young Soldiers", Battalion at Bexhill. Apparently throughout this period, Babcock's youth was catching up to him and he continued to be transferred 'away' from front line service, at least until he was of age.
Serving in the Young Soldier's battalion, John Babcock was promoted to the rank of Acting Lance Corporal (with pay) in September 1917, and then Acting Corporal (with pay) in October. In March 1918 he lost his stripes, being reduced to Private for "Neglect of Duty", although he did regain a promotion to Acting Lance Corporal again in October 1918.
John Babcock was repatriated to Canada from the Young Soldier's Battalion in November 1918. He arrived back in Canada aboard the S.S. AQUITANIA on 28 November 1918. His processing through the demobilization and release system lasted until his final discharge on 1 January 1919 at Kingston, Ontario.
At the age of 18 years, 7 months (in accordance with his Discharge Certificate), Acting Lance Corporal John Henry Foster Babcock returned to civilian life after 2 years and 11 months of service. Accepting the age recorded at Discharge as correct means that John Babcock attested for service at the age of 15 years, 8 months.
John Babcock's obituary from the Spokane Spokesman-Review:
BABCOCK, John Henry Foster John Henry Foster Babcock returned to God on February 18, 2010 at the age of 109 1/2. He was born July 23, 1900 on a farm near Kingston, Ontario in Canada, one of ten siblings, all of whom he outlived. He is survived by his loving wife, Dorothy, son J.F. "Jack" Babcock (Kay) Spokane, daughter, Sandra (Dick) Strong, Hamilton, MT. His great-great niece, Toni Scott and her son, Hunter, stepsons, Eric (Barbara) and Marc (Sue) Farden. Jack's sixteen grandchildren and his nine great-grandchildren will deeply feel his loss, as well as Jack's many friends and acquaintances. Jack served in the Canadian Army from 1916 to 1919, and was the last living Canadian veteran of World War I. He served in the United States Army 1921 to 1924 and was introduced to the West Coast by being stationed at Fort Lewis and Vancouver Barracks in Washington. He settled in Oakland, California where he met his first wife, Elsie with whom he shared 45 years of marriage. They moved to Spokane in 1932 and Jack established himself in the heating and plumbing business. After Elsie's death, Jack met his second wife, Dorothy, with whom he has been married for 33 years. A memorial service will be held in Jack's honor at Messiah Lutheran Church on February 27, 2010 at 2 PM. In lieu of flowers, a contribution to Messiah Lutheran Church, 4202 N. Belt, Spokane, WA 99205 or Hospice of Spokane, 121 S. Arthur, Spokane, WA 99210 is suggested for those wishing to honor Jack's memory.
Related links:
Pro Patria