The First World War
Soldiers and Non-Commissioned Officers
of The Royal Canadian Regiment
---
Not All Were Volunteers; The RCR and the Military Service Act
By: Captain Michael M. O'Leary, orginally published in the regimental journal of The Royal Canadian Regiment, PRO PATRIA 2006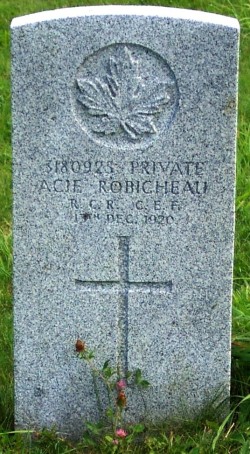 Commonwealth War Graves Commission headstone for Pte Acie Robicheau in the Plympton (Holy Cross) Roman Catholic Cemetery, Plympton, Nova Scotia. Photo by Capt Michael O'Leary
As the War entered 1917, the spectre of a decreasing supply of recruits contrasted sharply with steady losses in battle. The Canadian Corps in a war of attrition in the trenches was a voracious consumer of manpower, and the combat units needed every available recruit to maintain their strength for operations.
The solution, in many eyes, lay in adopting conscription as a necessity to continue Canada's contribution to the War. The demand for recruits was in fierce competition with essential manufacturing sectors and the ever-important agricultural industry that had many more mouths to feed than just those in Canada. Recruiting numbers, having peaked in early 1915 and late 1916 with up to 30,000 per month entering the service for the C.E.F. had trailed off drastically. By 1917, total recruiting was barely more than a third of the numbers achieved the preceding year.
Proposing conscription would set the scene for political crises, and, in the end, provide only a small number of soldiers to front line position before the end of the war. The political parties were divided in their support of conscription, and riots and demonstrations, particularly in Quebec, formed part of the people's response to the proposed bill.
Prime Minister Borden finally laid the matter before Government in June 1917 and the Military Service Act became law on August 29, 1917 with the intent to conscript 100,000 men as reinforcements for the Canadian Expeditionary Force.
As described in the official history (C.E.F. 1914-1919; Nicholson, 1962):
"The provisions of the Military Service Act applied to all male British subjects in Canada between 20 and 45 years for the duration of the war and the period of demobilization. . . . The first to be summoned were young men, either unmarried or childless widowers, between the ages of 20 and 34. The final class included married men in the 40-44 age group and widowers in that age category with one or more children. . . . The conditions of exemption were broad and liberal, and covered workers in essential war occupations, or certain specially qualified workers, those whose enrolment would result in serious hardship due to "financial or business obligations or domestic position, ill health or infirmity", and conscientious objectors"
From the official history, we have the following (abbreviated) results of the Military Service Act. Militia Department figures are given where available; otherwise figures are from the Department of Justice:
| | |
| --- | --- |
| Class 1 Registrations | 401,882 |
| Liable for Military Service | 179,933 |
| Reported for Military Service | 129,569 |
| Taken on Strength C.E.F. | 124,588 |
| Available for service with C.E.F. units | 108,288 |
| On strength C.E.F, as of 11 Nov 1918 | 99,651 |
| Proceeded overseas | 47,509 |
| Taken on strength units in France | 24,132 |
While it is not possible with available resources to determine exactly how many men conscripted under the Military Service act served with The RCR (see addendum), we do know that some did so. Our confirmation of this comes from the Roll of Honour of the Regiment in the First World War.
A comparison of service numbers, looking for the 3,000,000 and 4,000,000 series numbers that were used (though not exclusively) for Military Service Act recruits, shows twelve members of the Regiment on the Roll of Honour with service numbers in the appropriate range. Using this information to examine attestation papers on line with the Library and Archives Canada results in confirming that eight of these soldiers were indeed conscripted.
3204183 Pte George ARSENAULT was a can maker in Charlottetown PEI when he was conscripted. Almost 22 years of age and barely over 5 feet tall, he was called up on 20 February 1918. Pte Arsenault died 22 October 1918 and is buried in the Valenciennes (St. Roch) Communal Cemetery, Nord, France. (CVWM)
3180092 Pte Archie Peter DOWNEY was 20-year-old miner in Joggins Mines, NS, when he was called up on 2 April 1918. Pte Downey died 22 Oct 1918 and is buried in the Valenciennes (St. Roch) Communal Cemetery, Nord, France. (CVWM)
3204245 Pte George Urville ELLANDS was a farmer living in McNeill's Mills, PEI. He was nearly 23 years old when he was called up on 22 March 1918. Pte Ellands died 23 October 1918 and is buried in the Valenciennes (St. Roch) Communal Cemetery, Nord, France. (CVWM)
3181461 Pte Avard Reginald MADER was a 24-year-old cook living on Salter Street in Halifax, NS at the time of his call up on 6 April 1918. Pte Mader died 22 October 1918 and is buried in the Valenciennes (St. Roch) Communal Cemetery, Nord, France. (CVWM)
3180566 Pte Herbert Cecil PHILLIPS was a 23-year-old fisherman and motor mechanic living in Clarke's Harbour, NS, when he was called up on 25 February 1918. Pte Phillips died 28 September 1918 and is buried in the Raillencourt Communal Cemetery Extension; Nord, France. (CVWM)
3181140 Pte John Joseph TOBIN was a 27-year-old carpenter when he was called up for military service on 18 March 1918 at Halifax, NS. He had recorded his current address as Harbour Grace, Newfoundland. Pte Tobin died 23 October 1918 and is buried in the Valenciennes (St. Roch) Communal Cemetery; Nord, France. (CVWM)
3180329 Pte Clarence Crandel REYNOLDS, a 21-year-old machinist from Murray Harbour, PEI, was called up for military service on 15 February 1918. Pte Reynolds died 30 September 1918 and is commemorated on the Vimy Memorial; Pas de Calais, France. (CVWM)
3180925 Pte Asa (Acie) ROBICHEAU, a farmer from Ashmore, Digby County, NS, was estimated to be 25 years of age when he was called up for service on 13 March 1918. Pte Robischeau died 13 December 1920 and is buried in the Plympton (Holy Cross) Roman Catholic Cemetery, Plympton, Nova Scotia, Canada. Robicheau's late date of death indicates that he returned wounded or sick and that his death was directly attributable to his wartime service while still within the end year of 1921 for inclusion in the Commonwealth War Graves Commission records. (CVWM)
Conscripted perhaps, these eight soldiers share one significant bond with hundreds of other Royal Canadians; they served in our Regiment, and died while doing so.
Requiescant in Pace
Calling the Roll; Identifying the MSA Soldiers of The RCR
By: Capt M. O'Leary, The RCR (October 2010)
In 2006 when I first wrote this article, I assessed that identifying how many MSA soldiers had served in The RCR wasn't then possibe to determine. Since writing that statement, and having transcribed the Regiment's Part II Daily Orders (which recorded soldiers taken on strength among other things), I have been able to determine the number of RCR soldiers who were, in fact, MSA conscripts.
Transcribing the Part II Daily Orders offered the opportunity to not only record the information they included, but also to build a CEF Nominal Roll for the overseas battalion of The RCR. Of the approximately 4700 (all ranks) on my CEF nominal roll, I identified 460 men in the 3 and 4 million service number ranges. within which MSA conscripts were numbered.
Having checked the online Attestation Paper (AP) for each of these soldiers with "3-million" and "4-million" service numbers, this is how they formed up:
336 MSA Soldiers (73%)
318 MSA draftees (i.e., MSA attestation paper including MSA number)
18 MSA Defaulters (i.e, likely men who had not reported when ordered, but showed up later at a recruiting station)
113 Volunteers (24.6%)
45 Volunteer, regular AP (Special 63rd Regt Draft)
28 Volunteer, regular AP (Special Draft from Composite Battalion)
19 Volunteer, regular AP (Special 66th Regt Draft)
9 Volunteer, regular AP
8 Volunteer (MSA AP, no MSA number)
3 "Reported Voluntarily"
1 Volunteer, "not registered" on MSA form
There were also 11 men with no online Attestation Paper (2.4%)
MSA Soldiers in the "2-million" men
Further research also identified a soldier in the "2-million" range of service numbers that was an MSA recruit. The CEF nominal roll for The RCR identifies 59 men with "2-million" service numbers. Of these:
9 were MSA soldiers
46 were Volunteers, regular AP
4 had no AP on line
As a result of this further research into the Military Service Act soldiers of The Royal Canadian Regiment, and accepting that those 15 men without online APs will require a confirmation by checking each service record, we can now state that there were at least 345 Miltary Service Act conscripts posted to The RCR during the First World War.
Pro Patria