The First World War
Officers of The Royal Canadian Regiment
Captain Norman Ewart Towers
Soldiers of the First World War database entry - N.E. Towers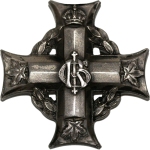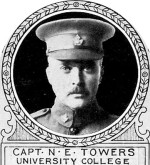 From: The Varsity Magazine Supplement Fourth Edition 1918 published by The Students Administrative Council, University of Toronto.
Service:
Prior service; 4 years, 1st Hussars
Prior service; 96th Lake Superior Regiment
Gazetted to 96th Lake Superior Regiment, 10 Nov 1914
Appointed to the 52nd Battalion, C.E.F., as a subaltern, 15 Apr 1915
Posted to The R.C.R., 23 Sep 1915
SUPPLEMENT TO THE LONDON GAZETTE, 27 JULY, 1916; R. Can. R. - Lt. N. E. Towers to be temp. Capt. whilst comdg. 7th Can. Trench Mortar Batt. 14 June 1916
Wounded in action, 16 Sep 1916
Died of wounds 20 Sep 1916 while attached to the 7th Canadian Light Trench Mortar Battery
Capt. Towers is buried in the St. Sever Cemetery, Rouen; Seine-Maritime, France.
Canadian Virtual War Memorial: N.E. Towers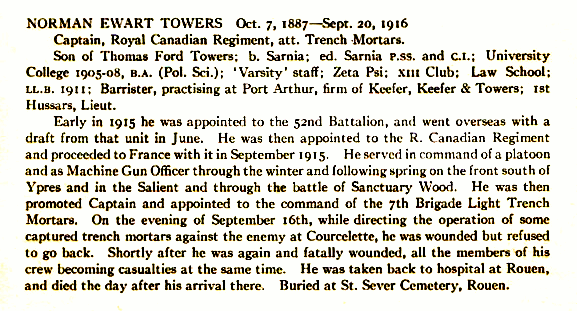 Captain Norman Ewart Towers entry in the University of Toronto Honour Roll.
University of Toronto, Roll of Service, 1914 - 1918. Prof. G. Oswald Smith. (1921)
Date of Birth - 7 Oct 1887