The First World War
Officers of The Royal Canadian Regiment
Lieut. Raymond Bardwell Penniman, M.C.
Soldiers of the First World War database entry - R.B. Penniman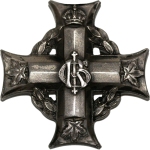 Service:
Prior service; 1 year, 96th The Lake Superior Regiment, 1914
Subaltern's Course, 1914
Attested for overseas service with the 52nd Battalion on 27 Apr 1915, attached to the 32nd Battalion, 1915
Joined The R.C.R., 1915
Captain's Course, Winnipeg, 1915
C.M. Shornciffe, 1916
Awarded the Military Cross
Reported Missing, 8 Oct 1916
M.C. Citation
SUPPLEMENT TO THE LONDON GAZETTE, 19 AUGUST, 1916.
Lt. Raymond Penniman, Can. Infy. - For conspicuous gallantry and determination when repelling three hostile attacks under difficult circumstances.
Lieut. Penniman has no known grave, he is commemorated on the Vimy Memorial; Pas de Calais, France.

Lieut. Raymond Bardwell Penniman's name as engraved on the outer wall of the Vimy Memorial.
Photo by Geoff Reeves.
Canadian Virtual War Memorial: R.B. Penniman
Date of Birth - 21 Aug 1891