The First World War
Officers of The Royal Canadian Regiment
Lieut. Lawrence Gordon Lyon
Soldiers of the First World War database entry - L.G. Lyon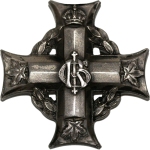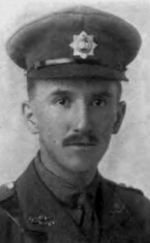 Lieut. L.G. Lyon
Photo from the Canadian Bank of Commerce Letters from the Front, 1914-1919.
Service:
Prior service with The R.C.R. as a soldier, enlisted in Bermuda 9 Nov 1914; regimental numbers 16261 and 477554
Arrived in France, 1 Nov 1915
Lewis Gunner while in France, Left France, 17 Nov 1916
Sent to Reserve in England, 17 Apr 1917
Gazetted Lieut., 29 Jan 1918
SUPPLEMENT TO THE LONDON GAZETTE, 12 FEBRUARY, 1918; Nova Scotia Regt. - The undermentioned to be temp. Lts.:- No. 477554 Actg. Corpl. L. G. Lyons
Arrived in France, 29 Apr 1918
Joined The R.C.R., 29 May 1918
Died of wounds received in action, 11 Nov 1918
Buried at Yis-en-Artois Cemetery at O.23.d.37, Sheet 51B, Ref 167 3rd Div. Burial Officer
Lieut. Lyon is buried in the Vis-En-Artois British Cemetery, Haucourt; Pas de Calais, France.
Canadian Virtual War Memorial: L.G. Lyon
Canadian Bank of Commerce: Letters from the Front (1914-1919)
Lyon, Lawrence Gordon – Lieutenant. Born 28th March, 1895. Father, Rev. Paul T. Lyon, Church of England Clergyman. Entered the service of the Bank, 8th June 1912. Enlisted August, 1914, from Kitscoty branch, in Canadian Cavalry Depot, with the rank of Private. Transferred to Royal Canadian Regiment; 26th Canadian Reserve Battalion. Promoted Lieutenant. Wounded , 7th October, 1916.
Died of Wounds, 11th September, 1918.
Other Biographical Details
Birthplace: Ireland. Father: Rev Paul Kemp Lyon (Mostrim Rectory, Edgeworths Town, Co. Longford, Ireland). Mother: Louisa Lyon of Lower Sapey Rectory, Clifton-on-Teme, Worcester.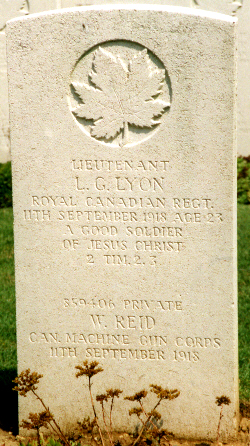 Commonwealth War Graves Commission gravestone for Lieut. Lawrence Gordon Lyon.
Date of Birth - 27 Mar 1894
With appreciation to David Black, a member of the CEF Study Group, who discovered the photo and details on Lieut. Blott in the Canadian Bank of Commerce: Letters from the Front (1914-1919).