The First World War
Officers of The Royal Canadian Regiment
Major Heber Meredith Logan
Soldiers of the First World War database entry - H.M. Logan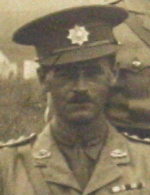 Capt. H.M. Logan, Valcartier Camp, 1920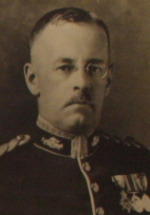 Capt. & Brevet Major H.M. Logan (1933)
Service:
Prior service: Canadian Militia, Aug 1911
Regimental Service, The R.C.R.: 1913 - still serving in 1935
Lieut., The R.C.R., 15 Aug 1913
First World War - Wounded. Despatches. 1914-15 Star, British War Medal, Victory Medal.
SUPPLEMENT TO THE LONDON GAZETTE, 10 JANUARY, 1916; The Royal Canadian Regiment - Lieut. H. M. Logan to be a temporary Captain:- Dated 2nd November, 1915.
Wounded, 3 Jun 1916
Invalided, 15 Jun 1916
Acting Major, 9 Oct 1916
Mention in Despatches, 13 Nov 1916
Wounded in action at duty, 8 Feb 1917
SUPPLEMENT TO THE LONDON GAZETTE, 12 JANUARY, 1918; Nova Scotia Regt. - Temp. Captain H. M. Logan relinquishes the actg. rank of Maj. 16 Nov. 1917.
Wounded in action 15 Nov 1917
D.M.I.O. and I. of C.S., M.D. 6, 1922.
1 Oct 1928; Ceases to be seconded and reverts to regimental duty, posted to "D" Company, St John's P.Q.
15 Sep 1929; To be Brevet Major.
1 May 1930; D.A.A. & Q.M.G., M.D. 6.
D.M.I.O., M.D. 6, 1930.
1 Sep 1932; Transfered from Halifax, N.S., to the Royal Military College, Kingston, Ont., to be employed as Staff Adj. R.M.C.
14 May 1935; To be Major.
King George V Silver Jubilee Medal (1935), awarded on 6 May 1936.
King George VI Coronation Medal (1937).
Serving at London, Ontario; appointment identified as at 15 Nov 1937
Major H.M. Logan took over command of "A" Company, Halifax Station, The R.C.R., from Captain G.L. Foster, 16 Sep 1938.
Listed in The Canadian Who's Who, 1936-1937:
LOGAN, Maj. Heber Meredith; Canadian military service; b Kentville, N.S., 29 Api 1891; s Rev. A. Pemberton and Fana, Elizabeth, L.; e Halifax Acad.; Dalhousie Univ.; Roy. Mil. Coll., Kingston, Ont. (ops. long course); m Olive Stockdale d C. b. Tucker, Somerset, Bermuda, 18 Mar. 1918, children Dorothy, Ian, Monica. STAFF ADJUTANT, ROYAL MILITARY COLLEGE, OF CANADA, since 1932; lieut, Roy. Candn. Regt., 1913 and served with that unit throughout World War; has held various staff appointments, including D.A.A. and Q.M.G., at Halifax, N.S.; mem., N.S. Hist. Soc.; holds 1914-15 Star; general service and victory medals; awarded King's Jubilee Medal, 1935; has written many articles on hist. subjects for the Journal of the Roy. Un. Service Inst; The Army Quarterly, and The Nat. Review; Anglican; recreations reading, tennis, badminton; Address Kingston, Ont.
Date of Birth 29 Apr 1891
Date of Death 15 Nov 1944 (CVWM)
In memory of Lieutenant Colonel HEBER MEREDITH LOGAN who died on November 15, 1944. Age: 53. Unit: Royal Canadian Regiment.
Cemetery: HALIFAX MEMORIAL, Nova Scotia, Canada. Grave Reference: Panel 16. Location: The HALIFAX MEMORIAL in Nova Scotia's capital, erected in Point Pleasant Park, is one of the few tangible reminders of the men who died at sea.