The First World War
Officers of The Royal Canadian Regiment
Lieut. George Lloyd Lewis
Soldiers of the First World War database entry - G.L. Lewis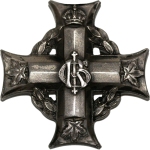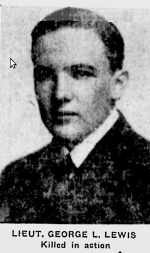 Photo as printed in the
Calgary Daily Herald,
25 Sepember, 1916.
Service:
Prior service; 103rd Regiment, Calgary 6 months)
Joined the C.E.F., 14 Sep 1915
Attested for service with the 4th Overseas University Company, C.E.F. (Lieutenant)
Attached to The R.C.R., 5 Aug 1916
Killed in action, 16 Sep 1916
Lieut. Lewis has no known grave, he is commemorated on the Vimy Memorial; Pas de Calais, France.
Canadian Virtual War Memorial: G.L. Lewis
Obituary; Calgary Daily Herald, 25 Sepember, 1916.
Lieut. George L. Lewis, the eldest son of J.R. Lewis, 1326 Twelfth Avenue West, who left here as a private in a university draft to reinforce the Princess Pats last September, is officially reported killed in action. He worked as a Customs Officer at lake Louise for some time prior to his enlistment, but the greater part of his early life was spent in school. He was a student of the Mount Royal College for several years, and also attended the Broad school, on Third avenue west.
Lieut. Lewis gained his promotion on March 1 last, when he was elevated to the rank of lieutenant in France. After being granted his commission, he was attached to The Royal Canadian Regiment, and it was in the service of this unit that he laid down his life.
He was prominent in all athletic activities during his life in Calgary, and was a member of the Mount Royal college rugby team and was also connected with the Tigers. He was a good, clean, manly sport, and well liked by all those with whom he came in contact. "Fat" Lewis, as he was better known to his many friends, had lived in the city for 17 years, coming here from Palmerston, Ont., when he was but four years old.
He leaves his parents and two small brothers to mourn his loss.
In Memoriam 1926 Calgary Herald
LEWIS, George Lloyd - In loving memory of our dear son, Lieut. George Lloyd Lewis, killed on The Somme, Sep 16, 1915 "God called him home". Father, Mother, Ernest and Herbie. (16 Sep 1926)
Date of Birth - 28 Sep 1895
---
With appreciation to David Black, a member of the CEF Study Group, who provided the source for the Calgary Daily Herald obituary and photo.