The First World War
Officers of The Royal Canadian Regiment
Lieut. John Robert Horton
Soldiers of the First World War database entry - J.R. Horton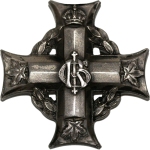 Service:
Attested for service with the 88th Battalion, C.E.F., 18 Jun 1915
Left England for overseas, 15 Jul 1916
Joined The R.C.R., 16 Jul 1916
Wounded in action, 3 Oct 1916
Died of wounds received in action, No. 8 General Hospital, Rouen, 7 Oct 1916
Lieut. Horton is buried in the St. Sever Cemetery, Rouen; Seine-Maritime, France.
Canadian Virtual War Memorial: J.R. Horton
Date of Birth - 24 Jun 1880