The First World War
Officers of The Royal Canadian Regiment
Major Kenneth Maitland Holloway
Soldiers of the First World War database entry - K.M. Holloway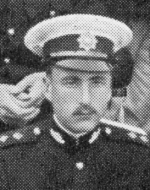 Lieut. K.M. Holloway, Valcartier Camp (1912)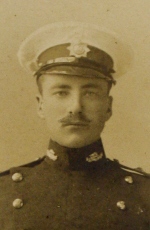 Lieut. K.M. Holloway (1912)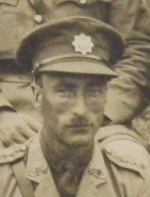 Capt. K.M. Holloway, Valcartier Camp (1920)
Service:
Regimental Service, The R.C.R.: 1912 - still serving in 1935
Gazetted Lieut., The R.C.R., 4 Jun 1912
Gazetted Capt., The R.C.R., 6 Jun 1915
Courses:

Musketry Certificate
Signalling (Instructors Special)

First World War - 1914-15 Star, British War Medal, Victory Medal.
Invalided to England, 6 Apr 1916
Rejoined The R.C.R., 3 Oct 1916
Invalided to England, 29 Aug 1916
Rejoined The R.C.R., 1 May 1917
Evacuated C.C.S., 19 Jul 1917
Invalided to England, 25 Jul 1917
Struck off strength and Establishment and posted to Nova Scotia Regimental Depot, 25 Dec 1917
D.A.A. & Q.M.G., M.D. 12, 1918.
D.S.O., M.D. 1, 1921.
D.A.A. & Q.M.G., M.D. 6, 1925.
21 Sep 1927; Appointed Brevet Major.
Staff Adj. R.M.C., 1928.
As of 31 Mar 1930; still holding appointment of Staff Adjutant, R.M.C.
1 Sep 1932; Transferred from the Royal Military College, Kingston, Ont., to "C" Company, London, Ont.
1 Apr 1933; To be Major.
1 Jul 1933; Captain and Brevet Major K.M. Holloway transferred from "C" Company, London, Ont., to Ottawa, Ont., with effect from 30 Jun 1933, and detailed for duty as General Staff Officer, 3rd Grade, in the Directorate of Military Training and Staff Duties at National Defence Headquarters, with effect from 1 Jul 1933.
14 Nov 1934; Vacates the appointment of G.S.O. (iii) NDQH, and is transferred from Ottawa, Ont., and posted for duty to "B" Company.
King George V Silver Jubilee Medal (1935), awarded on 6 May 1936.
King George VI Coronation Medal (1937).
Officer Commanding "B" Coy., The R.C.R., Toronto, Ontario; appointment identified as at 15 Nov 1937
1 Nov 1938; Major K.M. Holloway promoted Lieut.-Colonel and assumed command of the Royal Canadian Regiment.
The Connecting File, Vol XVII, No. 4, December, 1938
On October 21st, 1938, command of The Royal Canadian Regiment was handed over by Lieut.-Col. M.K. Greene to Lieut.-Col. K.M. Holloway, on the latter's return from the Senior Officers' School, at Sheerness. It is our sincere desire, through the medium of the "Connecting File" to welcome Lieut.-Col. Holloway as he assumes his new duties, and to bid "au revoir" to Lieut.-Col. Greene, on his departure from the Regiment to the appointment of A.A. & Q.M.G., at Calgary.
Capt. & Brevet Major K.M. Holloway (1933)
Lieut. Colonel K.M. Holloway (1939)
Lieut. Colonel K.M. Holloway (1943)
ID Card photo, see full card below.
The Royal Canadian Regiment; Volume Two, 1933-1966
Lt.-Col. K. M. Holloway
He was born in Montreal and joined The Regiment as a subaltern in 1912. In September 1914 he proceeded to Bermuda with The Regiment as Signalling Officer, an appointment which he still filled when The Regiment arrived in France a year later. In 1916 he was wounded and earned a Mention in Despatches. Rejoining The Regiment in the spring of 1917 he served throughout that year but returned to a staff posting in Canada in the spring of 1918. Thereafter he held a number of appointments before joining the staff of Royal Military College in 1928. He was posted to National Defence Headquarters in 1933. On November 1st 1938 he assumed command of The Regiment. Due to ill health he was not permitted to proceed overseas. He was posted to Military District No.2 when he was promoted to Colonel. In 1942 he was transferred to headquarters at Ottawa. He retired in 1946. He now resides in Chester, Nova Scotia.
Date of Birth - 26 Feb 1890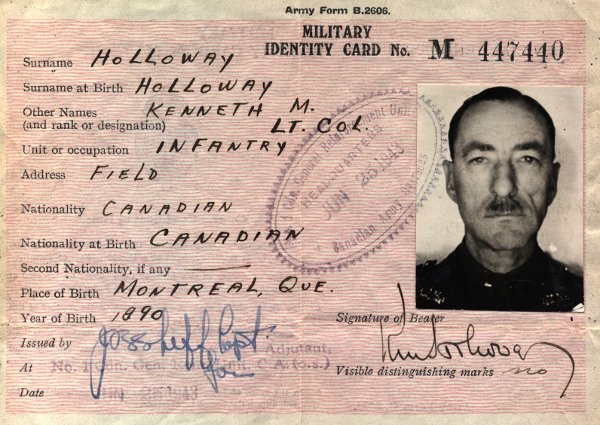 The 1943 ID card issued to Lt.-Col. K.M. Holloway.
Document provided by Hugh Conway (The RCR, ret'd).