The First World War
Officers of The Royal Canadian Regiment
Brevet Major Victor William Synge Heron
Soldiers of the First World War database entry - V.W.S. Heron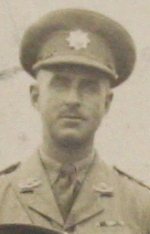 Capt. V.W.S. Heron, Valcartier Camp, 1920
Service:
Lieut., 10th Regt. Royal Grenadiers (Toronto), 1908
Assistant Adjutant, 1910
Musketry Instruction, Niagara
Training Camps, 1911, 1912, 1913
Certificates:

Musketry, Hythe, England
Machine Gun, Hythe, England

Regimental Service, The R.C.R.: 1914 - 1933
Attached for duty No. 2 Infantry Depot, The R.C.R.
Appointed Lieut, The R.C.R., 1914
First World War - Wounded. British War Medal, Victory Medal.
Adjutant, No. 1 Section, Bermuda Command, 1915
Attached Headquarters Canadian Training Division, Shorncliffe, for duty as Adjutant Overseas Drafts
Rejoined Regiment in France, 3 Apr 1916
Wounded and to Field Ambulance, 3 Jun 1916
From Field Ambulance, 18 Jun 1916
Wounded and to Field Ambulance, 11 Jul 1916
Transferred to H.Q. Area Traiing Div. Shorncliffe, 16 Jul 1916
G.S.O., M.D. 7 (temp.) 1917.
D.C.O., M.D. 3, 1923.
Lieut. and Brevet Capt. V.W.S. Heron to be Captain; 20 Apr 1925
1 Oct 1928; Ceases to be seconded and reverts to regimental duty, posted to "C" Company, London, Ont.
20 Apr 1930; To be Brevet Major.
1 May 1931; Capt and Brevet Major; Transferred from "C" Company (London) to "A" Company (Halifax) as 2nd in Command.
12 Jun 1933; Retired to pension and placed on the Retired List, having been pronounced medically unfit for further service.
The Connecting File, Vol XII, No. 1, January 1933
On 26th January [1933], Major V.W.S. Heron left the Station, on leave pending retirement, on account of ill health.
Members of the Regiment who know Major Heron will sadly miss his clever and, on occasions, biting wit. The writer has met no one who can so quickly turn a phrase or give an instant answer which produced a laugh. He possesses the gift of turning unpleasant, irritating or serious problems into ludicrous stuations which would shame the world most successful humourist - and so raise our morale.
Major Heron, throughout his service in the Regiment has alwaus taken the greatest interest in the welfare of the men, whether it be the normal routine welfare or their amusements, comforts and privileges. Few other ranks possibly realize how many "cushy things" have been put over due to Major Heron's influence.
Major Heron's hobby has been the Regiment, so no more need be said.
Comparisons are odious but the Connecting File has never had a better Editor that V.W.S.H. Like all true journalists, he showed unflinching courage which unfortunately sometimes was not appreciated and had its repercussions.
Al ranks of Halifax Station, The RCR, wish him the Best of health and prosperity, including marriage, if one day he sees the light.
T. Vickary
The Connecting File, Vol XII, No. 3, July 1933
We hear that Major V.W.S. Heron, on return from Bermuda, is spending his retirement in the historical town of Grand Pre.
Date of Birth - 28 May 1885