The First World War
Officers of The Royal Canadian Regiment
Brevet Major Archibald Hugh Carfrae Campbell
Soldiers of the First World War database entry - A.H.C. Campbell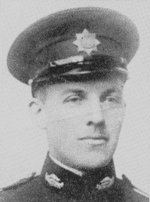 Lieut. A.H.C. Campbell.
Photo from the Upper Canada College Roll of Service 1914-1919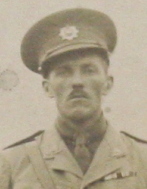 Capt. A.H.C. Campbell, Valcartier Camp, 1920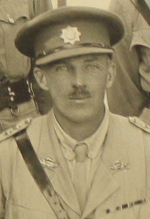 Capt. & Brevet Major A.H.C. Campbell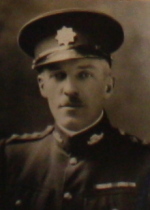 Capt. & Brevet Major A.H.C. Campbell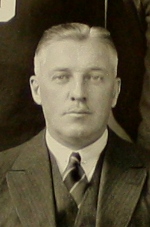 Major A.H.C. Campbell
Service:
Regimental Service, The R.C.R.: 1914 - still serving in 1935.
First World War - Wounded. 1914-15 Star, British War Medal, Victory Medal.
25 Feb 1916; Wounded in action, H.E. in head, right leg and hand, and both arms.
15 Aug 1917; Rejoined The R.C.R.
14 Sep 1917; Invalided (sick) and detached to Nova Scotia Regimental Depot (N.S.R.D.).
20 Apr 1925; Lieut. and Brevet Capt. A.H.C. Campbell to be Captain.
"Passed"; Course No. 26, "A" Wing, Canadian Small Arms School; Certificate No. 63894 (1925)
Adjutant, The R.C.R.: 1926
D.W.T.O., M.D. 6 (temp.) 1926.
1 Oct 1926; Transferred from "A" Company, Halifax, NS, to "C" Company, London, Ont.
1 Oct 1926; Posted from "C" Company to Regimental Headquarters, London, Ont., and detailed for duty as Adjutant.
23 Apr 1929; Vacates the appointment of Adjutant.
25 Apr 1929; Detailed for duty as District Cadet Officer (D.C.O.) Military District No. 6.
20 Apr 1930; To be Brevet Major.
D.S.O., M.D. 6, (temp.) 1931.
D.A.A. & Q.M.G., M.D. 6 (temp.) 1932.
Officer of Order of St. John.
28 Feb 1934; Vacates the appointment of District Cadet Officer, M.D. No. 6, Halifax, N.S.
1 Apr 1934; Captain and Brevet Major A.H.C. Campbell ceases to be seconded and transferred from Halifax, N.S., to "D" Company, St. Jean, P.Q.
King George V Silver Jubilee Medal (1935), awarded on 6 May 1936.
13 Jun 1936; Promoted Major
King George VI Coronation Medal (1937).
Officer Commanding "D" Coy., The R.C.R., St. Johns (sic), P.Q.; appointment identified as at 15 Nov 1937.
Upper Canada College Roll of Service 1914-1919
Campbell, Archibal Hugh Carfrae; R.C.R., Montreal; E. September '09, from St. Alban's Cathedral Sc., Toronto; aged 14-2; L. December '11; ward of J.W. Dick, Civil Service, Toronto. Enlisted, September 11, 1914; Lt. R.C.R., O.S., August 25, 1915; France, November 1, 1915; danderously wounded, February 26, 1916; ill, September 3, 1917; ret'd from O.S., November 21, 1917; attd. Cam. Mily. Police Corps, June 14, 1918 - January 23, 1920.
Date of Birth - 11 Jun 1895
Lt.-Col. Campbell's son died while serving with The RCR in the Second World War (CVWM)
"In memory of Lieutenant Geoffrey Nigel Carfrae Campbell who died on March 4, 1944. Age: 22. Unit: Royal Canadian Regiment. Son of Lt.-Col. Archibald Hugh Carfrae Campbell and Phyllis Clarke Campbell, of St. Thomas, Barbados."
---
With appreciation to David Black, a member of the CEF Study Group, who discovered the photo and details on Lieut. Campbell in the Upper Canada College Roll of Service 1914-1919.