The First World War
Officers of The Royal Canadian Regiment
Maj Allison Hart Borden, D.S.O.
Soldiers of the First World War database entry - A.H. Borden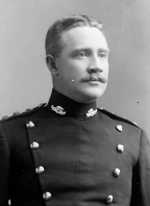 Capt. A.H. Borden, 1905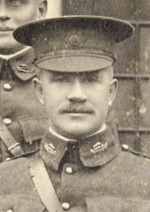 Capt. A.H. Borden, 1906
Service:
2nd Lieut., 68th Regt, 30 Nov 1902
Lieut 68th Regt, 30 Apr 1904
Regimental Service, The RCR: 1904-1923
Capt., The RCR, 1 Aug 1907
Capt., No. 4 Depot, Halifax, Nova Scotia, 1911
D.A.A.G. 1 Apr 1911
First World War - British War Medal, Victory Medal. D.S.O.
Maj, The RCR, 26 Jun 1915
D.A.A. & Q.M.G., M.D. 6, 1915.
Comdg. Can. Trg. England, 1916.
Comdg. 15th Inf. Bde., 1917.
SUPPLEMENT TO THE LONDON GAZETTE, 5 JULY, 1918; Awarded the Distiguished Service Order - Lt.-Col. Allison Hart Borden, Infy.
A.A. & Q.MG., M.D. 6, 1919.
G.S.O. 1, M.D. 10, 1920.
D.O.C., M.D. 2, 1923.
Colonel Commandant, 1923.
Distinguished Service Order (DSO) Citation
SUPPLEMENT TO THE LONDON GAZETTE, 5 JULY, 1918; 2 July 1918, Issue number: 30780, Page number: 7890
For conspicuous gallantry and devotion to duty. By his personal reconnaissance prior to the attack, in the face of great danger from machine-gun and rifle fire, he obtained sufficient information to modify his plans so as to deal with the unexpected situation caused by the enemy's counter-attack. With complete disregard for his own safety, he made a tour of the line, making the necessary adjustments in dispositions to ensure its being held. His example to his battalion was magnificent, and his determination, courageous conduct, and skilful leadership inspired all ranks to hold on to their objective, even though their losses were very heavy.
Death Notice (from regimental records):
Colonel Allison Hart Borden died on the 19th July 1932. Colonel Borden was first appointed to the Regiment on the 1st August 1907.
Date of Birth - 31 March 1878