The First World War
Officers of The Royal Canadian Regiment
Lieut. Harry Victor Bonner
Soldiers of the First World War database entry - Lieut. H.V. Bonner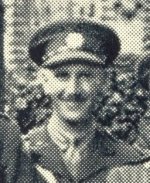 Lieut. Harry Victor Bonner (1918)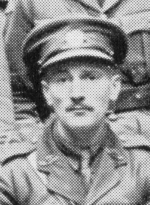 Lieut. Harry Victor Bonner (Nov. 1918)
Service:
The R.C.R.; 17 Dec 1907 to 5 Sep 1914 (Canada)
1911; Attended Coronation of George V.
The R.C.R.; 5 Sep 1914 to Aug 1915 (Bermuda); Lance Corporal, regimental numbers 9586 and 477085
A/Sgt; 22 Aug 1915
Sgt; 1 Sep 1915
The R.C.R.; 1 Nov 1915 to 16 Sep 1916 (France), then returned to England
Wounded; 17 Sep 1916
Commissioned from the ranks of The R.C.R.; Lieut; 1 Jul 1917
Courses

14 days, Lewis Gun, Bexhill (1st Class)
14 days, Anti-Gas, Bramshott (Good)
Revolver Course, Bramshott (Expert shot)
G.M.C. (1st Class Shot)

Lewis Gun Officer, 17th Canadian Reserve Battalion
Taken on Strength, The R.C.R., as relief from the 17th Cdn. Res. Bn. 21 May 1918
Joined The R.C.R. from C.C.R.C. 15 Jun 1918
Wounded in action, 8 Aug 1918
Rejoined from C.C.R.C. 30 Aug 1918
SUPPLEMENT TO THE LONDON GAZETTE, 27 AUGUST, 1919.; Nova Scotia Regt. - Temp. Lt. H. V. Bonner to be actg. Capt while empld. as Wing Record Officer, M.D.6. 28 Feb. 1919, to 2 Aug. 1919.
SUPPLEMENT TO THE LONDON GAZETTE, 8 SEPTEMBER, 1919; Nova Scotia Begt. - Temp. Lt. H. V. Bonner retires in the British Isles. 22 Aug 1919
Regimental Obituary Notice
Maj Bonner's death is noted in the Summer 1957 edition of The Connecting File:
In Memoriam
Major H.V. Bonner
At Victoria, British Columbia, on the 2nd July 1957. Major Harvey Bonner joined the Regiment in 1912 as a private. Commissioned during World War I, he was wounded in 1918, but returned to the Regiment and became M.M.G. officer.
Major Bonner was demobilized in 1919, but rejoined the Regiment as Staff-Sergeant. In 1924, he was promoted to the rank of quarter-master sergeant. At the outbreak of [the Second World] War, he was commissioned, and became adjutant of the RCR Depot at Wolseley Barracks, London, Ontario. He rose to the rank of Major and commanded the RCR Wing of No. 1 District Depot Wolseley Barracks. In 1944, he retired and proceeded to Victoria, British Columbia, with his family.
Date of Birth - 4 Dec 1892; Tillford, England
Date of Death - Nov 1947 at Victoria, B.C.