The First World War
Officers of The Royal Canadian Regiment
Lieut. Lawrence Francis Gartner Bole, M.C.
Soldiers of the First World War database entry - L.F.G. Bole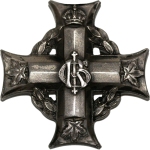 Service:
Prior service with the 25th Regiment, The Elgin Regiment
Private, The RCR, 5 Sep 1914
Joined the Regiment in Bermuda 4 Nov 1914, rank Private, regimental number 16004
Lance Corporal 5 Nov 1914
Corporal 25 Aug 1915
Lance Sergeant 11 Oct 1915
Sergeant 6 May 1916
Appointed Temp. Lieut. 1 Jun 1916
Awarded the Military Cross 6 Sep 1916
Attached 7th Bde as Bombing Officer
Killed in Action 9 Apr 1917
Buried at Ecoivres Cemetery, Plot 6 Row E, on 13 Apr 1917
M.C. Citation:
SUPPLEMENT TO THE LONDON GAZETTE, 26 SEPTEMBER, 1916.; 26 September 1916, Issue number: 29765, Page number: 9437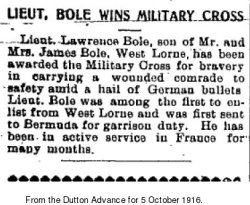 Lt. Lawrence Francis Gartner Bole, R. Can. R. - For conspicuous gallantry after a raid. With two other officers he worked for 45 minutes under heavy fire clearing the casualties. He did fine work throughout the raid and afterwards.
Canadian Virtual War Memorial: L.F.G. Bole
Lieut. Bole is buried in the Ecoivres Military Cemetery; Pas de Calais, France.
Date of Birth - 13 Sep 1889; St Thomas, Ontario