The First World War
Officers of The Royal Canadian Regiment
Acting Captain Thoburn Stephens Allan, M.C.
Soldiers of the First World War database entry - T.S. Allan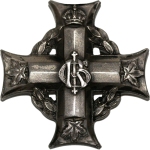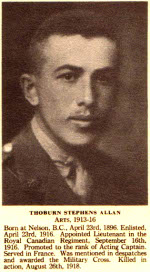 From the "McGill Honour Roll, 1914-1918". McGill University, Montreal, Quebec, 1926.
Service:
Prior service with the 103rd Regiment, Calgary Rifles
Lieut; 29 May 1916
Sailed from Canada 23 Aug 1916
Joined The R.C.R. in France 10 Oct 1916
Awarded Military Cross; Auth London Gazette No. 3204 dated 26 Jul 1917
Asst Adjt 30 Jun 1917
Awarded M.C.
To be A/Capt 29 Nov 1917 to 28 Jan 1918 vice Thompson (sick)
SUPPLEMENT TO THE LONDON GAZETTE, 6 MAY, 1918; Nova Scotia Regt. - The undermentioned temp. Lts. to be actg. Capts.:- T.S. Allan, M.C. 29 Nov. 1917 to 4 Feb. 1918.
Died of wounds received in action 26 Aug 1918
Buried at H.28.D.45.95, Sheet 51b, Row B, Grave 17; buried by 3rd Div Burial officer, Ref 144
Lieut. Allan is buried in the Orange Hill Cemetery; Pas de Calais, France.
First World War Mention in Despatches:
Lieut., The RCR; L.G. 30706, 28 May 1918
M.C. Citation
SUPPLEMENT TO THE LONDON GAZETTE, 26 JULY, 1917. 7643; 24 July 1917, Issue number: 30204 Page number: 7643
Lt. Thoburn Stephens Allan, Inf. - For conspicuous gallantry and devotion to duty. He led his company in the most gallant manner, and captured his objective, which he succeeded in consolidating. He set a fine example to his men.
Canadian Virtual War Memorial: T.S. Allan
Date of Birth - 23 Apr 1896, Nelson, BC