The Royal Canadian Regiment and
The First World War - 1914-1919
Regiment and Family, Bermuda 1914-15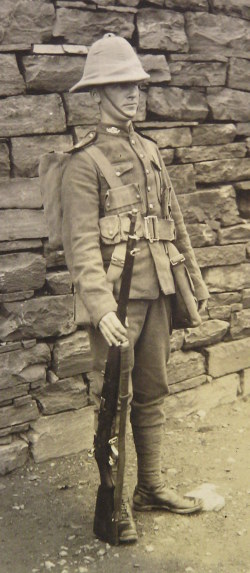 A soldier of The Royal Canadian Regiment,
Bermuda 1915.
By: Captain Michael O'Leary, 4RCR
In 1915, the Militia Department published a nominal roll of The Royal Canadian Regiment of all ranks who were serving in Bermuda in November 1914. The 32 officers and 874 NCOs and soldiers listed in this roll do not identify every Royal Canadian who served in Bermuda, there were subsequent reinforcement drafts that would bring the totals who served in Bermuda to over 1000. But, even with this interim roll, there is much about our Regiment that can be garnered from the provided information.
A casual review of the roll reveals the fact that a number of the next of kin addresses are located in Bermuda. Nine officers of the Regiment moved their wives to Bermuda while the Regiment was garrisoning the island. Ranging from the Commanding Officer, Lieut.-Col. Fages, to Lieutenants Hodson and Cock, it was obviously not just the more senior officers who decided to take advantage of this opportunity.
I suspect that not a few readers to this point have muttered that old adage "rank does have its privileges" as they picture troops on sentry-go while the officers depart the Barracks to spend the evening with their ladies. But it was not just the officers who availed themselves of the opportunity to have their wives on the island during this deployment. Twenty-six non-commissioned officers and soldiers of the Regiment also had their wives living in Bermuda in late 1914. They ranged in rank from Private soldiers to Quartermaster-Sergeants, Colour-Sergeants and one Sergeant-Major.
Of the non-commissioned members of the Regiment who moved their wives to Bermuda, it is notable that a majority (13) were identified as having prior service with the British Army, and this may have helped them to be so ready to move their wives to a new station, even one of unknown length of occupation. All of those who brought their wives to Bermuda have pre-War regimental numbers and dates of enlistment that range fro 1887 to 1913. We also find among those 25 Royal Canadians both the Band Sergeant and the Sergeant Drummer, as well as four more bandsmen, all of whom are among the ex-British Army soldiers.
The Regiment may have been eager to get to the front in France while serving in Bermuda, but that did not stop the experienced soldiers from enjoying some of the accepted privileges of soldiers of the era. Knowing that they would be occupying a garrison in a safe area far from the battlefield, the bringing of wives (quite possibly at personal expense) to their new barracks should not be seen as as unusual action. In fact, many of those wives are recorded as living in Barracks, where there were no doubt some established married quarters. The officers' wives, in contrast, are listed as living in the towns, rather than than Barracks' locations. Rank did have a few privileges, after all.
While regimental wives moving into barracks in Bermuda may be an interesting concept to us during a period we generally consider a wartime deployment, the aspects of family within the Regiment did not stop there. While 6624 Cpl Robert Clark was at Prospect Barracks and had his wife on the island, their son 9872 Pte William Clark was also serving with the Regiment at the time and was also stationed in Bermuda. The Clarks were not alone in this respect, other families on the islands with father and son serving in the Regiment and their wife/mother on the island included:
8061 Sgt Richard Hunt and 9581 Boy Garfield Hunt
9012 Bandsman Michael Molloy and 9456 Pte William Molloy
8062 Cpl Charles Ward and 8517 Drummer Charlie Ward
6743 Pte Frank Welsh and 9547 Boy Harold Welsh
These five small family groups, among other married couples, would have spent most of a year together on the island of Bermuda while the Regiment was there as part of the garrison. It is most likely this time they had was most appreciated, in retrospect, by the family of (later) Lance Corporal Michael Molloy. 477596 L.-Cpl. Michael Molloy died overseas on 19 Jun 1916 and is buried at Nunhead (All Saint's) Cemetery in London, England. The Wards also experienced a loss; 477099 Sgt Charles Ward died in Canada on 31 January 1921 of war related causes (evidenced by his inclusion in the Commonwealth War Graves database).
Those families mentioned above were not the only ones within the Regiment in Bermuda. Others father/son groups in the Regiment who served in Bermuda included:
2716 Sgt John Gould and his two sons; 9616 Pte Frederick Gould and 9557 Boy Ralph Gould. Both Frederick and Ralph served in France with the Regiment and survived the War.
6060 Cpl Wallace Matheson and his son 9715 Boy William Wallace Matheson. Both of the Mathesons later served overseas with the Regiment.
Fathers and sons were not the only family groups within the ranks of the Regiment on its deployment to Bermuda. The following pairs of brothers among the original Permanent Force soldiers served together:
7584 Cpl Francis Paul and 7599 Cpl William Paul, who named each other as their next of kin.
9601 Pte James Tanner and 9588 Boy William Tanner, whose father, Sgt J.J. Tanner, was serving in the Regiment at the RCR Depot in Halifax while they were in Bermuda. Bother Tanner boys served overseas with the Regiment.
8559 Pte George Boisjoly and 8544 Pte Jarvis Boisjoly, brothers from Montreal who joined the Regiment six months apart in 1912.
The initial CEF reinforcement draft from Valcartier that was dispatched to start bringing the Regiment up to wartime establishments brought four more pairs of brothers to the Regiment that winter:
16003 Pte Joseph Ball and 16004 Pte Percy Ball
16328 Private William Davis and 16327 Private Alfred Davis.
16353 Private David Jones and 16153 Private Thomas Jones.
16049 Private Louis Law and 16050 Private Stafford Law.
Of these pairs of brothers, most returned after the War, but both Law brothers died overseas. Louis Law died on 5 Jun 1916 and has no known grave, being commemorated on on the Menin Gate at Ypres. Lance Corporal Stafford Law died on 9 Apr 1917 and is buried at the Thelus Military Cemetery, approximately 2200 metres south-east of the Vimy Memorial.
L.-Cpl. Law's death on Vimy Ridge brings to mind one other pair of brothers who served in the Regiment during the Great War. 814813 Private Wilfred Chenier and his brother 814814 Pte Olivier Chenier did not serve in Bermuda, they both attested for overseas service with the 139th Overseas Battalion at Ottawa on 11 March 1916. The 139th Battalion reached England in early October 1916 and was absorbed into the 3rd and 36th Reserve Battalions. Although neither the 3rd or the 36th Reserve battalions are recorded as principal sources of reinforcements to the RCR, the Chenier brothers would find themselves in The RCR by the spring of 1917. Sadly, both Wilfred and Olivier Chenier would fall in battle on Vimy Ridge. They are buried in adjoining graves in the Cabaret-Rouge British Cemetery, about 2500 metres west of the Vimy Memorial.
Examination of the Bermuda Roll and comparing it to other regimental source material, we find further regimental trivia points of note:
35 NCOs and soldiers in Bermuda were members of the Manchester Draft of January 1907.
Of the 576 original Permanent Force men, 414 were born in England (334), Ireland (40) or Scotland (39) - 140 were Canadian born.
Of the 298 men who joined the Regiment in Bermuda by November 1914, a further 192 were born in the British Isles (England (152), Ireland (14) or Scotland (27)) - 98 were Canadian born.
In contrast, 18 of 32 officers were born in Canada. Of the remaining 14, seven were born in the British Isles (England (6), Scotland (1)).
The longest serving soldier in the Regiment on the Bermuda garrison was 2095 Private Isaac Stephen Burns, who joined The RCR at Fredericton on 29 March 1884. After serving in Bermuda, Pte Burns would attest for overseas service and receive the new regimental number 478824. Unfortunately, he wouldn't make the trip overseas. Pte Burns would die on 27 Aug, 1916, and is identified as serving with the 193rd Battalion at the time of his death. Pte Burns is buried in the Nashwaaksis Douglas Rural Cemetery in New Brunswick.
The longest serving NCO in Bermuda was 1213 Colour Sergeant Emmanuel Lamontagne, who joined The RCR at St John, Quebec, on 5 July 1887. Col.-Sergt. Lamontagne would be commissioned during the war, attaining the rank of Captain, but did not have commissioned service with the Regiment.
One NCO serving in Bermuda, 4267 Quartermaster Sergeant William Frank Thompson, was one of the 84 original Royal Canadians in the Second (Special Service) Battalion in South Africa. For that war he received the Queen's South Africa medal with four clasps: Cape Colony, Driefontein, Paardeberg, and Transvaal. Thompson would also survive the Great War, continuing to serve in the Regiment afterwards, and be appointed Warrant Officer (Class I) in June 1920.
Pro Patria