The First World War
War Diary of The Royal Canadian Regiment
Transcription by Captain Michael O'Leary, The RCR.
SEPTEMBER 1916
APPENDIX 6A

NARRATIVE OF EVENTS
15th, 16th & 17th September, 1916.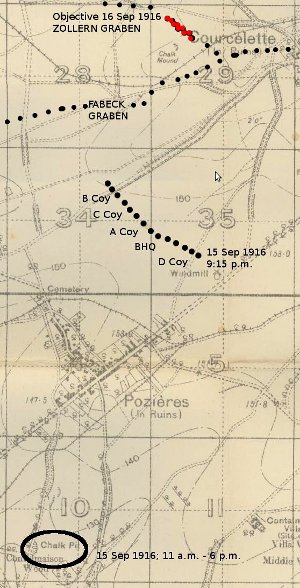 Approximate locations and movements of The RCR, 15-16 Sep 1916. Map extract from the online maps available through the McMaster University First World War map collection website.
The Royal Canadian Regiment was bivouaced on the BRICKFIELDS (W.21.b) and at or about 9.15 a.m. on the 15th September 1916 order was received from the 7TH Canadian Infantry Brigade, commanded by Brigadier General A.C. Macdonell, C.M.G., D.S.O., to proceed at once to USNA HILL and there await further instructions.
The Regiment duly arrived at or about 11 a.m. and later on instructions were received for us to proceed to the CHALK PITS (X.10.c). At 6 p.m., the Regt. moved forward to Old British Line R.35.c.6.5. to R.34.b.4.5. with left flank on road in R.34.b.4.5. and again awaited further orders. We were the Reserve Battalion in the Bde. Bn. Hdqrs. were established in an open trench at R.35.c.1.8.
At 9.15 p.m. on the 15th the Bn. was distributed as follows:- reading from right to keft - "D" Co, Hdqrs, "A" Co, "C" Co., "B" Co. Up to this hour the casualties in the Bn. were about 15, including Lieuts. NAYLOR and BATE. The latter having his wound dressed returned to his Company with expedition. Rifle and M.G. fire were practically nil, but shellfire was very heavy, including all calibre. At 7.30 a.m. on the 16th Bn. Hdqrs were moved to a trench called CENTRE WAY (R.34.d.2.3.) in a deep dug-out.
At about 1. p.m. I received instructions to proceed to Brigade Hdqrs. and there received orders for the R.C.R. to attack the ZOLLERN GRABEN between points R.29.a.6.5. and R.29.a.2.8. The 42ND Bn. co-operated on our left. We also had instructions that, having gained the objective, we should bomb S.E. to junction FABECK GRABEN and establish touch with the P.P.C.L.I. who were operating on our right.
Zero time was 5. p.m. At this hour the Bn. was disposed as follows:- "A" Co. & "D" Co. in FABECK GRABEN, "C" Co. in SUGAR TRENCH, "B" Co. in OLD BRITISH TRENCH. The Artillery Barrage was to have commenced at 4.45 p.m., but according to reports the few shells that went over burst well in rear of the objective and caused practically no damage to the Hun, who was holding his line very thickly.
"A" and "D" Cos. advanced about 75 yds from FABECK GRABEN in the face of extremely heavy rifle and M.G. fire together with considerable artillery fire. The casualties were heavy and the advance was held up about 150 yds from the ZOLLERN GRABEN. At this juncture Lieut. PENNIMAN, finding himself alone and unable to find any other fit men near him, proceeded to a point about R.29.a.8.5. where the Regimental Bombers, together with the P.P.C.L.I. were bombing up the ZOLLERN GRABEN. Here I understand the machine gun which had done considerable damage to us was put out of action by our bombs.
At 6.25 p.m. orders were received to move "C" & "B" Cos. to FABECK GRABEN at once. The Bn. was in position in and about the FABECK GRABEN until relieved by elements of the 52ND and 60TH Bns. at or about 4. a.m. on the morning of the 17th, when we proceeded to bivouacs at TARA HILL. The total casualties as far as can be ascertained amount to 1 Officer killed, 4 wounded and about 279 O.R. killed, wounded or missing.
(Sgd)
C.H. Hill, Lieut Col.
Commanding The Royal Canadian Regiment
20/9/16