Researching Canadian Soldiers of the First World War
Part 19: Veterans Death Cards
By Michael O'Leary; The Regimental Rogue
The online resources at the Library and Archives Canada include the Veterans' Death Cards. Where a returned soldier's death was recorded, these can be an invaluable resource to pick up the research trail by connecting a soldier's service number to a confirmed date and place of death.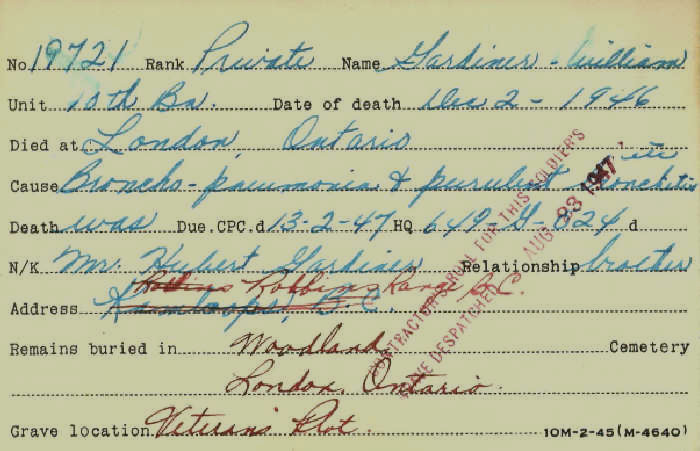 The Veterans Death Card for 19721 Private William Gardiner, who served in France and Flanders with the 10th Canadian Infantry Battalion.
These cards, although many are incomplete (and some are faded to almost unreadability), can offer the following information on a soldier:
Date of death.
Place of death.
Cause of Death.
Whether or not death was considered attributable to the soldier's military service.
Next of Kin, and address.
Place of burial
Finding the Card
Like the Circumstances of Death forms described in the page on Casualties, the Veterans Death Cards are viewable in large batches of up to about 1400 cards. The links below lead to the name on the first card of each alphabetical set.
Select the link to the batch that the card you are looking for fall in. Rather than paging through the entire set, use the "Page" number over the top right corner of the shown card to jump through the set until you are close to the right name, then advance (or retreat) one card at a time to your target card. Once you have found it, always check the next image, when information was recorded on the back of a card, it was also scanned.
Index to the Veterans Death Cards
Concluding Remarks
It is hoped that the preceding pages will assist you as you embark on the research to build the story of your ancestor or other soldiers of the Canadian Expeditionary Force of the First World War. The internet provides a wonderful opportunity, not only to find information that for many decades would have taken great effort to seek out, but also to share information, resources and research with others on the same journey. Please share the results and experiences of your efforts to assist others that come behind you on this path.
To each and every reader who has found these pages to be useful, I wish you the best of luck with your ongoing research.
Michael O'Leary
The Regimental Rogue
Researching Canadian Soldiers of the First World War