Researching Canadian Soldiers of the First World War
Part 18: Photo Forensics: Badges and Patches
By Michael O'Leary; The Regimental Rogue
Introduction
The first thing an inexperienced soldier looks for on another's uniform is rank badges. This is because the new soldier is still trying to remember how to address those who outrank him (which is everyone), how to salute, and who to salute. At this point in the new soldier's career this behaviour is generally motivated by wishing to avoid any close association with his Sergeant Major for corrective counselling if he gets it wrong.
Every family has photos. And in most families the collections of photos are notorious for being poorly labelled with names, dates or locations. These details, though they may have been well-known facts to one generation, may be slowly lost to subsequent ones until all that remains is an image which may or may not be of "old Uncle Bill who was in the War." A common type of request on Great War internet forums is for information that may be found within a photo. Sometimes the soldiers in the photos are known, and their names can help the determination of further details, in other cases it is a blind request for any information that may help the family researcher place the image within the context of their research.
This article will introduce the concept of photo forensics for soldiers of the First World War and introduce you to a variety of resources that may be helpful.
The Potential in Any Given Photo
The first advice I would offer to anyone hoping to build the story of their ancestor's military service from family photos is "don't get your hopes up." Of the many photographs taken of soldiers during the First World War, many do not have sufficient clarity or detail to offer much information. Even with clear images, badges (if any) may be too small for positive identification even when scanned at a high resolution or soldiers may have been photographed wearing only general service badges that cannot be matched to specific units or periods.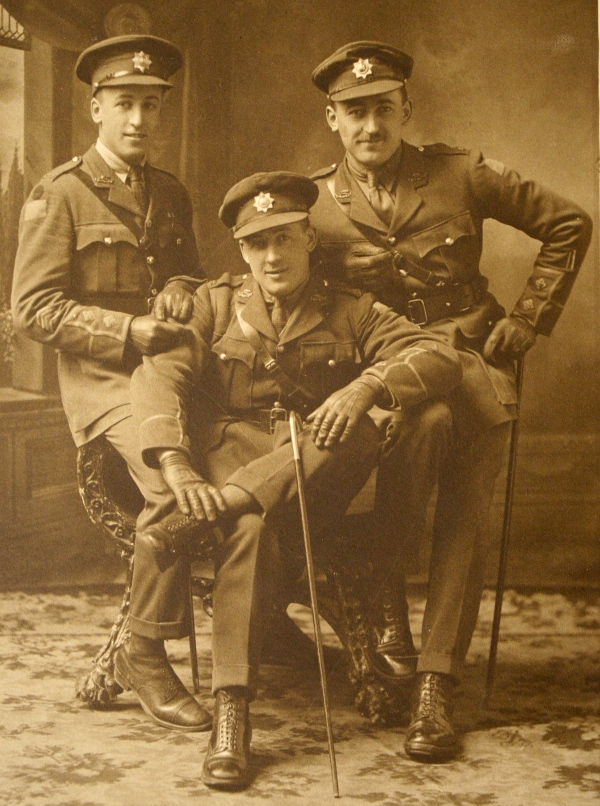 An ideal example of a photograph of Canadian officers taken during the First World War. A studio photograph of three officers of The Royal Canadian Regiment: brothers Lieut. Rupert Murray Millett, MC, Lieut. Frederick Brenton Millett, MC, and Lieut. John Stanley Millett.
Cap and Collar Badges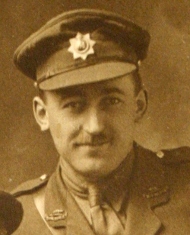 High resolution scan: Cap and collar badges.
Click for full-size.
One of the first things an experienced soldier looks at on another's uniform is the cap and collar badges. These are distinctive for each unit, and tell the observer what unit the soldier is serving with. Similarly, in examining photographs of CEF soldiers, cap and collar badges can provide the same information. Note that while badges are distinctive between units, sometimes those differences may be too fine to see in a photograph. (Of the 260 infantry battalion badges in the CEF, over 140 are based on a maple leaf shape.) Similarly, badges for the Artillery follow a common basic pattern and may be identifiable only as "artillery," and the corps (engineers, machine gunner, medical, etc.) often wore common badges throughout their units.
Using the best available image, including rescanning at a high resolution, try to match the badge to images in available references. Finding a matching badge, even if only in outline, will help to work toward a positive identification. Collar badges will appear less often in the references and, if they are present in the photo without a matching cap badge, then consulting with other researchers and collectors on line may be your best option.
Listed below are some of the available references on badges of the CEF. You may be able to find economically priced editions of the books through eBay or other online book resellers. For a one time use, try accessing a copy through inter-library loan, or reach out to other researchers on line who may have a copy.
An excerpt from Canadian Expeditionary Forces Cap Badges, 1914-18, compiled by Lenard L. Babin, showing the badges for the 11th (E-11) to the 19th (E-19) Canadian Infantry Battalions. Note that some units had more than one version of their badges.
If you decide that an online consultation with an internet forum is your best course of action, prepare your photo and data before posting and provide as much information as you can. It is frustrating for those who are trying to help when someone uploads a basic scan of a photo with no information. Provide not just the photo, but also close up scans of the badges (see the close-ups in this article of the Millett photo). Give the soldier's name, units if known and explain if you are just trying to match the photo to one of his units for confirmation. Everything you know about the man can be clues that help those who are able to assist to avoid potential dead end recommendations. Information up front reduces duplicated effort and assists with the process of elimination approach that might be applied. Once you have the relevant versions of the photo and its parts ready, and your notes prepared, then it is time to seek assistance:
If you decide to post your photo and question on multiple forums at once, bear in mind that these forums have many common members. Be proactive and share what is posted on one forum to your discussion threads on the other(s), do that to save others from duplicating effort for you. If you make that effort and share the results to help build each forum's future research potential, then members will be much more amenable to your further questions (until you have become an experienced member of the forums yourself and are offering as much as you are taking). Also, bear in mind that sparse answers could mean a number of things, such as:
There's just not enough detail in the photo to work with.
The "local" experts on your question just haven't been on line yet (be patient, they have lives too).
Someone with an answer is waiting to see your replay to information posted in another forum (because he's watching both of them).
Someone is working on it, perhaps searching for a relevant reference or link (and a snappy remark about not having an answer after 30 minutes isn't going to make them want to work faster, if at all beyond that).
Badges of Rank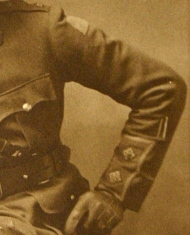 High resolution scan: Officers cuff rank.
Click for full-size.
The first thing an inexperienced soldiers looks for on another's uniform is rank badges. This is because the new soldier is still trying to remember how to address those who outrank him (which is everyone), how to salute, and who to salute. At this point in the new soldier's career this behaviour is generally motivated by wishing to avoid any close association with his Sergeant Major for corrective counselling if he gets it wrong.
From the single chevron of a Lance Corporal to the crossed sword and baton of a General's insignia, soldiers of the CEF wore badges of rank to denote their position within the military hierarchy. Rank can be one of the first and most obvious elements of a soldier's photo, not only to establish his rank, but also to help place the photo in the timeline of that soldier's career.
Officers' rank badges may be found in two locations of the service dress uniform in use during the war. These are the cuff and the shoulders. Officers rank is indicated in cuff rank by stars and crown and by the number of stripes around the cuff. On the shoulder the stars and crowns are used. ("Pips" is a common name you may find used for the officers' rank stars.)
The following images (click each for a larger size) show the army ranks in use during the First World War.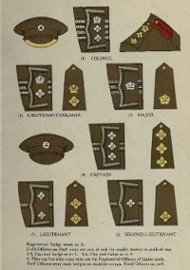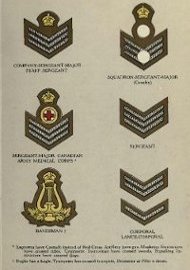 Rank badges of the Canadian Expeditionary Force. Source: Their Glory Cannot Fade, a souvenir pamphlet published by the Canadian Pacific Railway, Christmas, 1918.
Click on thumbnail images for full size.
Distinguishing Unit Patches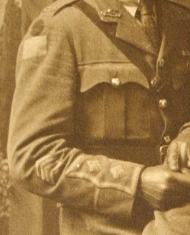 High resolution scan: Unit patches.
Click for full-size.
While cap and collar badges are useful indicators of a soldier's unit, they can often be missing or hard to distinguish with accuracy in a wartime photograph due to size of image, resolution or their orientation to the camera. Soldiers of the CEF also distinctive unit patches on their shoulders that identified them by their fighting units.
While distinguishing colours in black and white and sepia tone photos can be challenging, the contrasts between the divisional (rectangular) patch and the battalion (circle, semi-circle, triangle, square) patch can help narrow the possibilities. The addition of any of the other possible devices applied on or above the divisional patch can also help to determine what unit the soldier was serving with at the time of the photo.
The following image shows an extract of a chart of distinguishing patches worn by soldiers of the CEF, the link below the image will display the full chart. An alternative resource, which has an even larger presentation of CEF patches, is "Distinguishing Patches", by Clive M. Law (Second Edition, Service Publications, 2008).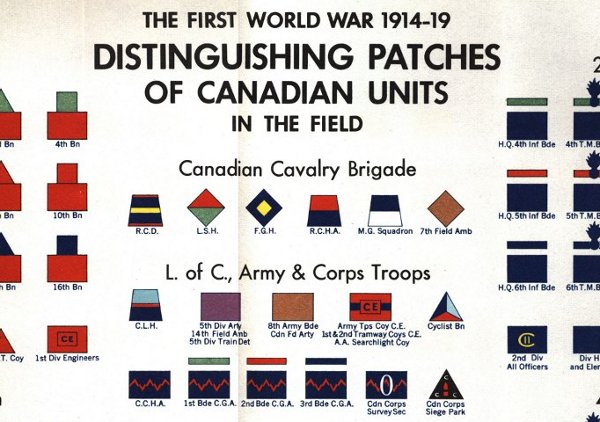 Distinguishing Patches of the units of the Canadian Expeditionary Force. Source: Official History of the Canadian Army in the First World War: Canadian Expeditionary Force 1914-1919
(See the full chart in one image.)
Medal Ribbons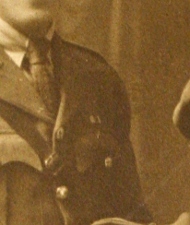 High resolution scan: Medal ribbon.
Click for full-size.
Depending on the particular uniform being worn, a soldier may be wearing medals or ribbons. This also presents a challenge where the normally distinctive colours of medal ribbons are not evident in black and white or sepia photos (in fact some colour contrasts can appear to be reversed). But with the use of related circumstantial evidence, the medals or ribbons being worn can be determined. Besides the shape of medals (when worn) and the colour (contrast) sequence of the stripes in individual ribbons, the possibilities for medals being worn can be narrowed by establishing:
What is the approximate date of the photo, was it taken before or after First World War medal ribbons were authorized?
Could it be an old soldier wearing a Long Service & Good Conduct Medal?
Is it a soldier with pre-War service that could have other campaign medals?
Did the soldier receive any gallantry or meritorious service awards during the War?
For Canadian soldiers, an excellent source for helping to identify medals and their ribbons is the Veterans Affairs canada pages on Orders, Decorations and Medals.
But it won't always be quite that simple. Remember, many soldiers of the CEF had previous service with the British Army, and may have campaigned anywhere from Africa to the Indian Northwest Frontier to the Far East in the decades before the First World War. In some cases, going to the experts will be the best course of action, and in this case those experts can be found on the British Medal Forum. As with badges, offer up all the information you have to reduce duplicated effort, and the best scan you can produce of the medals or ribbons in the photo. Further resources might be readily found in your local library, there have been many books produced on British medals and ribbons that will cover the late-Victorian period and the early years of the 20th century.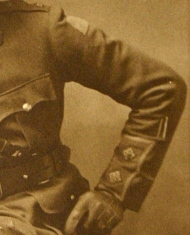 Lieut J.S. Millett's two wound stripes can be seen on his left sleeve above the point of the lace of his cuff rank.
Click for full-size.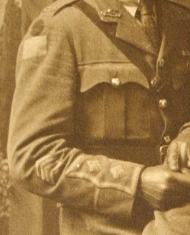 Lieut J.M. Millett's Overseas chevrons can be seen on his right sleeve above the point of the lace of his cuff rank.
Click for full-size.
Miscellaneous Badges
While the sections above cover the most common items that may be found on a soldier's uniform, they do not provide a comprehensive listing. There remains a wide variety of other badges and patches that may have been worn by soldiers of the CEF and will be identifiable by an experienced researcher or collector who specializes in the badges of the CEF.
These can include:
Wound stripes.
Overseas chevrons: A soldier earned his first chevron on the day he disembarked from the ship carrying him overseas. A man who has 3 chevrons had been overseas for at least two years plus a day but not more than three years.
Trade or qualification badges.
Special award badges, such as a "dumbbell" badge worn by "prize platoons" (i.e., winners of inter-unit platoon competitions) in Canadian divisions.
Researching Canadian Soldiers of the First World War