Researching The Royal Canadian Regiment
Op MEDUSA - A Summary
Capt Edward Stewart, Task Force 3-06 Battle Group PAO (Forward PAO for Operation MEDUSA)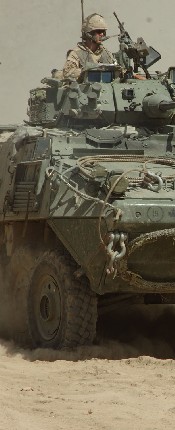 Light Armored Vehicles (LAVs) provide a safe mode of transportation in addition to continuous perimeter security for Canadian soldiers patrolling in and around in the Panjwaii District approximately 30 kilometres west of Kandahar City as part of Operation MEDUSA. Photo by: Sgt Lou Penney, TFA OP ATHENA, Imagery Technician, Sept 2006
PANJWAII DISTRICT, KANDAHAR PROVINCE— Commencing with twenty-four hours of aerial bombardment and artillery fire, closely followed by both mounted and dismounted advances and culminating with re-population and reconstruction, Op MEDUSA was a textbook example of Full Spectrum Operations in complex terrain. With a Battle Group comprised of four companies, one artillery battery, one ISTAR Squadron, one engineer squadron, elements of the Afghan National and United States Armies plus air support, it was likely also the largest Canadian combat operation since the Second World War.
Although Op MEDUSA began on 2 September 2006, its origins stretched back to OP ARCHER, Roto 1. In July of 2006 Task Force ORION began to note a marked increase in insurgent activity in the Panjwaii district. On August 3rd, four members of the Task Force ORION lost their lives in the vicinity of Pashmul, in the Panjwaii District of Kandahar Province. Leadership at ISAF's Multi-National Brigade South (MNB(S)) recognized that a polar shift in insurgent behavior was taking place. Insurgents, who had long relied on small-unit attacks and ambushes throughout the area of operations, were starting to tie themselves to a single piece of ground.
"It's classic stage-three of an insurgency," explained Lieutenant Colonel Omer Lavoie to his planning staff. As commander of the Task Force 3-06 Battle Group, which is centred around 1st Battalion, The Royal Canadian Regiment (1 RCR), primary responsibility for clearing Panjwaii would ultimately fall to him. According to the writings of Mao Tse Tung, explained LCol Lavoie, stage three of an insurgency indicates that the forces feel strong enough to both tie themselves to a piece of ground and to mass in large numbers. "Basically, they want us to become decisively engaged," said LCol Lavoie.
By the time the first elements of Task Force 3-06 began arriving in theatre in late July and early August, it was clear that the insurgent forces in the Panjwaii District were going to be the main focus of operations right from the start. "I have to admit that this is not where I expected to be," explained LCol Lavoie in an interview. "For the last six months I trained my battle group to fight a counter-insurgency, and now find that we are facing something a lot more like conventional warfare." He added, "Fortunately my troops are well-trained in both."
On August 19th, at around 4:00 P.M. local time, Transfer of Command Authority (TOCA) took place in a small ceremony at Battle Group Headquarters, Kandahar Airfield (KAF). LCol Ian Hope, Commanding Officer of Task Force Orion (centered on 1st Battalion, Princess Patricia's Canadian Light Infantry) passed on command to LCol Lavoie. LCol Hope spoke to his troops about their many accomplishments. TF ORION had been in close to a hundred firefights, had manoeuvred all over Kandahar and Helmand Provinces and had lost some of their comrades in battle. To the incoming soldiers LCol Hope expressed his confidence that they would be able to take up the reigns without difficulty, and warned of the intractable nature of the enemy they faced.
LCol Lavoie then spoke of his confidence in his battle group and thanked TF ORION for the outstanding work they had done in theatre since January 2006. With that, authority had been transferred and planning staff at both Battle Group and Brigade began refining the plan for Op MEDUSA.
Any doubt as to the nature of the threat that TF 3-06 faced was put to rest within hours of TOCA taking place. Alpha Company of TF 3-06 BG was operating in the Panjwaii District, in the vicinity of Patrol Base Wilson, when roughly 70 insurgents were detected. The deployment of A Coy likely caused the insurgents to attempt an attack and various assets identified their movement. A Coy engaged with their LAV III's and, aided by Combat Air Support, they inflicted heavy casualties on the insurgents without becoming decisively engaged. The encounter clearly highlighted the advantages the Canadian BG had at its disposal: the ability to fight at night, unmatched firepower and soldiers trained to the point where they were able to adapt rapidly to situational changes with lethal effect.
Over the last two weeks of August a pattern emerged. The insurgent forces were clearly looking for a fight, and wanted to draw NATO forces into a battle. Convoys were continually ambushed and Patrol Base Wilson was constantly mortared.
By the end of August, however, shaping operations in preparation for the main phases of Op MEDUSA had begun in earnest. "We will decisively engage them at a time of our choosing," explained LCol Lavoie during a media scrum. "They [the insurgents] have a certain amount of influence there at the moment, but they cannot manoeuvre and we can."
The insurgents in Panjwaii District represented a very real thorn in NATO's side. By staking themselves so boldly to a piece of terrain they were making a very real statement of intent. Moreover, they were also attempting to generate an information operations victory on Kandahar City, only a short drive to the east. It would be next to impossible for NATO to implement an agenda of reconstruction with the insurgents essentially camped out on the doorstep. Security aside, the population of Kandahar Province, and indeed Afghanistan, would never buy into reconstruction unless this threat was dealt with.
A greenbelt with a maze of fields between Highway One and the Arghandab River and surrounded by rugged hills, Panjwaii had twice been the location of Muhjahadeen victories over the ill-fated 40th Army during the Soviet invasion in the 1980's. Melons, grapes, pomegranates and marijuana all grew there. The fields, and the endless compounds, ditches and canals made it ideal defensive terrain with a self-sustaining food supply.
With all that in mind, battle staff at Brigade and Battle Group created a condition-based plan to clear the eastern pocket of the Panjwaii District. Aerial reconnaissance assets gave lucid pictures of enemy movement and precise movements and specific goals marked the plan for Op MEDUSA. By the end of August, the TF 3-06 Battle Group, along with the Afghan National Army, US, Dutch and (later) Danish forces was at the start lines both north and south waiting for H-Hour. The BG had seized Bazari-Panjwaii by fire and was well forward waiting for the bombardment.
Using leaflets and media briefings, Brigade staff issued a warning to all non-combatants who lived in the Panjwaii District to leave immediately. Civilians streamed out of the area leaving the insurgents fixed in place, and alone, waiting for the attack that they had essentially asked for.
As the ISAF main effort, Op MEDUSA had tremendous combat air support (CAS) at its disposal. At first light on September 2nd bombardment began. In both the north and the south, waiting ground forces watched as artillery and aerial salvos rained down on insurgent forces destroying clusters of enemy, their command and control nodes and their re-supply.
Controlled by Forward Observation Officers (FOOs), Canadian artillery made up of Echo Battery (E Bty), 2nd Regiment Royal Canadian Horse Artillery, fired hundreds of 155mm rounds into the area of operations. E Bty was located some 10 kilometers north of the battle space in the Artillery Manoeuvre Area (AMA). Under the command of Major Greg Ivey, E Bty had the tremendous power of four M777 howitzers at their disposal. Apache attack helicopters from the Netherlands and United Kingdom prowled on station firing rockets and 30mm cannon fire on targets as they were called in. Harrier's of the Royal Air Force and F-16 Falcons of the Royal Netherlands Air Force struck with 500 pound bombs, and B-1B Lancer bombers of the United States Air Force dropped in precision-guided munitions from 15,000 feet and higher.
Bombardier Richard Hannam was the driver for the FOO attached to Alpha Company (A Coy). His job was to drive the LAV III that carried both the FOO and the Forward Air Controller (FAC) responsible for calling in both artillery and combat air support. "At times we were less than 400 meters from the explosions," explains Bdr Hannam. "It was definitely 'Danger Close!'" Bdr Hannam was in the south during the first days of Op MEDUSA. "It was a real eye-opener....high paced...and a fast tempo." After some thought Bdr Hannam adds, "I know a lot of people who train thinking they will never do it. I never thought I would use my training over here like this and it's a kind of fulfillment, doing what you train to do."
As this bombardment took place Charles Company (C Coy) under the command of Major Matthew Sprague, and Alpha Company (A Coy) under the command of Major Mike Wright of TF 3-06 BG waited in the south. Along Highway One, Bravo Company (B Coy) under the command of Major Geoff Abthorpe provided a screen in the north. With each company engineers of 23 Field Squadron (23 Fd Sqd), 2nd Combat Engineer Regiment (2 CER) under the command of Major Mark Gasparotto prepared to conduct breaching tasks.
On September 3rd the forces in the south moved forward towards insurgent positions, but the day was marked by tragedy. As C Coy advanced across the Arghandab River and onto their objective three soldiers from 1 RCR and one engineer from 2 CER were killed in battle. Warrant Officer Richard Nolan, Warrant Officer Frank Mellish, Sgt Shane Stachnik (2CER) and Private Jonathan Cushley died in battle with the insurgents.
On the same day, a RAF Nimrod reconnaissance aircraft crashed with the loss of all on board. ISTAR Squadron, Royal Canadian Dragons under the command of Major Andy Lussier was immediately moved in to secure the crash site in advance of an RAF ground team.
Despite these terrible losses, the insurgents were being reduced. Aerial bombardment and artillery fire along with fire from LAV III's and Coyote reconnaissance vehicles was taking its toll. The Canadian capability to operate in darkness was proving to be a decisive advantage as insurgents were engaged from distance in the darkness. Various intelligence sources were indicating that in the first two days the insurgents had suffered tremendous losses.
On September 4th, calamity struck C Coy once more when an A-10 Thunderbolt of the United States Air Force mistakenly engaged them. C Coy suffered one dead, former Olympic athlete Pte Mark Graham, and upwards of 30 wounded -including several senior NCOs and the Company Commander, Major Matthew Sprague.
Corporal Jason Plumley, a Dragoon attached to 23 Fd Sqn, said, "I had been off to the side and heard the (A -10) sound. I hit the ground, and when I got up I saw all the [injured] laying there."
Major Steve Rankin, an Army Lessons Learned Officer from Land Forces Doctrine and Training Systems (LFDTS) observed that even though the scope of the mishap was huge, training prevented it from getting any worse. "Soldiers immediately went into their first aid drills," observed Rankin. "The medics performed triage and did it quickly." Cpl Plumley's assessment was identical, "without hesitation everyone moved in at once to tend to the casualties." Much credit for this response was given to the Tactical Combat Casualty Care Course (TCCC). The troops all agreed that this course had provided excellent prep for what they had to deal with.
Aerial medevac was quickly on site. In less than 36 hours, C Coy had essentially lost its leadership at both the officer and NCO level. All four of its Warrant Officers had been either killed or wounded. Captain Steve Brown, the 2IC was suddenly in charge of a company that had a Corporal acting as Company Quartermaster (CQ), and a Sergeant as Company Sergeant Major (CSM).
In the north, soldiers of B Coy could only sit in frustration knowing that their comrades in C Coy were in trouble in the south. "We had sort of felt left out from the start," explained Corporal Mike Blois, of 1 Section, 4 Platoon, B Coy. "We knew from the radio what was going on, and we knew the PPCLI guys in Alpha would jump in to help, but these were guys from our regiment."
A lull in ground operations ensued. The north, along highway one, was to become the main effort of the operation. In the first days of the operation, B Coy had faced south. Numerous small engagements had taken place as insurgent forces attempted to engage with small arms and Rocket Propelled Grenades (RPGs), and were repulsed each time. In one instance, two insurgents attempted to sneak in close to attack with RPG fire and were quickly destroyed.
On September 5th five members of Bravo Company were injured when they were engaged by mortar fire on the western edge of their screen. They had been re-supplying their LAV with rations and water when the mortaring began. The opportunistic nature of the attack highlighted the ability of the insurgents to watch and wait for certain behavior patterns before striking.
Since September 2nd, the north had been fairly quiet. Patrol Base Wilson (PBW), in the Zahri District Centre was the Forward Supply Base for operations in the north. Just off of Highway One and a scant 3 kilometers north of the Arghandab River, and a little less than a kilometer from a tree line that separated friendly territory from enemy.
Barely 150 meters square, PBW was the hub of re-supply and maintenance as well as the location for the forward command post. Jointly administered by Captain Simon Parker (Forward Supply Element) and Captain Greg Losier (Military Police) the population of PBW would change rapidly throughout each day as supply convoys came and went, and as soldiers and vehicles came in to re-supply re-arm. Medics from Health Service Support Coy (HSS) were always available to tend to everything from minor health complaints, to heat stroke to combat wounds.
A surprisingly small number of troops from the National Support Element (NSE) and BG would keep the supplies flowing and vehicles working. Medics dealt with all nature of injuries ranging from shrapnel, to heat exhaustion to gastro-intestinal ailments. The NSE has deployed a Forward Support Element (FSE) under the command of an infantry officer, Captain Parker. The FSE consisted of 14 soldiers from the NSE including Supply Technicians, Ammunition technicians, Transport personnel, Maintainers for weapons, fire control systems, communications and vehicle technicians.
The FSE assumed control of Patrol Base Wilson and from there quickly established a Combat Service Support (CSS) node well forward, which provided continuous support to the troops in contact throughout the operation. The FSE also attached Mobile Recovery Teams to each company to provide integral maintenance and recovery close to the forward edge of battle. The FSE coordinated continuous resupply convoys both by ground and air to companies engaged in battle no matter the location. From the rooftops, staff at PBW could see the effects of the bombardment, as well as a stream of non-combatants moving north to a refugee camp and safety.
Patrol Base Wilson was also the location of a forward command post. Under the command of Battle Group Deputy Commanding Officer, Major Marty Lipcsey, a small staff of duty personnel monitored and many time directed the operation as circumstances dictated.
LCol Lavoie noted that one area in which the NATO forces had the insurgent forces far out-stripped was in command and control. In a very short period of time the main effort of the operation was moved to the north. As forces were redeployed up north, reconnaissance patrols were sent out almost daily as the plan was adjusted. Captain Steve MacBeth, the Recce Platoon commander noted, "on a lot of mornings they [the insurgents] would wake up to find our footprints all over the place." Intelligence reports noted that the artillery fire and air support, which had been unceasing since September 2nd, was taking its toll as the insurgents were finding it very hard to re-supply and maintain control.
On September 6th B Coy breached the treeline that marked the divide between friendly and enemy territory. With the breach in place, a systematic move south began. With the aid of outstanding aerial maps, and with Recce looking ahead each night, the BG began moving south in a methodical manner in a series of forward passage of lines.
"It was almost like running a Recce Course," said Corporal Don Leblanc of 1 RCR's Recce Platoon." Added Cpl Leblanc, "the difference is that we had all the assets we could ask for and more. We hadn't done much basic recce work in the work-up training, but our initial training kicked in and we went back to basics."
With recce leading the way, and preceded by artillery and air support companies would move south, engage in firefights, seize, clear and secure objectives and then wait for the next forward passage of lines. Troops from the Canadian BG, a US company drawn from the 10th (Mountain) Division and Afghan National Army troops would clear compounds, houses and fields of enemy.
Initially alone in the north, B Coy was now in the thick of events. "We went from nothing to a three-hour firefight," said Cpl Blois. "It was strange, not what I expected. It was really intense but not scary." Cpl Blois described the enemy fire as being a lot like camera flashes. "I knew we would get into it too," added Blois. "I know a lot of guys think that they train and will never fight but I always figured that the Army trained for war and eventually I would be there."
By September 10th, NATO forces were well into the enemy territory. In an interview with the Canadian Broadcasting Corporation LCol Lavoie noted that the ground that had once given the insurgents an advantage was now being turned against them. "Its perfect defensive ground," explained LCol Lavoie. "Now it belongs to us so all of its advantages are now ours and we have better troops and equipment to hold it."
Added air support from F/A-18 Super Hornets of the US Navy joined the bombardment as they flew in from their carrier, USS Abraham Lincoln, in the Indian Ocean. The sound of artillery fire and bombs had by then become a background noise the troops were used to. Even the distinctive hum of the A-10's 30mm cannon, described by one Newfoundland soldier as "the sound a whale makes when it hits a ship," had became old hat. At the same time a persistent rumour began to circulate that a squadron of Leopard C2 Tanks from Canada would shortly be joining the fray. Although they would arrive in theatre too late to affect the battle, it was noted by many that this was the first time in their memory that a crazy rumour turned out to be true.
September 11th marked the fifth anniversary of the destruction of the World Trade Centre by hijacked aircraft piloted by fanatics. Many of the soldiers in the BG were still in high school when that event had occurred, but the correlation of events was not lost on them. Dirty, tired and with bites from flies and sand fleas covering them they continued to work through the objectives.
Sensitive Site Exploitation Teams would sift through the remnants gathering valuable intelligence to add to the overall picture. Explosive Ordinance Disposal teams were constantly busy destroying unexploded artillery shells and bombs as they were found - some of them dating back to the Soviet invasion.
Engineers would blow breaches in compound walls so the soldiers could move in and clear. Bulldozers would either keep routes open, or create entirely news ones so that LAVs and supply vehicles could move with ease. The role of the engineers could not be understated. Corporal Matthew Stewart and Corporal Jason Legros, both of 23 Fd Sqd described some of the many tasks they did. "We blew holes in things for breaches, we got rid of duds, we did the breach across the wadi....you name it" said Cpl Stewart. "We were going non-stop!"
"I though I had some idea of what I was going to be going through," added Cpl Legros. "I figured I would be shot at a few times but I didn't expect to be ambushed." All agreed that there was a limit to what training could provide. "A lot of times we had to do things on the fly," said Cpl Legros. "We could all hear the radio chatter, so we had pretty good SA (situational awareness) and new what we needed to do. When it came to doing it, the drills kicked in and everyone did their thing."
In the wake of the advance, the Provincial Reconstruction Team (PRT) under the command of LCol Simon Hetherington, was preparing for the repopulation and the reconstruction of the Panjwaii District. Although Op MEDUSA was a pure combat operation, the overarching mission of security through reconstruction had never been forgotten and was always working concurrently as the soldiers advanced and fought. Once areas had been cleared and secured some farmers began to trickle back to check their homes and their crops.
Op MEDUSA was also unique for having unprecedented media coverage. Staging out of Patrol Base Wilson, Canadian and British print and television media would forward embed with platoons and companies for up to eight days at a time in some instances. Through portable satellite kits, the media were able to provide Canadians, and the world, a view of the operation previously not seen on Canadian operations, and certainly never before on a directed combat operation of such scope.
Brigadier General David Fraser, commander of Multi-National Brigade (South) was a frequent visitor to the front line. He had reason to be pleased. After initial set backs the BG had advanced rapidly and efficiently into enemy territory with nothing more than minor casualties. In conjunction with US and Afghan allies, the Canadians had conducted a ruthlessly efficient advance that cut right into insurgent territory.
By the 13th, coalition forces had reached the Arghandab River. Estimates of insurgent dead were well into the hundreds. Hundreds more had attempted to flee west, running a gauntlet of small arms fire, 25mm cannon, artillery and air support. The insurgent's gamble of massing their forces had failed miserably.
By the 15th of September, NATO forces were already pushing rapidly westwards and looking to the next phase of the operation—resettlement and reconstruction. The Panjwaii 'Pocket' had been cleared of insurgents, and secured for reconstruction and repopulation. Local Afghans the Canadians encountered seemed genuinely glad that the insurgents had been cleared out and seemed very happy to see the Canadians moving through.
The troops who participated in Op MEDUSA had every right to feel proud. Tired, dirty, bug-bitten and exhausted they had executed a pure manoeuvre plan and gained all their objectives within the time allocated. They had fought beside their NATO allies, and suffered the loss of comrades. They had seen, first hand, the decades-old tragedy of Afghanistan and done their part to make it better.
Back at PBW in the Internet tent, the soldiers around Cpl Legros, including Cpl Plumley, Cpl Stewart, Cpl Legros, Cpl Leblanc and Cpl Jason Dunnett muttered in agreement as he expressed the sentiment, "every soldier worked their ass off to accomplish what we did." All of them agreed that the TF 3-06 BG was as solid an organization as you would find in any military, and all of them had confidence in their training and leadership. "Sometimes the training didn't match what we ended up doing, but then we didn't realize then that we were basically going to war," says Cpl Dunnett. "We always pushed through and figured things out on the fly...we adapted and relied on our basic soldier skills. Cpl Leblanc finishes the thought off with, "We knew the advance was never going to be stopped."
Op MEDUSA demonstrated some of the finest characteristics of the Canadian soldier: determination, resolve, precision planning, humour in the face of the enemy and inexhaustible drive. They had inflicted a heavy defeat on a dug-in enemy and cleared the way for a better future for the local population—a future free of the heavy hand of absolutist tyranny that had mistakenly assumed it could control Panjwaii.
Pro Patria