The First World War
Officers of The Royal Canadian Regiment
Lt.-Col. Albert Edward Carpenter
Soldiers of the First World War database entry - A.E. Carpenter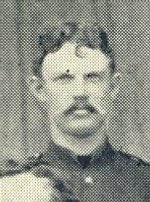 Lieut. A.E. Carpenter (1894)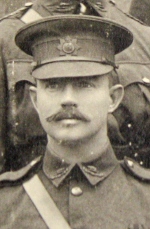 Major A.E. Carpenter (1906)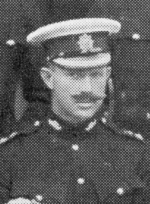 Lieut.-Col. A.E. Carpenter (1912)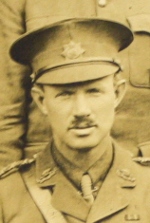 Lieut.-Col. A.E. Carpenter (Bermuda, 1915)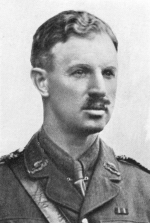 Colonel A.E. Carpenter
Service:
Regimental service 1889-1913
South African War, Lieutenent with 2nd (Special Service Bn.) The RCR; Queen's South African Medal with three clasps (Johannesburg, Cape Colony, Orange Free State)
Maj., No. 2 Depot, Stanley Barracks, Toronto, Ontario, 1911
Commanding Officer, Royal School of Infantry (Toronto), 1911
Maj., "I" Company, Stanley Barracks, Toronto, Ontario, 1912
Commanding the Royal School of Infantry, Toronto, 1912
Great War (BWM)
Commanding Officer: 1 Jan - 6 Sep 1915
Appointed Officer Commanding of a Reserve Battalion created to act as a Depot for The R.C.R. and the P.P.C.L.I., Sep 1915
Taken on strength supernumary to establishment, 30 Jul 1917.
Struck off strength on transfer to England and posted to the Nova Scotia Regimental Depot (N.S.R.D.) 21 Nov 1917
3rd Cdn. Div., 28 Nov 1917
Canadian Militia List 1914 - Record of War Service
Carpenter, A.E. - (2nd Bn. R.C.R.) South African War, 1899-1900. Operations in Orange Free State, April and May 1900, including actions at Zand River (10 may). Operations in Transvaal in May and June, including actions near Johannesburg (29 May), Pretoria (4 June). Operations in Orange River Colony and Transvaal, east and west of Pretoria, June 29 - Nov., 1900. Queen's Medal with three clasps.
The Connecting File, Vol XII, NO. 4, November 1933
It was with great regret that the "Connecting File" received word of the death, at Hamilton, Bermuda, of Colonel A.E. Carpenter, who commanded the Regiment from 1st Jan., 1915, to 31st Aug., 1915. The following is an extract from a Hamilton newspaper account, dated Friday, October 27th:
"News of the death of Colonel Albert Edward Carpenter, Royal Canadian Regiment, at the King Edward VII Memorial Hospital, on Wednesday night came as a great shock to the community yesterday, for few knew that only a few days before he had been taken suddenly ill and been conveyed to the hospital for examination. The honours due to his rank will be accorded him at the funeral today. The cortege will leave "Edgemere," Paget W. at 3 p.m. for St. Paul's, Paget, and at the committal service Lieut. the Lord Carew, A.D.C., will represent His Excellency the Governor and G.O.C. A firing party, escort and bugler will be furnished by the Northunberland Fusiliers, there will be six pallbearers from the Garrison. The coffin will be carried on a gun carriage.
"Colonel Carpenter, who had resided in Bermuda since the early days of the war, was deservedly popular in the community. He had a great charm of manner and his splendid courtesy and generous disposition won for him a great circle of friends. Until quite recently he was in the best of health and could daily be seen taking his vigorous early morning walk to the South Shore wear he loved to bathe.
"Deceased was born on September 2nd, 1866, so that he was in his 67th year at the time of his lamented death. Although medical unfitness prevented his taking his regiment into action during the Great War, he had a distinguished military career and was much beloved by his men."
Funeral - Colonel A.E. Carpenter - 30 Oct 1933
(Extract from the Bermuda Paper regarding the funeral of the late Colonel A.E. Carpenter, The R.C.R.)
Yesterday the mortal remains of Colonel Albert Edward Carpenter, formerly Officer Commanding The Royal Canadian Regiment, were laid to rest in Paget Church Yard when an impressive military funeral was held.
Although having retired from active service for many years, military honours were accorded a gallant soldier and the Nothumberland Fusiliers carried out a ceremony that made a striking impression on all present.
The cortege left Edgeners, Paget, at 3.00 p.m. and the gun carriage, with coffin draped in the Union Jack, was escorted by a military guard furnished by the Northumberland Fusiliers, a firing party and a bugler from that Regiment.
The six pall-bearers were Colonel Bateman, D.S.O., M.C., the Brigade Major, Captain W.W. Haddock, Major A.R. Barlas, R.A.M.C., Captain george Wilson, R.A.O.C., Major P.S. Ingham, M.M., B.V.R.C., and Captain D.S. Lindsay, M.C., Northumberland Fusiliers.
The military escort was under the command of Captain T.M. Scanlon, M.C., Northumberland Fusiliers.
His Excellency the Governor and G.O.C., was represented by Lieut, the Lord Carew, A.D.C., the Naval Commander-in-Chief's representative was Lieut. Whitford, H.M.S. Danae.
The service was conducted by the Rev. Archdeacon Marriott assisted by the Rev. C.H. Gibbs, and was attended by a large congregation representing every section of the community. Many members of the War Veterans Association were present. Mr. Batyard Dill, Rear Commodore of the Royal Bermuda yacht Club, of which the deceased was an old member, attended in the absence of the Commodore, Mr. Ambrose Gosling, and many societies were also well represented.
At the conclusion of the service, the firing party fired three volleys with splendid precision and the bugler sounded the "Reveille" and the "Last Post."
The Chief mourners were Mrs. Carpenter and her son and she was accompanied by many close friends. the many beautiful floral tributes bore testimony to the esteeem in which the deceased was held, and they included wreaths from His Excellency, the Governor and the Garrison.
So gallant a soldier and charming gentleman was laid to rest and he will long and lovingly be remembered by a host of admirers and friends.
Date of Birth - 2 Sep 1866