The First World War
Soldiers and Non-Commissioned Officers
of The Royal Canadian Regiment
---
477781 Corporal Arthur Rix, MM
By: Captain Michael M. O'Leary, The RCR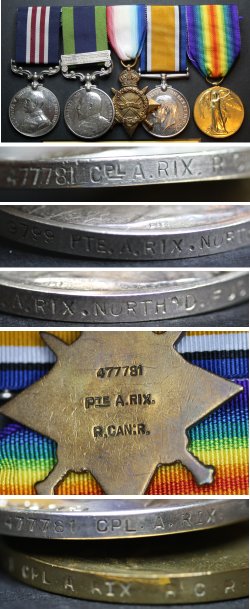 Medals War Medal awarded to 477781 Corporal Arthur Rix, MM.
Arthur Rix was born at London, Middlesex, England on 9 Sep 1886.
Corporal Arthur Rix enlisted in The Royal Canadian Regiment on 12 April 1912 at the age of 26 years, 6 months. At over six feet tall, Rix would certainly have been among the taller men of his generation. An experienced soldier, Rix was reported to have "fair" physical development, a "fresh" complexion, blue eyes and light hair. He was tattooed on both arms at attestation, and later documents state he was also tattooed on his buttocks as well, but there is no record of what designs he wore.
Rix had previously served in the British Army with the Northumberland Fusiliers, including service on the North West Frontier in 1908.
While serving in Bermuda with The RCR, Rix identified his next of kin as his mother, Mrs A. Rix, residing at 10 Cranbury Rd, Fulham, England.
Prior Service
British Army
Arthur Rix served in British Army before enlisting in The RCR. He served with the 1st Battalion, The Northumberland Fusiliers and, for eight years, 52 days, although his specific dates of service are not known. He was awarded the India General Service Medal with the 1908 bar. His IGSM is impressed "9799 PTE. A. RIX, NORTH'D FUS." and he is confirmed on the roll for this medal and bar.
For his Northwest Frontier service, Rix would have been serving with the 1st Battalion of the Northumberland Fusiliers. The 1st Battalion, The Northumberland Fusiliers is recorded as serving in India from 1905 to 1912 in Peshawar, the NW Frontier and Bombay. The battalion returned to England in 1913. The battalion's operations on the NW Frontier included the Zakha Khel Expedition and the Mohmand Expedition (1908) between 14 Feb 1908 - 31 May 1908. 867 members of the battalion were eligible for the 1908 bar to the IGSM.
But Rix did not begin his service in the Northumberland Fusiliers with the 1st Battalion. Thanks to member "G. Stewart" on the British Medal Forum, we know the following about Rix's Imperial service:
He enlisted sometime in October 1903 and was originally posted to the 3rd Bn, and he was still serving with them in South Africa in April 1906 when he was granted Service Pay of 6 pence on the 27th March 1906. He then extended his service to eight years, receiving the Bounty of £15.00–a lot of money at that time. They were stationed in Tempe Barracks, Bloemfontein, Orange River Colony. On the disbandment of the 3rd Battalion in 1907, he was probably posted to the 1st Battalion in India.
Arthur Rix left the British Army and came to Canada before the First World War.
Canadian Permanent Force
Arthur Rix enlisted in The Royal Canadian Regiment at Halifax, Nova Scotia, on 19 April 1912. He was given the regimental number 9612 and was serving in the Regiment at the outbreak of the First World War.
During the October and November of 1913, Rix was hospitalized twice for "Vertigo", the first time for 10 days and the second time for 12 days.
Rix served with the Regiment in Bermuda from 14 Sep 1914 and was back in Halifax in the summer of 1915 and attesting for overseas service with the Canadian Expeditionary Force (CEF) on 22 August 1915.
CEF Service
Arthur Rix disembarked at Boulogne on 1 Nov 1915 with The RCR en route to the front. He served with the Regiment until he was transferred to the 3rd Canadian Division Signal Company on 11 July 1916 and then to the Canadian Corps Wireless Section on 8 September 1916. He remained in the Wireless Section until he requested a transfer back to The RCR in September the same year. Both losing and gaining units approved his request, and on Christmas Day he was transferred back to the Regiment.
In July 1917, Rix was granted 10 days leave to England, returning to the unit in the field on 27 July. In September he left the unit again, on command to the 7th Brigade Training School from the 12th until the 30th of that month. Again in February 1918, Rix was granted leave, and he was in England for a fortnight, rejoining the Regiment on 19 February 1918.
Arthur Rix was appointed to the rank of Lance Corporal on 20 February 1918.
From 16 April to 4 July, Rix was away from the Regiment attending the Signalling Course at Dunstable.
8 August 1918; Near Le Quesnal Wood - "C" Company, The RCR
"The leadership displayed by Lieutenant Ballantyne and Millett has been mentioned, but these officers as reports compiled later reveal, shared their distinction with others, including Lieutenant J.W. Miller, who commanded the left front Platoon and skilfully established contact with the 42nd Battalion; Lieutenant W.G. Wurtele, who commanded "C" Company in support and capably supervised the mopping up of the captured village; Sergeant A. Gray, who led a platoon most gallantly; Corporal A. Rix who maintained communications, despite gas shelling and many other difficulties, Private N.I. Fulton, who while in charge of a Lewis Gun section, attacked and routed a strong enemy party, and Private W.W. Maass, whose bravery while serving as a runner was conspicuous." - The Royal Canadian Regiment 1883-1933, R.C. Fetherstonhaugh (pp. 337)
Arthur Rix was wounded in action on 15 August 1918. The War Diary provides the following details for actions on the 14th, 15th and 16th August:
August 1918, APPENDIX 8.
THE ROYAL CANADIAN REGIMENT.
NARRATIVE OF OPERATIONS.
14/15th August 1918.
Battalion in support. "C" Co. in support to P.P.C.L.I.
1. 12.15 a.m. Orders received from 7th Canadian Infantry Brigade to take over trenches in Old BRITISH FRONT LINE previously occupied by P.P.C.L.I., who had moved out to attack PARVILLERS from SOUTH.
12.30 a.m. Battalion moved forward and occupied line which had just been vacated by P.P.C.L.I. RIGHT to LEFT. "D", "A", "B" Cos. with "C" Co. in support.
3.30 a.m. Move complete. Reported to Brigade.
6.00 a.m. Several Parties searched "No Man's Land" for 52ND Division wounded under medical Officer. Several found.
9.00 a.m. Supplied Water carrying Party to P.P.C.L.I.
5.30 p.m. Telephone instructions received by Commanding Officer from Brigade to attack and capture PARVILLERS by day-break.
6.00 p.m. Commanding Officer proceeded forward with Company Commanders to P.P.C.L.I. Headquarters in Old GERMAN Front Line, made his plan of attack, gave Companies their boundaries and full instructions. ORDER OF ATTACK"D" Co. on RIGHT."B" Co. on LEFT. Two Platoons of "C" Co. supporting each front Line Co."D" Co. in RESERVE. Companies ordered to move to Assembly Position independently and jump off at 11.00 p.m. Commanding Officer then visited 116th Cdn. Inf. Bn., notified them of our operations and arranged for their LEFT COMPANY to come into line with our RIGHT when PARVILLERS was captured.
9.15 p.m. Companies commenced to move to Jumping Off Trench. Enemy put down heavy Gas bombardment making movement difficult.
11.00 p.m. "D" Co. jumped off on time.
11.27 p.m. "B" Co., delayed by Gas shelling, jumped off.
15th August
1.10 a.m. Message from "D" Co. stated Company had reached Objective and was consolidating.
1.15 a.m. Lieut H.C. BARKER sent forward to make reconnaissance of new line.
3.20 a.m. Lieut BARKER returned with RIGHT Co's dispositions, and reported "B" Co. still moving forward but had not arrived at FINAL OBJECTIVE when he left to return. Reported "D" Co's RIGHT flank in air. Two platoons of "A" Co. sent to protect flank. 116th Cdn. Inf. Bn. advised that battalion was at Objective and requested to move LEFT Company up. This they did.
3.40 a.m. Report from "B" Company that Objective reached. RIGHT Flank connected with "D" Co. and LEFT Flank with 42nd Cdn. Inf. Bn.
4.00 a.m. Report wired to Brigade that PARVILLERS captured. Opposition slight.
5.00 a.m. 1 Platoon "A" Company sent to do thorough "Mopping Up" of Village by day-light. Casualties Four wounded, six Gassed.
9.20 a.m. Enemy Snipers and Machine Guns active.
11.00 a.m. Advance parties 16th Battalion visited Line.
12.00 noon. Line visited by Commanding Officer and Adjutant.
2.00 p.m. - 6.00 p.m. Heavy bombardment of Village by Enemy.
6.20 p.m. Orders re relief by 16th Cdn. Inf. Bn. received from 7th Canadian Infantry Brigade. Relieved by two Companies 16th Cdn. Inf. Battalion.
16th August
12.20 a.m. Relief Complete
Battalion proceeded to LE QUESNEL WOOD.
In the Field.18-8-1918.
(signed (illegible)
Captain, Commanding The Royal Canadian Regiment.
Suffering from multiple gun shot wounds, Rix was medically evacuated, He passed through No. 20 Casualty Clearing Station (20 C.C.S.), 24 Ambulance Train (24 A.T.), No. 6 General Hospital (6 Gen. Hosp.) en route to England. He arrived at Bramshott and was transferred from The RCR to the Nova Scotia Regiment Depot (N.S.R.D.) on 20 August 1918.
On 20 August he was admitted to Nell Lane Military Hospital in West Didsbury Manchester. He remained there for 25 days, while his fractured ulna and gun shot wounds of the left wrist healed. On 13 September he was transferred to the Military Convalescent Hospital (M.C.H.) at Epsom where he remained a further 15 days until 27 September 1918, when he was pronounced fit with no disabilities or complaints.
Rix was struck off strength of the N.S.R.D. to the 17th Reserve Battalion on 1 October 1918. While here his promotion to Corporal was confirmed on the 15th of the same month, published in "R.C.R. Pt II Orders No. 119 dated 15-11-18". On 16 December, Rix was transferred on command to Kinmel Park, Rhys, and then on the 4th of January 1919 he was transferred from the 17th Res. Bn. to C.E.F. Canada.
Authur Rix embarked for Canada aboard the S.S. METAGAMA on 4 January 1919,m sailing from Liverpool. He disembarked at St Johns on 16 January 1919.
CEF Pay
As a private soldier, Rix was paid $1.00 per day, plus 10 cents daily Field Allowance. When he was promoted to Lance Corporal he received a pay raise of 5 cents daily, and another nickel per day on promotion to Corporal. His 10-cent Field Allowance remained at that rate throughout the War.
From 1 Aug 1918 to 5 Feb 1919 Rix maintain a pay assignment of $15 per month to his mother, Mrs A. Rix, 10 Cranberry Rd, Fulham SW. His pay account was closed on 5 Feb 1919 and he received a War Service Gratuity of $420.
CEF Final Medical Examination
Following a final medical examination on 1 Feb 1919, Rix was described as 6 feet 2 1/2 inches in height, 164 pounds, with good hearing and eyesight. His general health and physical condition was "Good".
On discharge, his medical condition was summarized as:
"No hernia, haemorrhoids, variscocele or goiter present. Varicose veins on calf right leg not aggravated by service, can walk 5 miles or more.
"G.S.W. hand, healed no impairment of function of hand. No complaints, no lasting disability.
"Fit A."
At his discharge, Rix's Last Pay Certificate noted that his final pay was at a rate of $1.20 per day. He also received $35 Clothing Allowance.
Cpl Arthur Rix was discharged from the Canadian Expeditionary Force on demobilization. He was discharged on 5 February 1919 at No. 2 District Depot in Toronto, Ontario.
Rix was Gazetted for the award of a Military Medal on 11 February 1919. (London Gazette Issue No. 31173)
Perhaps because of the lateness of the award, Rix's name was missed in The Royal Canadian Regiment's list of Military Medal recipients in the first volume of the regimental history published in 1936 (The Royal Canadian Regiment 1883-1933, R.C. Fetherstonhaugh). This has been corrected in award lists maintained by The RCR
Post-War
Although Rix's post-war situation is not known, he had a recorded mailing address of "c/o Mrs Rix, New Toronto P.O., Ont.". This was also recorded as his initial place of residence after discharge.
Regimental Obituary Notice
Cpl Rix's death is noted in the Spring and Summer, 1954, edition of The Connecting File:
477781 Cpl Arthur (Shaky) Rix, M.M.
Served in The Royal Canadian Regiment 1912-1919 and was awarded the Military Medal for gallantry. Death occured at Toronto on 11 Jun 54.
Pro Patria