The Royal Canadian Regiment and
The First World War - 1914-1919
Ontario Cemetery, Sains-les-Marquion
Sains-les-Marquion is a village in the Department of the Pas de Calais, about 2 kilometres south of Marquion, which lies on the main Arras to Cambrai road, 14 kilometres Cambrai. Ontario Cemetery is 1 kilometre due south of the village on the road to Havrincourt (D15).
For more information - CWGC
Royal Canadians buried at the Ontario Cemetery, Sains-les-Marquion are listed below.
Regt. No.
Rank.
Given Names.
Surname.
Date of Death.
Remarks.
CVWM/CWGC Link; Grave Ref.
477046
Pte
Joseph Alburn
BASSETT
20-Oct-16
CVWM
Mem. 5.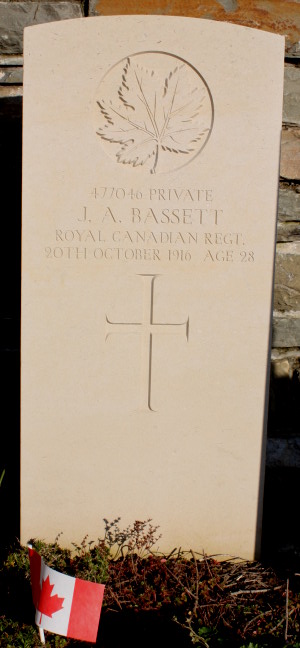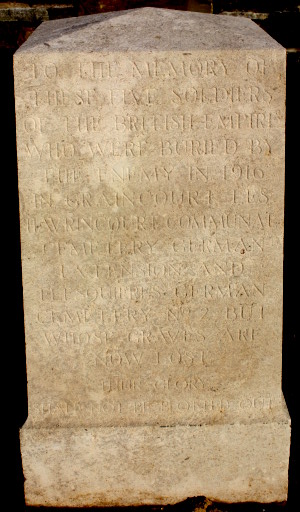 "To the memory of these five soldiers of the British Empire who were buried by the enemy in 1916 in Graincourt les Havringcourt Communal Cemetery German Extension and Flesquieres German Cemetery No. 2 but whose graves are now lost."

"Their glory shall not be blotted out."
Photos by Maj G., while serving at SHAPE in Mons Belgium.
"In the case of Pte Bassett, it is not sure if his body is actually in Ontario Cemetery, I've provided a photo of a memorial marker next to his stone that tells the tale of how he was buried by the enemy in a communal cemetery, and from what I make of it, when they moved the Commonwealth soldiers out they didn't find his body but he is commemorated there and has a regular headstone."
Pro Patria