The Royal Canadian Regiment and
The First World War - 1914-1919
Winnipeg (Brookside) Cemetery
The cemetery is adjacent to the Northern Boundary of the Winnipeg International Airport. Access by car Highway 90 (Kenaston Avenue) turn west on Notre Dame Avenue. The cemetery entrance is on your right.
For more information - CWGC
Royal Canadians buried at the Winnipeg (Brookside) Cemetery are listed below.
Regt. No.
Rank.
Given Names.
Surname.
Date of Death.
Remarks.
CVWM/CWGC Link; Grave Ref.
261043
Pte
William Lawrence
KING
16-Nov-18
CWGC
Mil. 148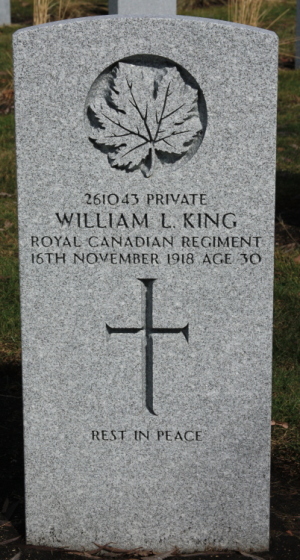 Photo by Alan Gretsinger.
Pro Patria