Researching Canadian Soldiers of the First World War
Part 13: Evacuation to Hospital
By Michael O'Leary; The Regimental Rogue
Updated: 19 Sep 2022
Introduction
Lines of communication medical units … eventually reached the following in number; 16 general, 10 stationary, 7 special, and 8 convalescent hospitals. Some of the stationary and convalescent hospitals were eventually converted into general hospitals.
Official History of the Canadian Forces in the Great War; The Medical Services, by Sir Andrew McPhail, 1925.
One set of papers that will be found in almost every service record of a Canadian soldier of the First World War are his medical documents. These may range from a hospital admissions card, to detailed hospital records of diagnosis and treatment, to the medical examination conducted when the soldier was demobilized and returned to civilian life. Usually hand-written, these medical records can be a challenge to decipher, but can hold a host of information about the soldier's experiences during the war. besides providing details of the soldier's illnesses, wounds and treatment, the medical records will also all the researcher to track his movements from evacuation from France to England and through the hospitals in which he was treated and convalesced.
The medical system during the First World War was a complex system which cared for soldiers on the battlefield as soon after wounding or injury as possibly, evacuated them to the appropriate medical facility for treatment, and provided long term care before a return to duty or repatriation home. Soldiers' service records will not include every incident of minor wounding that may have been treated by unit Medical officers and their orderlies, but will include any instances where the soldier was removed from the unit due to his injuries. The greatest detail will be found in those cases where the wounded soldier was evacuated to England for treatment.
This article will provide simple descriptions of the various places along the evacuation chain between the front lines and England. Following that is a listing of hospitals with locations and dates when they were operational. Identifying hospitals from service records can be complicated by the changes in names and locations of some hospitals during the war, all naming information from the reference used is included.
Besides individual treatment records, documents that may be found in soldier's service records identifying where they were treated when wounded or sick are the Field Medical Card and the Hospitals Admissions Record Cards.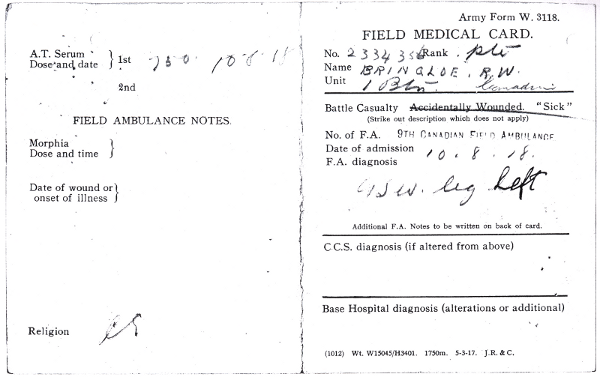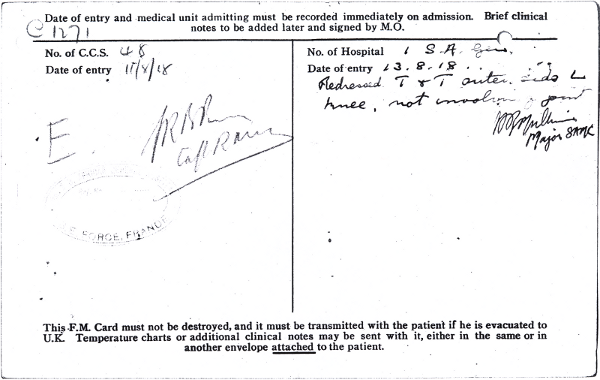 Sample of a Field Medical Card from the CEF service record of 2334356 Private Robert William Bringloe.
Sample of a Hospitals Admissions Record Card from the CEF service record of 734121 Private Angus Leon Cross
Medical Facilities the Evacuation Route
Depending on the nature of his wound or illness, and the capacity of the medical evacuation system compared to numbers of wounded and sick, a soldier's movement rearward could be fairly quick, or it could take days with slow staging through each level of the evacuation system. There are too many variables to say any individual moved through every stage, or a specific sequence of stages during his evacuation. The medical system did include these way stations which may have been part of your soldier's evacuation route:
The following list provides a general description of the facilities which a soldier might have encountered in being evacuated wounded or sick from the front lines to England. Futher sections offer lists of locations of the various hospitals from the Casualty Clearing Stations rearward.
Regimental Aid Post (R.A.P.): The unit Medical Officer and his Orderlies at a unit (in an infantry battalion at full strength, the R.A.P. would be staffed by a total of 31 men).
Advanced Dressing Station: Medical facilities immediately behind the front lines which received wounded brought by stretcher, or walking wounded, and administered immediate care.
Field Ambulance (F.A.): A mobile unit equipped with horse-drawn or motorized ambulances which evacuated soldiers from the Advanced Dressing Station rearward.
Main Dressing Station: A stationary medical facility at which battlefield casualties received fresh wound dressings, and at which time they were formally recorded as having entered the medical system. (Before this they may not have remained in one location long enough to be documented, and staff was not deployed further forward specifically for this purpose. It was from the Main Dressing Stations that the Divisions were informed of evacuated casualties when men might not have been handled by their own Unit R.A.P. or Brigade F.A.)
Corps and Divisional Rest Areas: Maintained for the treatment of the sick and lightly wounded who did not require evacuation to England, until they were fit to return to their units.
Casualty Clearing Station: Organized to accept patients from the F.A. and provide care until they could be further evacuated, the C.C.S. was, after late-1914 usually established in permanent buildings behind the front line. Patients were usually moved within four days from the C.C.S., unless too ill to be transported. By summer 1915, the C.C.S. had developed into a hospital in its own right, being able to provide surgical treatment of casualties, the furthest forward such treatment was available.
Ambulance Train: Ambulance trains, able to carry 400 patients, were used to evacuate wounded soldiers rearward from the C.C.S.
General Hospital: The Canadian medical services operated 16 General Hospitals by the end of the War. Initially equipped for 520 patients, this was increased in 1915 to 1040, after which they varied in size up to 2300 beds.
Stationary Hospital: The Canadian medical services operated 11 Stationary Hospitals by the end of the War. Originally having a bed capacity of 200, this was increased to 400 in 1915 and later varied between 400 and 650. One, No. 3, reached a capacity of 1090 in 1918.
Special Hospital: The Canadian medical services operated Special Hospitals for treatment of orthopaedic, tubercular, eye and ear, physiotherapy and venereal cases. Officers' Hospitals also fell under this categorization.
Convalescent Depot: The Canadian medical services operated eight Stationary Hospitals by the end of the War. providing a combined total at war's end of 7,456 beds, the largest Convalescent Hospital was at Woodcote Park, Epsom, with 3900 beds.
Hospital Ship: Hospital Ships transported wounded and sick soldiers from France back to England, there were also ships which transported sick and wounded to Canada from England.
Casualty Clearing Stations
Locations of the four Canadian Casualty Clearing Stations (C.C.S.) while operating in France and Flanders are detailed below:
General Hospitals
Locations of the sixteen Canadian General Hospitals are detailed below:
Stationary Hospitals
Locations of the ten Canadian Stationary Hospitals are detailed below:
Special Hospitals
Locations of the Canadian Special Hospitals are detailed below:
Convalescent Hospitals
Locations of the Canadian Convalescent Hospitals are detailed below:
Other Hospitals
These English military hospitals were taken over by Canadian personnel during the dates as shown:
Military Hospital, Basingstoke: Basingstoke 4 Apr 1917 to 18 Sep 1917. Taken over by No. 4 General Hospital on its return from Salonika, 18 Sep 1917.
Military Hospital, Kirkdale: Liverpool 21 May 1917 to 13 Oct 1917. Taken over by No. 5 General Hospital on its return from Salonika, 13 Oct 1917.
Shorncliffe Military Hospital: Shorncliffe 25 Jul 1915 to 10 Sep 1917. Taken over by No. 9 General Hospital.
Kitchener Military Hospital: Brighton 14 Mar 1917 to Sep 1917. Taken over by No. 10 General Hospital.
Moore Barracks Military Hospital: Shorncliffe 4 may 1915 to 13 Sep 1917. Taken over by No. 11 General Hospital.
Bramshott Military Hospital: Branshott 29 Sep 1916 to 12 Oct 1917. Taken over by No. 12 General Hospital.
Military Hospital, Eastbourne: Eastbourne 11 Jan 1917 to 10 Sep 1917. Taken over by No. 14 General Hospital.
Hastings Military Hospital: Hastings 1 Jan 1917 to 2 Oct 1917. Taken over by No. 13 General Hospital.
Duchess of Connaught's Canadian Military Hospital: Taplow 16 Dec 1914 to 10 Sep 1917. Reorganized as No. 15 General Hospital.
Ontario Military Hospital: Orpington 19 Feb 1916 to 10 Sep 1917. Reorganized as No. 6 General Hospital.
Minor Hospitals
Canadians may have also been treated a variety of smaller hospitals in the United Kingdom. Staffed by Canadians and voluntary aid personnel, these smaller institutions had 25 to 125 beds and were paid a daily rate (2-4 shillings) by Canadian authorities for the treatment of Canadian soldiers. Some of these smaller hospitals are identified below:
For Officers only:

"The Limes": Crowborough.
Helena Hospital: Shorncliffe.
Perkins Bull Hospital: Putney Heath.
Northwood Hospital: Buxton (for Nursing Sisters).

Convalescent Homes for Other Ranks:

Hermitage Hospital: Hastings.
Dane John: Canterbury.
Lympne Castle.
Luton House: Selling.
Glack House: Deal.

Special sanitoria for tubercular patients:

Pinewood.
Wokingham.
Ipswich.
Hastings.

Special hospital for typhoid convalescence: Wear bay, Folkstone
Canadian Forestry Corps main hospitals:

Beech Hill, Englefield Green.
Sunningdale.

Canadian Forestry Corps hospitals in France:

Lajoux.
Jura.
Alencon.
Gerardmer.
Conches.
Lesperon.
Parentisen-Born.
The following list of Hospital Ships and Ambulance Transports was identified from the Part II Daily Orders of The Royal Canadian Regiment. This list, comprised of the ships that transported wounded and sick soldiers of a single unit, is only a partial list of all the cross-channel hospital ships.
Aberdonian
Asturias
Brighton
Caledonian
Cambria
Carisbrook Castle
Delta
Dieppe
Dover
Dunluce Castle
Essecuibo
Formosa
Glenart Castle
Glengorm Castle
Gloucester Castle
Grantully Castle
Jan Breydel
Lanfranc
M.G.C. Lester
Mahene
Newhaven
Newhaven
Panama
Pieter de Conick
Princess Elizabeth
Salta
St Andrew
St David
St Denis
St George
St Patrick
Stad Antwerpen
Ville de Liege
Warilda
Western Australia
Hospital Ships
Cross-Channel
Seventy-five hospital ships and ambulance transports supported the British and Canadians in transporting sick and wounded soldiers from France to England.
Trans-Atlantic
The Canadian medical services employed five hospital ships to evacuate sick and wounded soldiers from England home to Canada. These five ships made a total of 42 trans-Atlantic journeys and transported 28,238 patients. The five ships were:
Araguaya (20 voyages / 15,324 patients)
Essiquibo (9 voyages / 5106 patients)
Llanddovery Castle (5 voyages / 3223 patients)
Letitia (5 voyages / 2635 patients)
Neuralia (3 voyages / 1950 patients)
In addition to those listed above, five other transports carried 2369 convalescent patients home to Canada (each making one voyage).
Military Hospital Ships and Ambulance Transports
Reference: History of the Great War; Medical Services, General History, Vol 1, by Major-General Sir W.G. MacPherson, K.C.M.G., C.B., LL.D.; published 1921. Appendix B - Military Hospital Ships and Ambulance Transports, Showing Date of Commissioning, in Chronological Order (also showing medical staffing for each vessel and capacity of evacuees).
Researching Canadian Soldiers of the First World War