Beef 18 Times in March
Topic: Army Rations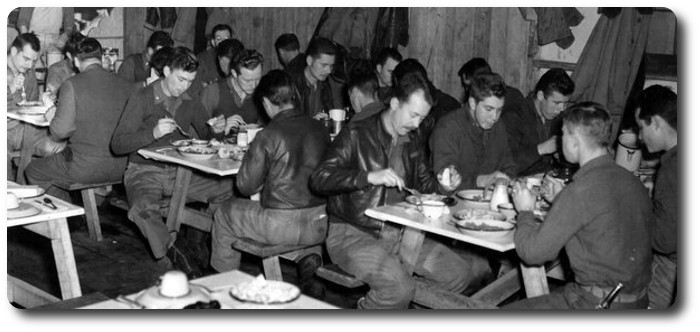 Master Menu Calls For
Beef 18 Times in March—If You're In the Army
St. Petersburg Times, St. Petersburg, Florida, 12 March 1944
By Jane Eads
Washington.—(AP)—The boys in the Army are going to get steak for chow on Match 14 …
Steak with brown gravy, mashed potatoes and fried onions.
On Sunday March 12, they'll have a chicken dinner with all the trimmings, including ice cream for dessert.
And on St. Patrick's day:
Breakfast—fresh apples, dry cereal, fresh milk, scrambled eggs, bran muffins, toast, butter, coffee.
Dinner—lamb curry, steamed rice, leafy greens, carrot-raisin salad with sour cream dressing, bread, butter, devil's food cake, coffee.
Supper—roast pork with cream gravy, mashed potatoes, cabbage, relish dish, bread, butter, fruit gelatin, coffee.
That's what the Army's master menu for March, prepared in the officer of the quartermaster general, prescribes for soldiers in this country at least.
Additional master menus are prepared for the use of overseas troops, but naturally are subject to change.
Okaying the menus is Miss I. Barber, food consultant to the secretary of war.
During the three years she has been with the subsistence branch of the quartermaster corps, on leave as home economics director of the Kellogg's company, she says she has noted a minimum of complaints from the boys.
"It's true that our Army marches on the best-fed stomach in the world," she says, adding that whether it's fried chicken in Maryland, a "D" ration chocolate bar in New Britain, or a stick of gum and candy on a liferaft in the Pacific, American chow is considered best under any circumstances.
Before any menus are planned, an estimate is made of what meats, fruits, vegetables and canned goods will be available at the time suggested for use.
The quartermaster corps now figures for instance, that there will be enough beef available in march to feed it to the boys in this country in some form 16 times during that month.
They'll get steak but once, but roast beef will be served four times and they'll have hamburger, Swiss steak, pot pie, meat loaf and beef hearts.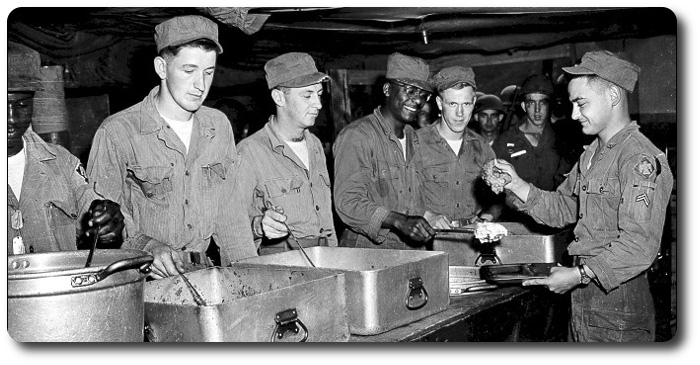 The Army recommends that the master menus be used as a standard, with such substitutions as may be necessary due to a shortage or surplus of certain products in the local market areas.
The overseas menus, available fresh foods may be used instead of non-perishable, expeditionary rations. This is left to the quartermaster on the spot.
In England, North Africa, New Zealand and Australia, Miss Barber says, the Army has found this comparatively easy.
In England, for example, there are always Brussels sprouts, potatoes and cabbage, with other fresh vegetables in season.
Upon disembarking, overseas troops all get one to three days' "K" rations … the half-pound size packages each with a different "entree" (such as tinned bacon and eggs) and a different powdered liquid (coffee, lemon juice, bouillion). All contain biscuits, sugar, a sweet, cigarets and gum.
Where there are no kitchen facilities, as in combat, our forces exist on either the "K" or the "C" ration, which is a little more complete. The "C" ration consists of six cans of food, three of which contain meat, combined with beans, stew or hash. The other three contain biscuits, soluble coffee, or powdered lemon juice, sugar and candy.
On Attu, soldiers lived for three days on "K" rations until the "C" rations caught up with them. They ate the latter with chocolate bars until they got frozen meats and their field ranges and the danger of fires giving away their position was over.
There's also the "D" ration, a candy bar of chocolate combined with powdered milk, sugar, oat flour (to keep it from melting) and thiamin … a bale-out ration for paratroopers, and the liferaft ration of candy, chewing gum and vitamin pills.
Receipts for preparing dishes in the menus come from the Army cook book or special cooking bulletins prepared in the service commands.
The Army's recipe book, "The Army Cook"—known to all mess officers as TM-10-405—is now in process of revision by Miss Barber. Revision of the recipes is based on Army appetites, although nutriment content is a prime consideration.
Soldiers' favorite foods are beef—any way it's dished up; peas, corn and tomatoes; apple pie and ice cream; sweet breads such as cinnamon rolls and coffee cake; raw apples and oranges.
Milk is the favorite drink of this young man's Army. A soldier gets a half-pint a day, which some mothers complain isn't enough. Miss Barber replies that soldiers are also provided with milk solids and eat an equivalent of what they formerly were accustomed to drinking.
She concludes:
"If every man in the service ate everything set before him, he'd get all the nutrients essential for perfect health.

Posted by regimentalrogue at 12:01 AM EST