What Not to Feed Him
Topic: Army Rations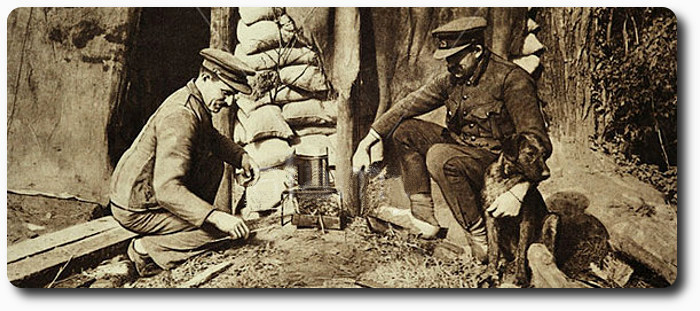 What Not to Feed Him
Berkeley Daily Gazette, Berkeley, California, 20 June 1919
Have you a returned soldier in your home? And would you like him to be happy? To forget those French mademoiselles Tout Suite? To go back to his old job and stick, even though it does seem to be a bit of a bore at first? Then follow this advice, approved by Colonel Woods, assistant to the secretary of war.
Feed him well, and you will make him happy. Give him good food, plain cooking and very fancy cooking. But remember that he has acquired certain inalienable hatreds.
Don't—give him beans. Green beans are alright. But never give him the comedy beans.
Don't—give him salmon. Not cooked or smoked or in salad.
Don't—give him hash. Not even if he liked it before.
Don't—give him corned beef. Not even in sandwiches or with eggs. When he was over there he called it "Corned Willy," "Monkey Meat" and "Bully Beef."
Don't—give him bread pudding. He has had a great deal too much of it.
Don't—give him rice pudding. It will make him think he is being forcibly fed.
Don't—give him condensed milk.
Don't—give him Irish stew. He used to call it "slum" in the army. He no longer desires it.
Don't—give him horse meat. You wouldn't anyway, but nevertheless—Don't.
This leaves a number of pleasant dishes which you may serve him. He will welcome chocolate ice cream, thick steak, roast beef, French fried potatoes, salad with Russian dressing, ham and eggs, and other delectable dishes.
If you treat him in accordance with the culinary advice so outlined, he will once more be one of the world's happy workers, and stick to his job, old or new.

Posted by regimentalrogue at 12:01 AM EST
Updated: Saturday, 15 October 2016 12:13 PM EDT