Soldiers' Load - US Army - 1916
Topic: Soldiers' Load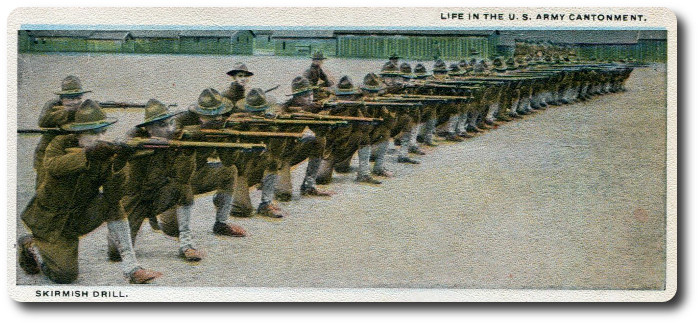 Soldiers' Load – US Army – 1916
Regulars and the Militia Uniformed, Equipped Alike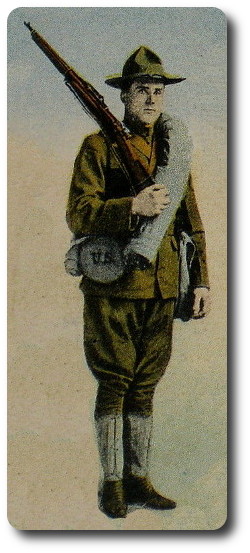 Toledo Blade, 6 July 1916
The United States soldier, regular or militiaman, on dress parade looks natty. In actual service much of this jauntiness vanishes and you think of a pack mule when you see him on the march. He carries his bed and dining room outfit with him, and his entire wardrobe as well. The soldier on the march is a concrete example of preparedness.
What Each Soldier Carries
All enlisted men of companies or battalions, except first sergeants and musicians, and all dismounted men of mounted orderly sections of headquarters companies, dismounted men of supply companies except drivers, and every member of the militia will be fitted out with a full complement of these articles as they are accepted for federal service and each individual will be held responsible for them:
1 United States rifle, calibre .30
1 front sight cover
1 brush and thong
1 oiler and thong case
1 gun sling
1 bayonet
1 bayonet scabbard
1 cartridge belt, calibre .30, infantry
1 pair cartridge belt suspenders
1 first aid package
90 ball cartridges, calibre .30
1 canteen, infantry
1 haversack
1 meat can
1 cup
1 knife
1 fork
1 spoon
1 shelter tent, half
5 shelter tent pins
1 poncho
1 blanket
1 cake of soap (furnished by man)
1 toothbrush (furnished by man)
1 pair of socks (furnished by man)
1 comb (furnished by man)
1 towel (furnished by man)
1 whistle (for quartermaster-sergeants and sergeants only)
1 identification tag with tape
Pack Weighs Twenty Pounds
Officers and non-commissioned officers, in addition, carry pistols, sabres and other implements, the average weight of a full infantry equipment being about 20 pounds.
The horse equipment for each enlisted man consists of one feed and grain bag, one halter headstall, one halter strap, one horse brush, one lariat, one lariat strap, one link, one picket pin, one cavalry saddle, one pair saddlebags, one saddle blanket, one surcingle, two horseshoes—one fore and one hind, twelve horseshoe nails.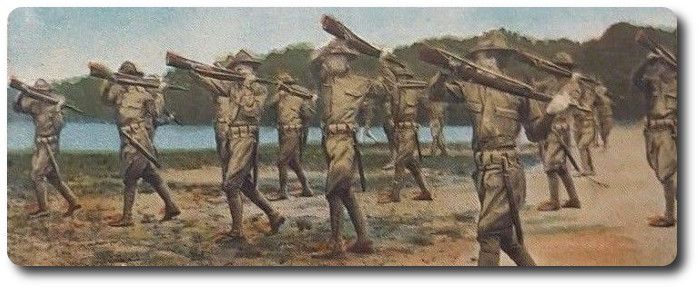 The field uniform of an enlisted man consists of the following articles:
1 waist belt
1 pair of woolen breeches and 1 pair of khaki breeches
1 woolen and 1 khaki service coat
1 hat cord
1 tying cord for service hat
1 service hat
1 pair of leather riding gloves (for mounted men only)
1 pair of canvas leggings
2 flannel shirts
1 pair of marching shoes

Posted by regimentalrogue at 12:01 AM EST