Marching Like Majors
Topic: Humour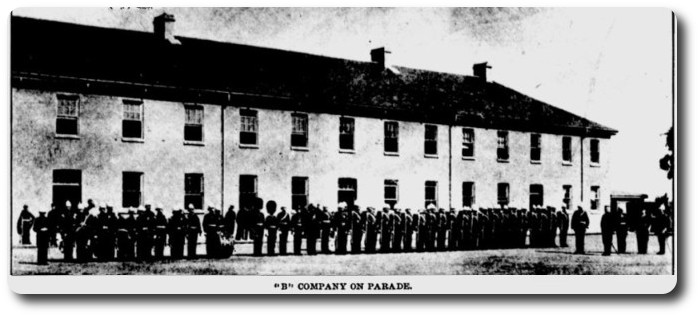 Marching Like Majors
Military News, The Daily Mail and Empire, Toronto, Ontario, 25 September 1897
In a certain New York regiment that was disbanded not many years ago were two field officers—the lieutenant-colonel and major—who, while they really thought a great deal of each other, never let an opportunity pass to give each other a sly dig. And, as under Upton's tactics, each field officer posted the guides or markers in successive formations, our two friends invariably insisted upon posting the other's guides, which naturally led to a great many hot disputes after the drill was over. While the posting of guides has no bearing on the point of the story it is simply cited to show the weak points of two otherwise excellent officers.
One evening at dress parade, while the regiment was in State camp, at the conclusion of the ceremony, and while the 1st sergeants were marching their respective companies off in the old echelon order, and the officers were, as usual, grouped in rear of the colonel, a lieutenant remarked to his captain:—"See, Co. H., coming up? They march like majors."
The major overhead this remark, and, turning to the lieutenant-colonel, who stood near-by, said:—"You hear that, colonel? Majors are the standard by which everything good is measured. You never hear anyone say they march like lieutenant-colonels; it is always like majors."
"My dear major," said the lieutenant-colonel "if a man is drunk, you never hear anyone say that he is drunk as a lieutenant-colonel. He is always drunk as a major."
It is needless to say the major subsided.

Posted by regimentalrogue at 12:01 AM EDT