Preparatory to Entering Trenches
Topic: CEF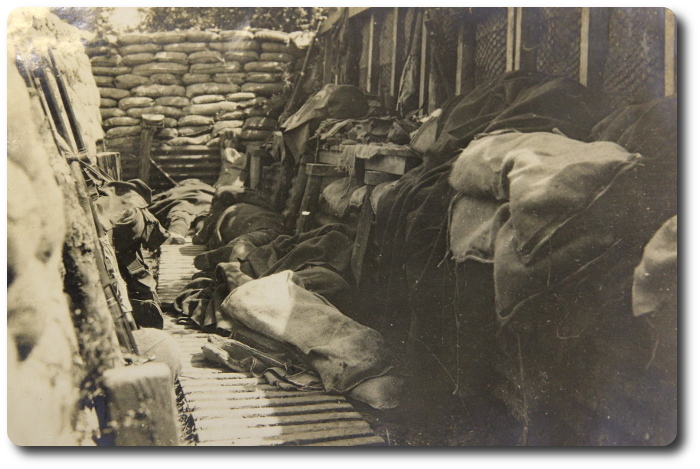 Preparatory to Entering Trenches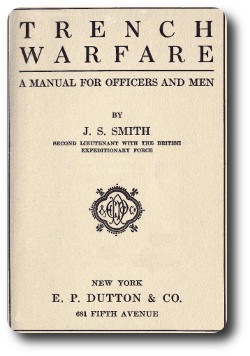 Trench Warfare; A Manual for Officers and Men, J.S. Smith, Second Lieutenant with the British Expeditionary Force, E.P. Dutton & Co., 1917.
Things to be taken note of before entering:
(a) Check periscopes, wire cutters, field glasses, water carriers, stretchers, field dressings, emergency rations, smoke helmets, rifles, identity discs, sandbags, ammunition.
(b) See that water bottles are filled.
(c) Each officer to have an orderly.
(d) Magazines to be charged and bayonets fixed and unfixed beforehand to insure proper working.
When taking over the trenches, the first thing to be done is:
(a) Ascertain position of officers' dugouts.
(b) Arrange telephones.
(c) Check stores, tools, and reserve ammunition, and its position.
(d) Obtain rough sketch of front and number of traverses to be manned.
(e) See that entanglements in front of trnches are absolutely intact.
(f) Arrange for water and ration parties and find out position of latrines.
---
Joseph Shuter Smith
(Joseph Shuter Smith was an American author born in Philadelphia in 1893. He spent his childhood in Alaska during the Gold Rush and spent his years before the Great War as a lumberjack, miner, surveyor and cowboy. In 1914, continuing his adventurous streak, he went to Canada and enlisted in the Canadian Expeditionary Force, declaring his birthplace to be Port Hope, Ontario (with next of kin in Oakland, California). Smith enlisted with the 29th Canadian Infantry Battalion at Vancouver. He served in France and Belgium as a soldier in the CEF and, after being commissioned in August, 1916, as an officer of the British Army with The Royal Scots (Lothian Regiment). He resigned his Imperial commission after a year to return to the US and enlist in the American Army. Joseph Smith also wrote the memoir: Over There and Back in Three Uniforms; Being the Experiences of an American Boy in the Canadian, British and American Armies at the Front and through No Man's Land.

Posted by regimentalrogue at 12:01 AM EDT