25-Pounder
Topic: Militaria

25-Pounder Field Gun-Howitzer
Artillery in the Desert, Prepared by Military Intelligence Service, War Department, Washington, 25 November 1942.
Fire from the British 25-pounder (3.45 inch) field gun-howitzer, the basic field piece for the British Army, has been extremely effective for two reasons:
(1) the 25-pounder is an excellent field gun, and
(2) British artillery was well-trained before the outbreak of the war.
German tanks when struck by 25-pounder armor-piercing shell at ranges less than 1,000 yards have sometimes been knocked out; some have had turrets completely blown off, and others have been set afire. Indirect 25-pounder fire is. However, not effective for stopping tank attacks, but it can cause tanks to "button up" their hatches. Reports of indirect fire's stopping tank attacks are believed to be erroneous interpretations of the repulse of reconnaissance in force.
The 25-pounder has been replacing both the 18-pounder and the 4.5-inch howitzer of the last war. The tube has a removable liner which can be changed in the field. The gun can be placed in firing order on its platform in 1 minute. The firing platform is in the form of a wheel which is either carried under the trail or on the back of the prime mover. To place the piece in action, the platform is lowered to the ground and the carriage is either manhandled or tractor-drawn over it and coupled to its center. To permit easy maneuvering of the trail, the spade has been embedded in a "box" commonly called a "banana," which functions very effectively and prevents the trail from digging in. The muzzle velocities with its three normal charges are 650, 975, and 1,470 feet per second, and with supercharge 1,700 feet per second.
Nature of weapon: field gun-howitzer.
Weight: 3,968 pounds.
Length: 25 feet, 11 inches, including trailer (barrel, 92.5 inches).
Traverse: 360° on firing platform, 8° without platform.
Elevation: –5° to +40°.
Maximum range: 12,500 yards.
Ammunition: projectiles: armor-piercing (20 pounds), HE (25 pounds), and smoke (base-ejection type, 21.8 pounds); charges: three and a supercharge for HE.
Rate of fire: 8 rounds per minute (rapid) and 3 rounds per minute for prolonged firing.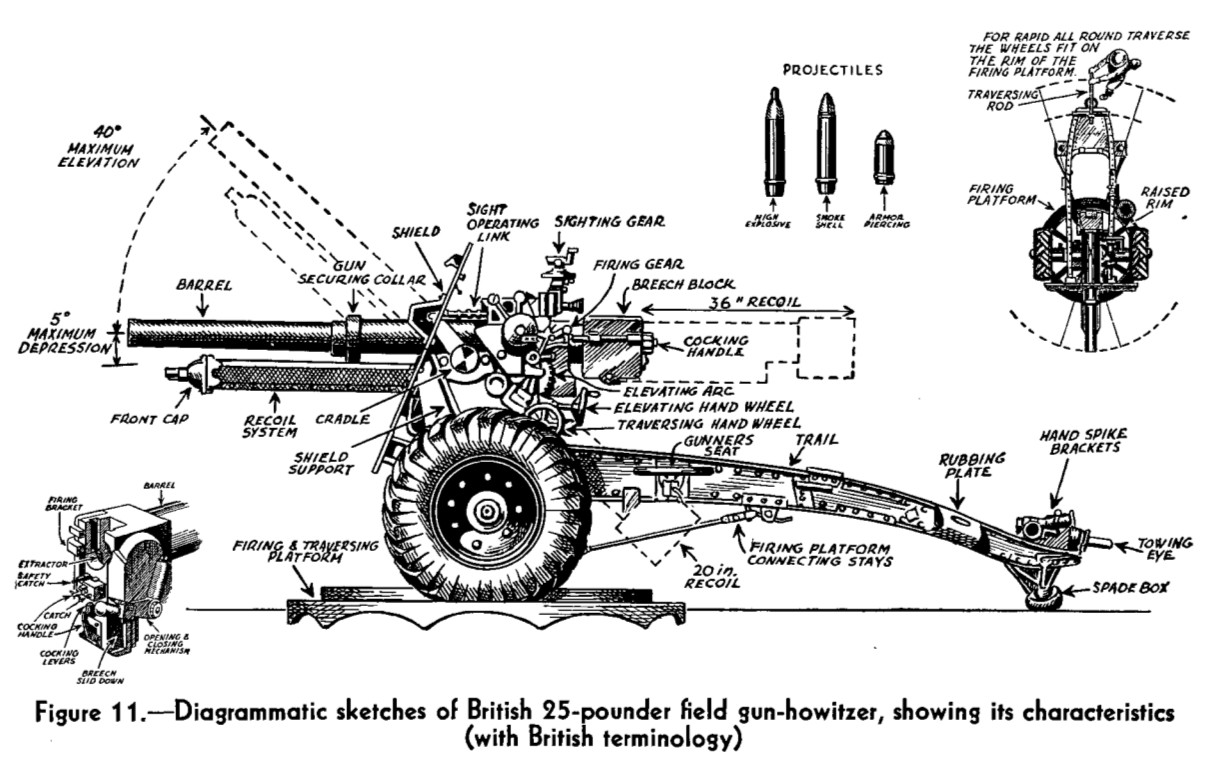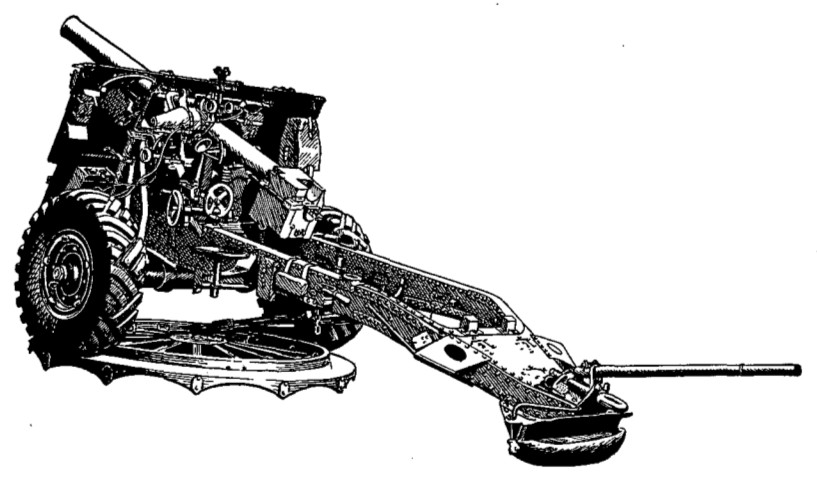 Posted by regimentalrogue at 12:01 AM EDT