Small Unit Operations, Vietnam, 1967
Topic: The Field of Battle

Small Unit Operations
Counterinsurgency Lessons Learned No. 61, 27 January 1967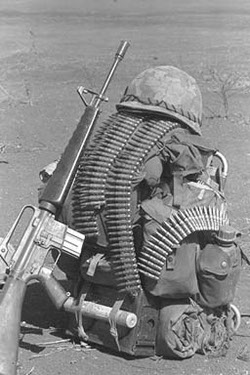 The war in Vietnam is a small unit leader's war. Because of the large number of semi-independent platoon and company missions performed by units in Vietnam, the knowledge and skill of the small unit leader are more important than ever before. Some of the lessons learned by small unit commanders are discussed below.
(1) A major problem is locating the enemy. One solution to this problem is to patrol from company bases. Consistent with communications capabilities, squads operate in areas for three days without resupply. For example, one company operating by squads in designated zones, separated but mutually supporting, can cover a large area with thoroughness and stealth. The mission of squads under these circumstances is to ambush at night, observe during daylight, and engage small enemy groups. When a squad locates a significant enemy force, the platoon/company consolidates on the squad to fix the enemy. The battalion (–), standing by as an immediate reaction force, is brought to bear on the enemy to destroy him. Once contact is made, the unit reacts rapidly with all available firepower and reinforcements without further regard to deception, stealth or surprise. Following the engagement with the enemy, the squads revert to semi-guerrilla tactics in a designated zone until a subsequent contact is made.
(2) Another major problem of the commander in jungle terrain is control of his troops. The commander often is hindered by poor ground visibility and difficulty of communications. At times he can help his unit stay on course, spot targets and mark them, and in general have a much better feel for the operation if airborne by helicopter.
(3) The commander needs a method of locating maneuver elements. When companies are moving by bounds, smoke placed at the flanks of the lead companies becomes a valuable reference on which to base maneuver of the trail (reserve) company.
(4) To locate small VC units the best results are obtained from separate company and platoon size operations as compared to larger organizations which are detected more easily by the enemy. The separate unit usually is successful in closing with the enemy. However, supporting fires must be planned in detail and a reserve reaction force must be available on short notice. Such operations require the highest caliber of leadership.
(5) Most enemy contacts are made at distances of 15 to 30 meters. Once contact is made with an enemy employing automatic weapons, the contacted force often is pinned down in its position and it is difficult to use heavy supporting fires on the enemy front lines.
(a) One technique used successfully by a brigade under these circumstances was to precede the main body by 100 to 200 meters during an approach march with approximately five fire teams of five men each. In this manner, the minimum force will be committed when contact is made, thus ena, ling maximum freedom for maneuver of the main body.
(b) Because the fire fight upon contact may be short and violent, some automatic weapons should be placed near the point.
(6) Certain lessons learned concerning contact with the enemy stand out in importance.
(a) Once contact has been made, pressure on the enemy must be maintained to keep him off balance. The VC are well versed in the use of delaying tactics. Excessive time must not be lost in develop­ing the situation else it may allow the enemy main force to prepare an ambush, occupy a defensive position or escape.
(b) The VC may choose not to break contact immediately. In this case he employs the "close embrace" or "bear hug" tactic to prevent friendly use of supporting fires. Friendly units must keep the VC at arm's length in order to use supporting weapons. Once a unit is involved in a "close embrace" with the VC, any attempt to withdraw prompts the enemy to follow the withdrawing forces. Extensive use of hand grenades and intensive small arms fire will assist in defeating the "close embrace" tactics.

Posted by regimentalrogue at 12:01 AM EDT