Rations on the Western Front
Topic: CEF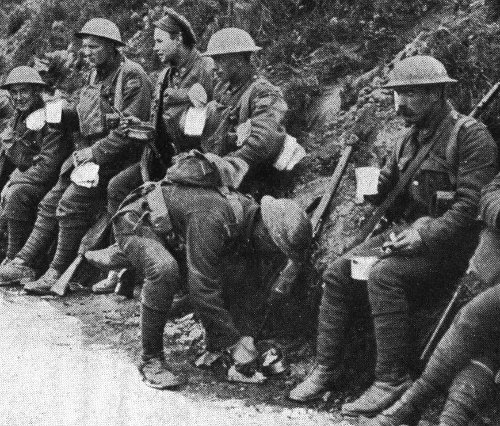 Rations on the Western Front
Trench Life; Canada's Part in the Present War; Empire Day, May 23rd, Ontario Department of Education, 1918
"An army marches on its stomach," said Napoleon; he might have added with even more truth that it also fights on its stomach. Put a soldier in the front line, cold, wet, covered in mud, his stomach empty, and he becomes indifferent—nay, he even "looks for" a wound which will take him to "Blighty." But if the same soldier has a warm feeling in the region of his stomach, and has to let out a couple holes in his belt, he feels that the people at home can't be blamed for the mud and the wet, and it is his business to give Fritz "what is coming to him." Hence he "carries on" to the last ounce of his strength and the last drop of his blood.
The rationing of the British army is practically perfect, and rarely or never breaks down. Every twenty-four hours the Army Service Corps brings up rations to the brigade quartermaster. This officer divides them into lots, according to the numerical strength of the units to which they will be issued. By a further process of division, the supplies reach the company or battery stores. In each platoon a non-commissioned officer, usually a corporal, is detailed to draw and issue the rations for his platoon. Such supplies as fresh meats, tea, coffee, and flour are turned over to the company cooks by the quartermaster-sergeants, the individual soldiers handling only "dry rations" like bread, canned goods, jam, biscuits, and pickles. Tommy spends much spare time cooking, and, for originality if not for delicacy, his dishes would put a French chef to shame.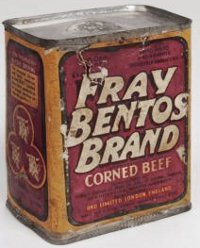 Here is a favourite recipe: Cut fine a half a pound of cheese, mix with a tin of canned beef, add bread crumbs and all the bacon grease available. Fry over a candle in a mess-tin and eat quickly, because, if the odour spreads, a crowd will gather, and you will either be lynched or forced to divide, according to the humour of the spectators.
Fearful and wonderful puddings are made from "plum and apple" jam, bread crumbs, and tea, and any other ingredients which come handy. Hot tea is usually the solvent for shaving soap. It may be a trifle sticky, but it has a wonderful softening effect on the stiffest whiskers, and is said to be a most beneficial demulcent.
When a soldier is in the front line, his menu will "take a tumble," because great difficulty will be experienced in bringing up hot food, especially if the Germans are bombarding. Under cover of darkness, usually about nine o'clock, the company transport—fifty men with mules and limbers—brings the rations to the entrances of the communication trenches. Here they are turned over to the company-sergeant-major, and through his distribution to the individual men. Each soldier carries what is called emergency, or "iron," rations, not to be used "except in dire necessity." These consist of a tin of corned beef, four hardtacks, oxo cubes, dry tea, and a little sugar. All fire and smoke must be very carefully screened, so as to not draw enemy artillery fire.

Posted by regimentalrogue at 12:01 AM EDT