Supporting the Troops
Topic: British Army

Army Service Corps troops - See full image.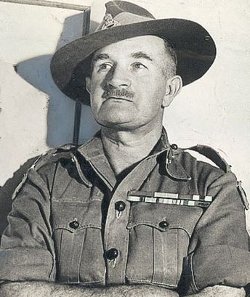 Field Marshal William Joseph "Bill" Slim,
1st Viscount Slim,
KG, GCB, GCMG, GCVO, GBE, DSO, MC, KStJ
(6 August 1891 – 14 December 1970)
Supporting the Troops
Unofficial History, Field-Marshal Sir William Slim, K.G., G.C.B., G.C.M.G., G.C.V.O., G.B.E., D.S.O., M.C., 1960
…a lieutenant-colonel of the Supply and Transport Corps. … He looked very fierce and military … officers who dealt with bully-beef and biscuit in the back areas so often did … I was informed that his supplies were not for issue to any casual subaltern who cared to ask for them, and, if my detachment had not got everything that was necessary for its comfort, it was either because;
(1) I was incompetent,
(2) The staff at the Reinforcement Camp was incompetent, or
(3) A combination of (1) and (2).
I gathered he rather favoured the first alternative. He ended with the final warning: 'And don't let your fellows come hanging round here. The British soldier is the biggest thief in Asia and his officers encourage him.'

Posted by regimentalrogue at 12:01 AM EST
Updated: Saturday, 10 January 2015 7:18 PM EST