Sir Sam inspects the 19th Battalion
Topic: CEF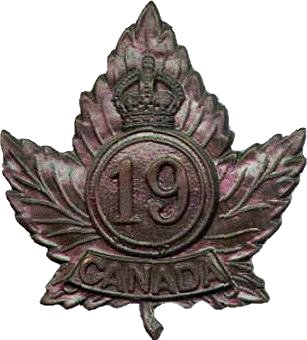 Sir Sam inspects the 19th Battalion
"The Orderly Sergeant," Five Nines and Whiz Bangs, 1937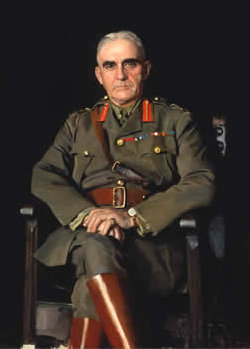 Lieutenant General Sir Sam Hughes, K.C.B., M.P.
Painted by Harrington Mann
Beaverbrook Collection of War Art
CWM 19710261-0394
The weirdest notes ever sounded on this earth were heard at the Exhibition Grounds one raw, winter's day in December, 1914. The Hon. Sam Hughes had travelled down from Ottawa to review the troops, and there we stood, shivering and grousing, knee-deep in snow, waiting for the Great Man's arrival. On this occasion he was to be accompanied by the Governor-General, H.R.H. the Duke of Connaught, who was very interested in the various gangs of enthusiasts scattered throughout Canada, all trying to learn this new soldiering game.
He did come, his descent being signalised by a snappy bit of invective levelled at General Lessard for something or other. Things got mixed. Everybody was in a rotten temper. The 19th Battalion tried to present arms from the order, or it may have been the other way about; and the pipe-band of the 19th made a stab at playing "God Save the King."
Did you ever hear a pipe-band playing the National Anthem? Did you? Well, did you ever hear a pipe-band, whose instruments were all frozen solid, trying to do it?
The squeaks and groans, the wails and the mi-a-a-oos that shuddered and shrilled from these bagpipes were plain awful. Some of the lads tried to go right through with it. Others, caught a few bars behind when the pistol went off, hurried along to catch up. One or two kept tuning up—all at the same time.
You'll understand, then, what I mean when I said the weirdest noises ever distilled on this earth poured into our ears that dreadful day. Dear old Sam got apoplectic. He stamped around roaring and hollering — "Take that g—d—band outa here," he bellowed.
Frightened brass hats, glad to escape from the wrath, scurried over to convey Sam's profound displeasure to the aggrieved virtuosi.
Discouraged, but unconquered, the pipers vanished.

Posted by regimentalrogue at 12:01 AM EDT
Updated: Thursday, 17 April 2014 12:18 AM EDT