Oliver Equipment
Topic: Militaria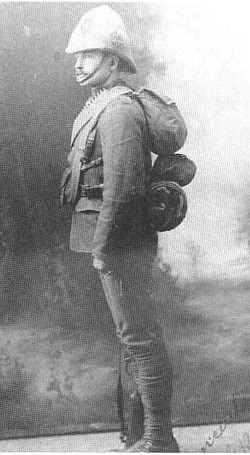 A soldier of the 2nd Battalion, The Royal Canadian Regiment, wearing the Oliver Equipment (1899-1900). (RCR Museum image.)
The diagram page from the original patent for the Oliver Equipment. (Library and Archives Canada online image.)
The OLiver Equipment. (The Canadian War Museum.)
Oliver Equipment
The Daily Mail and Empire, 4 March 1899
They Liked the New Equipment

Major-General Hutton Examined it Yesterday
Lecture in the Afternoon
Men at Stanley Barracks Take Kindly to the Oliver Kit—To-day's Programme.
Major-General Hutton, with his A.D.C., Capt Bell, arrived in Toronto from Ottawa yesterday morning, and went at once to Stanley Barracks. During the forenoon a board of officers inspected and examined the new Oliver equipment. The major-general presided during an examination, the other members of the board were Lieut.-Col. Otter, D.O.C. Lieut.-Col. Cotton, Lieut.-Col. Holmes, Lieut.-Col. Scott, Lieut.-Col. Delamere, with Mr. Woodstock, the saddler, in attendance.
After deliberating on the usefulness and advantages of the new gear, the major-general and other members of the board were quite pleased with it, and as a consequence, orders will at once be drawn up providing for the wearing, issue, and maintenance of it, which will be printed and distributed as soon as ready.
Already the Oliver equipment has been tested here, in London, St John's, Fredericton and Halifax.
The Oliver Equipment
The Oliver equipment is an invention which tends to make the soldier's burden as easy as possible. It is a kind of harness, fitted somewhat like shoulder braces, made of oak-tanned straps, and when the full equipment is attached weighs in all about 60 pounds, that is, for marching order. Though the arrangement looks at first sight somewhat complicated, it is as compact as possible. The first of the three packets carried on the back is in line with the collar, containing the great coat and forage cap on the outside. Just below the shoulder blades the canteen is fastened, to contain one ration, when in active service. The lowest on the back, and practically on the hips rests the valise made of brown canvas. In this knapsack is contained a grey shirt, two pairs of socks, a towel, soap, box of grease, a pair of canvas shoes, a brush, and a hold-all, in which is shaving brush, razor, comb, knife, fork and spoon, button-stick and brush. On the outside at each side of the new knapsack is fastened a package containing ten rounds of ammunition. Under the cover of the valise the cape is strapped.
The belt has on the front a pouch containing 80 rounds of ammunition, while on the left side is the bayonet and trenching tool, the latter being something which is a new implement of war for Canadian soldiers. The trenching tool is like a small spade. On the right side is fastened a water bottle pouch, in which is places an ordinary pop bottle. In all there are some 35 buckles and brass parts on the equipment. There is also a white canvas haversack, containing 390 rounds of ammunition, and a ration.
There are five different ways of wearing the equipment, and the men who have tried it at Stanley barracks are well pleased with it, so that when it is supplied to the permanent schools it is likely to prove a popular innovation.
---
For more on Oliver Equipment:

Posted by regimentalrogue at 12:01 AM EST