The General Service Wagon
Topic: CEF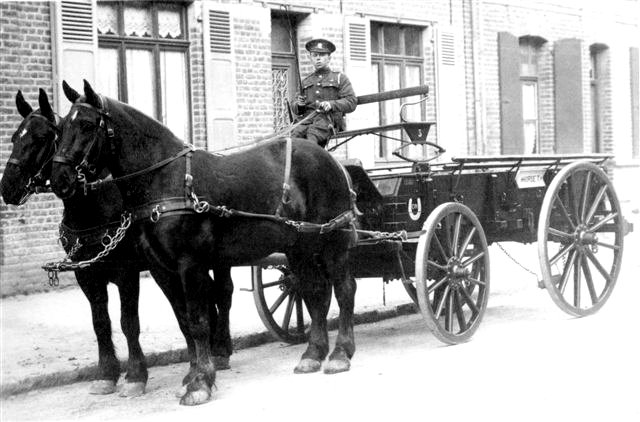 At the beginning of the First World War, the motive power in armies was provided by feet; the feet of infantry soldiers, and the feet of the horses and mules used to move cavalry, artillery and supplies. The standard vehicle for the movement of ammunition, engineer stores, food, and fodder was the General Service Waggon. Ubuiqitous and built on standard patterns, the G.S. Waggon can often be found mentioned in memoirs and histories, but the details of its construction and capability were often too mundane, too well known to the writer and anticipated readers, to need much details. For those of us who explore the world of the Canadian Expeditionary Force now. almost a centuery after its war, the following details for the General Service Waggon are taken from Canadian Army Service Corps Training (1914).
Waggon, G.S. M.D. Mark I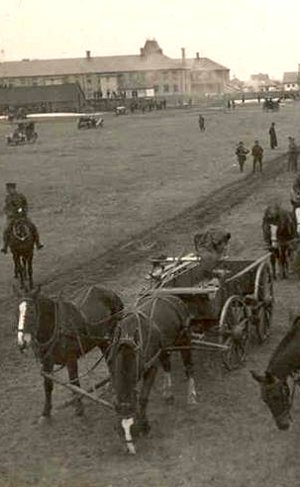 With two grease boxes, pole draught, M.D. No. 1; two swingletrees G.S. No. 11; swingletree double, M.D. No. 2; two clevises, M.D. No. 2; bar supporting pole, M.D. No. 2; brake, spanner, nut, axletree, M.D. No. 3; seat, cushion; removable shelving; set of straps securing.
This waggon is similar to the standard farm waggon generally used in Canada, but differs principally in the following particulars: the materials used are of better quality; it is furnished with a brake and brease boxes; all parts are interchangeable with similar waggons.
The box is ten feet five and one-half inches long inside; depth inside, minus shelving thirteen inches; width inside, thirty-eight inches. The shelving is flared eight inches, removable, running full length of box and across the back. On the outside of the box are ten hooks for rope lashings.
The driver's seat is full width of body, supported by springs and furnished with cushions strapped to seat.
The gearing is of oak, well ironed and braced.
Front and hind gear are of clipped construction, instead of the usual bolt construction.
The waggon is furnished with a brake clipped to the axle and operated from driver's seat by hand lever and ratchet. the axletrees are of steel skein and best white hard maple construction.
The waggon is supplied with a bar supporting pole, M.D. No. 2, two swingletrees No. 11, Mark I, double swingletree, M.D. No. 2, and two clevises M.D. No. 2.
The wheels are of the wooden hub construction with two-piece bent rims. Tires two and one-half by one=half inches; height of front wheels three fet eight inches hind wheels four feet six inches.
The grease boxes are secured to the rear of the rear axletree.
Dimensions, etc.
Feet
Inches
Length, with pole
21
3
Length, without pole
11
2
Height, with seat
6
1
Height, without seat
4
8
Track
4
8
Width
6
0
Distance between centre of axletrees
7
1
Floor space, length
10
0
Floor space, width
3
2
Dimensions of space occupied in boats,
Length
11
9
Breadth
6
3
Height
4
6
Minimum space required to turn in
32
0
Weight complete
1,380 lbs.
Capacity
5,000 lbs.
---
The Waggon, light transport, M.D. Mark 1, was only slightly smaller than the General Service waggon, but carried only 40 per cent of the same load.

Posted by regimentalrogue at 12:01 AM EDT