Look to your Mortars
Topic: Mortars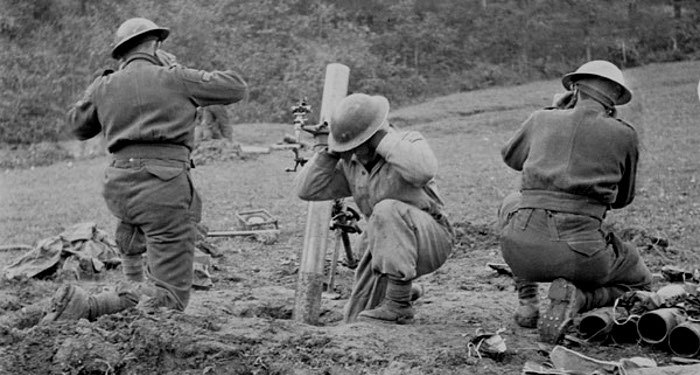 Unidentified infantrymen of the 3rd Canadian Infantry Brigade firing a mortar near the Sangro River, Italy, 1 December 1943. Location: Sangro, Italy (vicinity). Date: December 1, 1943. Photographer: Frederick G. Whitcombe. Mikan Number: 3222598. From the Library and Archives Canada virtual exhibit "Faces of War."
Mortars, long used as seige and garrison artillery weapons, proved themselves on the modern battlefield during the First World War with the Light Trench Mortar Batteries of the Canadian Expeditionary Force. By the Second World War, lighter, more mobile versions became standard infantry weapons for infantry platoons and battalions. They remained so until the battalion 81-mm mortars were removed from the Canadian infantry in 2002, followed a decade later by the platoon 60-mm mortar. The former were replaced by the promise that the Artillery would provide fire support (and to whom the weapons were given, albeit without personnel to man them separately from their guns) and in the latter case by an automatic grenade launcher that no-one has yet explained how a dismounted platoon will efficiently move and deploy. The following passage, from a 1943 Canadian Army Training Memorandum, explains the value of readily available mortars at the tactical level.
Canadian Army Training Memorandum No. 22, Jan 1943
Look to your Mortars (A.T.M. No. 44)
The effectiveness of mortars is often overlooked. They should not be regarded as mere adjuncts to the weapons of an infantry battalion.
It is nearly always difficult to locate an enemy; but, when he has been located, the 2-inch and 3-inch mortars can be relied on to reach him in any ground within a given radius, no matter how enclosed the country. They are relatively easy to handle and to maintain, have a high rate of fire and a considerable moral effect upon the enemy and (but inversely) upon our own troops. The 25-pounder gun is able to put down a total of 125 lb. of projectiles in one minute at "intense" rate, while one 3-inch mortar can put down 200 lb. at rapid rate in the same period.
It is obvious, therefore, that the mortar, with its disregard for cover, crest, or undulation, is a very potent weapon; familiarity and skill in its use will repay a hundredfold the effort required in gaining it. For short periods the 3-inch mortars of a battalion can bring down a greater weight of fire than an eight gun battery; they are flexible, easily controlled, and easily concealed.
The 2-inch mortar afford a valuable, and often only, means of hitting the enemy quickly. Yet there are officers and other ranks who will say that the 2-inch mortar is of little use, or that it is of value only when employed for smoke. Their experience must be unusual, for the weapon has hardly as yet (especially with H.E.) been tried out by British troops in any theatre of war. Its counterpart in the German and Japanese armies has proved of immense value. Ask anyone who may have been at the "wrong end" whether his nerves failed to jangle—vigourously—every time its projectile cam anywhere near.
A platoon in action will invariably, sooner or later, come up against a concealed enemy post, be it in weapon slits or behind a crest, in a small wood or a sunken road. Frequently small arms will be inadequate if the enemy is concealed, and concealment will seem to be the prerogative of the enemy on most occasions; while, if the enemy is defiladed, small arms fire may well be useless except for its noise effect. A 2-inch mortar on such occasions will be invaluable. Direct hits may be obtained, or, if its fire is not directly on the target, the fire effect will keep down the heads of the enemy below the level at which he can return fire. The platoon or section can close, or the enemy will be flushed from cover and at the mercy of small arms fire.
All ranks concerned should be skillful in its use; it is a weapon that must be handled superlatively well. Every fire controller of the 3-inch mortar, and each individual firer of the 2-inch mortar, must cultivate an instinctive flair for siting and manipulating his weapon; he must cultivate the necessary "feel" to be able to guide and drop the bomb on to the target as easily as a skilled fisherman can cast a fly.
Thus there exists under the hand of nearly every infantry leader that extra "something" which will have a visible material effect upon the enemy, blast him out of the way, a read made means of obtaining quicker and more decisive results that any amount of planning and guile.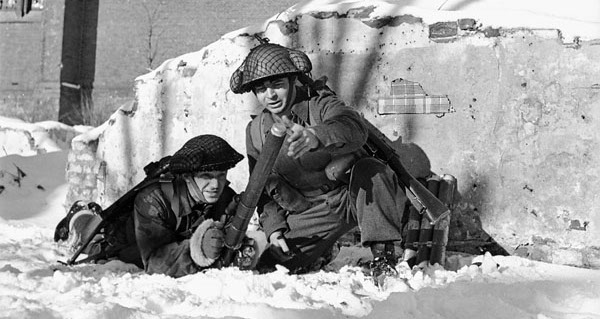 Infantrymen of "D" Company, Régiment de Maisonneuve, firing a two-inch mortar, Cuyk, Netherlands, 23 January 1945. (L-R): Privates Raoul Archambault and Albert Harvey. Location: Cuyk, Netherlands. Date: January 23, 1945. Photographer: Lieut. Michael M. Dean. Mikan Number: 3590884. From the Library and Archives Canada virtual exhibit "Faces of War."

Posted by regimentalrogue at 12:01 AM EDT