Operation Santa Claus (1955)
Topic: RCAF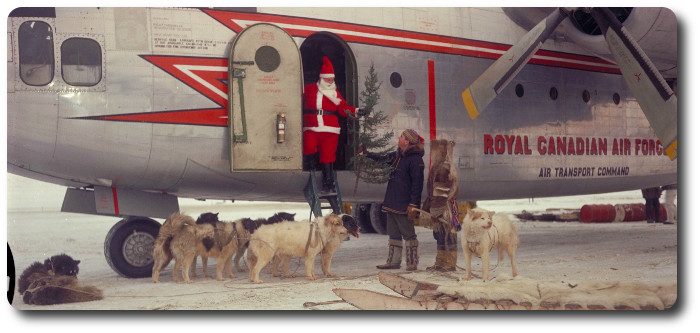 Operation Santa Claus (1955)
"Comrades in Arms" column, The News and Eastern Townships Advocate, St John's P.Q., 1 December 1955
Operation "Santa Claus," the RCAF's annual Christmas mail flights to lonely Arctic outposts, is under way once more.
This year "Santa" is using a different type "sled," as huge C-119 Packets have replaced to North Star aircraft used in previous years. The RCAF is using two C-119 squadrons, 435 Edmonton and 436 Lachine, to split the operation, with the western squadron making deliveries to the Central Arctic and the Lachine based aircraft dropping supplies to the Baffin Island region.
More than 11,000 pounds of mail, Christmas parcels, fresh rations, emergency equipment and Christmas trees will be dropped through the dark, Arctic nights to eager hands below.
The Edmonton squadron, operating from Resolute Bay on Cornwallis island is making 10 paradrops, including drops at the five joint U.S.-Canadian weather stations.
The Eastern flyers are using Frobisher Bay, on the southern tip of Baffin Island, as their operating base to visit 12 Canadian weather, radio and RCMP detachments scattered across the Hudson Strait area and Baffin Island.
Although "Santa" is about a month ahead of schedule the flights must take place during the 10-day moon period which begins on November 25 this year. The operation was therefore timed a month ahead of Christmas to make sure deliveries reached their destinations in time.
Since most of the detachments are visited only once each year by ship or aircraft — usually during the summer months — the men operating Canada's most northerly posts aren't too particular about the timing … just as long as the mail arrives.
The mail, packets, rations, etc., are packed in large wicker baskets with bicycle lights tied to the outside to enable the waiting men, standing by blazing oil drums, to follow the bundles to the ground.
This year a new Canadian weather base, opened this summer at Sacks Harbour on Banks Island, will receive its first Christmas air-drop, while the most northerly visit will be made to Alert, situated on the very tip of Ellesmere Island. Alert, Canada's most northerly inhabited spot, is just 400 miles from the North Pole.


Posted by regimentalrogue at 12:01 AM EST