Military Discipline (1776)
Topic: Discipline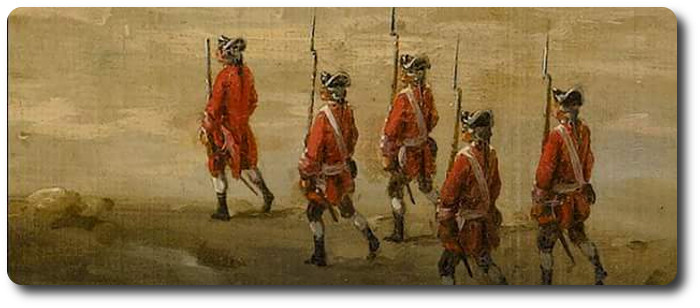 Military Discipline (1776)
The Military Guide for Young Officers, Thomas Simes, Esq., 1776
Few orders are best; but they are to be executed with attention, and offences to be punished without respect of either rank or extraction.
Next to the forming of troops, military discipline is the first object that presents itself to our notice. It is the soul of all armies; and unless it be established among them with great prudence, and supported by unshaken resolution, they are no better than so many contemptible heaps of rabble, which are more dangerous to the very state that maintains them, then even its declared enemies.
It is a false notion, that subordination, and a passive obedience to superiors, is any debasement of a man's courage; so far from it, that it is a general remark, that those armies which have been subject to the severest discipline, have always performed the greatest things.
Many general officers imagine, that in giving out orders they do all that is expected from them; and therefore, as they are sure to find great abuses, enlarge their instructions accordingly; in which they proceed upon a very erroneous principle, and take such measures as can never be effectual in restoring discipline in an army wherein it has been lost or neglected.
Few orders are best; but they are to be executed with attention, and offences to be punished without respect of either rank or extraction. All partiality and distinction must be utterly abolished, otherwise you expose yourself to hate and resentment. By enforcing your authority with judgment, and setting a proper example, you may render yourself at once both beloved and feared. Severity must be accompanied with great tenderness and moderation; so displayed upon every occasion as to appear void of all manner of design, and totally the effect of a natural disposition.
Great punishments are only to be inflicted for great crimes; but the more moderate they are in general, the more easy it will be to reform abuses; because all the world, concurring in the necessity of them, will cheerfully promote their effect.
We have, for example, one very pernicious custom; which is, that of punishing marauders with certain death, so that a man is frequently hanged for a single offense; in consequence of which they are rarely discovered; because everyone is unwilling to occasion the death of a poor wretch, for only having been seeking perhaps to gratify his hunger.
If, instead of this method, we did but send them to the provost's, there to be chained like galley-slaves; and condemned to subsist on bread and water for one, two, or three months; or to be employed on some of those works which are always carrying on in an army; and not to be restored to their regiments, till the night before the engagement, or till the Commander in Chief shall think proper; then all the world would join their endeavours to bring such delinquents to punishment; the officers upon grand guards and out-posts would not suffer one to escape; by whose vigilance and activity the mischief would thus be soon put an entire stop to. Such as fall at present into the hands of justice, are very unfortunate indeed; for the Provost and his party, when they discover any marauders, immediately turn their eyes another way, in order to give them an opportunity to escape; but at the Commander in Chief is perpetually complaining of the outrages which are committed, they are obliged to apprehend one now and then, who falls a sacrifice for the rest. Thus the examples that are made have no tendency towards removing the eveil, or restoring discipline; and hardly answer any other purpose, then to justify the common saying among the soldiers, That none but the unfortunate are hanged.—Perhaps it may be observed, that the officers likewise suffer marauders, to pass by their posts unnoticed. But that is an abuse which may be easily remedied, by discovering from the prisoners what particular posts they passed by, and imprisoning the officers who commanded them, during the remainder of the campaign. This will render them careful, vigilant, and severe; nevertheless, when a man is to be punished wioth certain death for the offence, there are but few of them who would not risk two or three months imprisonment, rather than be instrumental to it.
All other military punishments, when carried to extremes of severity, will be attended with the same consequences.—It is also very necessary to prevent those from being branded with the name of infamy, which should be regarded in a milder light; as the gantlope, for instance, which in France is reputed ignominious; but which, in the case of the soldier, deserves a different imputation, because it is a punishment which he receives at the hands of his comrades. The reason of its being thus extravagantly vilified, proceeds from the custom of inflicting it in common upon whores, rogues, and such offenders as fall within the province of the hangman; the consequence of which is, that one is obliged to pass the colours over a soldier's head, after he had received this punishment, in order, by such an act of ceremony, to take off that idea of ignominy which is attached to it; a remedy worse than the evil, and which is also productive of a much greater; for after a man had run the gantlope, his Captain immediately strips him, for fear he should desert, and then turns him out of the service; by which means this punishment, how much soever necessary, is never inflicted but for capital crimes; for when a soldier is confined for the commission of any trivial offence, the Commanding Officer always releases him, upon the application of his Captain, because the loss of the man would be some deduction from his perquisites.
There are some things of great importance towards the promotion of discipline, that are altogether unattended to; which, as well as the persons who practice them, are frequently laughed at and despised.—The French, for example, ridicule that law amongst the Germans, of not touching a dead horse; which is a good institution, if not carried too far. Pestilential diseases are, in a great measure, prevented by it; for the soldiers frequently plunder dead carcasses for their skins, and thereby expose themselves to infection. It does not prevent the killing and eating of horses during seiges, a scarcity of provisions, or other exigencies. Let us from hence, therefore, judge, whether it is not rather useful than otherwise.
The French also reproach the Germans for the bastinade, which is a military punishment amongst them. If a german officer strikes, or otherwise abuses a private soldier, he is cashiered, upon compliant made by the party injured; and also compelled, on pain of forfeiting his honour, to give him satisfaction, if he demands it, when he is no longer under his command. This obligation prevails alike through all ranks; and there are frequently instances of general officers giving satisfaction, at the point of the sword, to subalterns who have quitted the service; for there is no refusing to accept their challenge, without incurring ignominy.
The French do not at all scruple to strike a soldier with their hands; but they are hardly ever tempted to apply the flick, because that is a kind of chastisement which has been exploded, as inconsistent with that notion of liberty which prevails among them. Punishments are certainly necessary, provided they are not dishonourable.
Let us compare these different customs of these two nations, and judge which contributes most to the good of the service, and the proper support of the point of honour. The punishments for their officers are likewise of distinct kinds. The French upbraid the Germans with their Provosts and their chains; the latter retort the reproach, by exclaiming against the prisons and ropes of the French; for the German officers are never confined in the public prisons. They have a Provost to every regiment; which post is always given to an old Serjeant, in recompense for his service; but I have never heard of the officers being put in irons, unless for great crimes, and after they had been first degraded.
These observations demonstrate the absurdity of condemning particular costums or prejudices, before one has examined their original causes.
Nothing can be so necessary to the soldier as discipline; without it, troops may become more dangerous than useful, more hurtful to ourselves, than to our enemies. The means of discipline are regulated by our military laws, and by the articles of war; which command obedience to superiors; and courage against an enemy; in regard to private conversation, politeness should exceed authority, and the Officer subside in the gentleman.
The nature of service is such, that in actions, errors cannot be committed with impunity. The particulars necessary to be observed are many and various; but none more essential to victory, than a strict obedience to orders, and a just observation of signals; on this depends success and safety of the troops.

Posted by regimentalrogue at 12:01 AM EDT