Calling Out the Militia and Rates of Pay (1865)
Topic: Canadian Militia

Calling Out the Militia and Rates of Pay (1865)
Headquarters,
Ottawa, 15th November, 1865
Militia General Orders
Canada Gazette, Ottawa, Saturday, November 18, 1865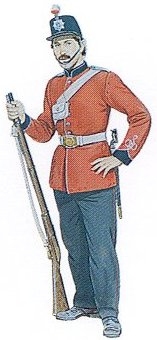 1. His Excellency the Administrator of the Government and Commander-in-Chief, having had under consideration the possibility that raids or predatory incursions on the Frontier of Canada, may be attempted during the winter, by persons ill disposed to Her Majesty's Government, to the prejudice of the Province and the annoyance and injury of Her Majesty's subjects therein;
And being impressed with the importance of aiding Her Majesty's troops in repelling such attempts, and for that purpose of placing a portion of the Volunteer Force on active service;
His Excellency directs one Volunteer Company be called out for service, for as long a period as may be thought necessary by His Excellency, from each of the undermentioned places, viz.:
Quebec, Montreal, Ottawa, Morrisburgh, Toronto, Port Hope, Hamilton, Woodstock, London;—the Companies so called out to be stationed at such places as His Excellency the Lieutenant General Commanding shall direct:
And that the said Volunteer Force shall, during the time it remains on active service, be placed under the command of His Excellency Lieutenant General Sir John Michael, Commanding her Majesty's Forces in North America; and that it shall be subject to the Queen's Regulations and Orders for the Army, to the Rules and Articles of War, to the Act for punishing mutiny and desertion, and to all other laws now applicable to Her Majesty's Troops in this Province, not inconsistent with the Acts respecting Volunteer Militia.
2. The rates of pay of the Force so called out for Service are fixed for the below mentioned ranks, respectively, as follows:
| | | |
| --- | --- | --- |
| Ranks. | Rate of pay per day. | Daily rate of allowance in lieu of barracks, rations, and all other allowances. |
| Lieut. Colonel | $4.87 | $1.00 |
| Major | 3.90 | 1.00 |
| Paymaster | 3.05 | .90 |
| Adjutant with rank of Lieutenant | 2.44 | .90 |
| Adjutant with rank of Ensign | 2.13 | .90 |
| Captain | 2.82 | .76 |
| Lieutenant | 1.58 | .72 |
| Ensign | 1.28 | .69 |
And that in addition to the free rations and Lodging, the Non-Commissioned Officers and privates be paid at the daily rate following:
| | |
| --- | --- |
| Rank. | Rate of pay per day. (cts.) |
| Serjeant-Major | 50 |
| Quarter-Master Serjeant | 45 |
| Paymaster's Clerk | 45 |
| Orderly Room Clerk | 45 |
| Hospital Serjeant | 45 |
| Pay Serjeants | 40 |
| Serjeants | 35 |
| Corporals | 30 |
| Buglers | 25 |
| Privates | 25 |
3. The Officers in Command of the different posts where the above named Volunteer Companies may be stationed shall receive all orders from the Lieutenant General Commanding, and make all reports direct to such Officers as the Lieutenant General may appoint; with the exception of matters related to finance and promotions, which are to be referred direct to the Adjutant General of Militia.
4. His Excellency calls on all Officers in Command of Volunteer Corps in Canada to complete their numbers, and to hold themselves with their respective Corps in readiness for actual service, and to march at a moment's notice to such places as may be indicated to them.
5. The undermentioned Officers are appointed to act temporarily, as below, viz.:
In Canada West
As Assistant Adjutants General:

Lt. Col. W.S. Durie, Commdg. 2nd Battn, "Queen's Own" Rifles, Toronto.
Lt. Col. Samuel Peters Jarvis, 82nd Regiment, Adjutant Staff College.

As Deputy Assistant Adjutants General:

Lt. Col. J.B. Taylor, Commanding Oxford Rifles, Woodstock.
Lt. Col. F.T. Acherly, late 30th Regiment.
In Canada East
As Assistant Adjutants General:

Lt. Col. W. Osborne Smith, Commd. Victoria Volunteer Rifles, Montreal.
Lt. Col. L.T. Suzor, Brigade Major, Quebec.

As Deputy Assistant Adjutants General:

Major George Browne, late 69th Regiment.
Lieut. L.A. Casault, late 109th Regiment.
Major T. de Montenach will perform the duty of Brigade Major at Quebec, during the employment of Lieutenant Colonel Suzor, on other duty.
6. Major Hill, of the 1st (or Prince of Wales') Regiment, Volunteer Rifles, of Montreal, is appointed major in Command of the Volunteer Force to be stationed at Sandwich, Windsor and Sarnia.
By Command of His Excellency the Administrator of the Government and Commander-in-Chief.
P.L. MacDougall,
Colonel, Adjutant General of Militia,
Canada

Posted by regimentalrogue at 12:01 AM EDT
Updated: Saturday, 28 January 2017 11:14 AM EST