Bully Beef Apparently on Way Out
Topic: Army Rations

Bully Beef Apparently on Way Out
Eugene Register-Guard, Eugene, Oregon, 25 June 1959
By Jim Becker, of the Associated Press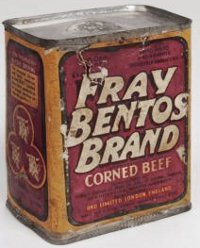 Kota Belud, North Borneo—The days of the British Army's infamous "bully beef" are apparently over. The Queen's soldiers are living it up with a new canned ration that has even Americans envious.
Some genius in the British Quartermasters Corps has developed a ration for field troops that is considered superior to the American "C" ration in taste, ease or preparation and compact size.
That was the opinion of American Marines training with British soldiers in a joint manoeuvre in the steaming North Borneo jungle recently.
The Americans from the Okinawa-based 3rd Marine Division were invited to sample the British field fare and were loud in their praise.
The ration comes in a square box that fits neatly in the mess kit, saving on carrying space.
It contains a variety of meat and vegetable dishes, vitamin-enriched and a soup can that heats in seconds by a chemical process.
There is also a toothpaste-type tube of cream and sugar combined, which can be squeezed over oatmeal or used in tea.
Also in the ration is a tiny collapsible stove which is discarded after a day in the field. It neatly holds the mess kit when used as a cooking pot.
Small squares of a wax-like substance—the compositions of which is not known even to British supply officers—supplies the fuel.

Posted by regimentalrogue at 12:01 AM EST
Updated: Saturday, 26 November 2016 12:29 AM EST