[US] Army Tries to Reduce Pack Weight (1963)
Topic: Soldiers' Load

[US] Army Tries to Reduce Pack Weight (1963)
The Bulletin, Serving Bend and Central Oregon, 11 June 1963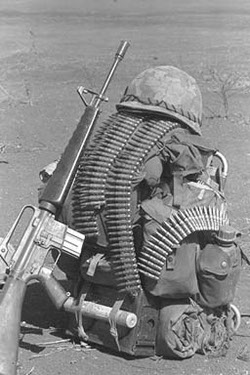 Washington—(UPI)—the Army is doing its best to reduce the pack of the foot-slogging soldier, but progress has been slow, the Defence Department reported today,.
The fully armed infantry man now carries a total of 90 pounds of clothing, weapon and pack.
This compares with just over 100 pounds when the GI's surged over the beaches on D-Day in World War II, and with 92 pounds in the frigid cold of Korea.
Scientific studies have shown that, ideally, the infantryman should not carry more than 50 pounds, preferably by hand—or not more than 40 pounds in a shoulder pack. So there still is a long way to go.
Asks for Study
According to the independent Army-Navy-Air Force Journal, Defence Secretary Robert S. McNamara has asked for a study of the weight of the soldier's pack. The publication said that the study was included on a list of projects not yet made public.
But the Journal noted that every previous defense secretary has asked for similar studies, with little noticeable result.
The Army said the World War II and Korea packs were almost the same, except the latter was "lightened by using a bed roll instead of blankets."
Somewhat lighter packaging and thinner cartridge cases have helped trim off another two pounds wince the Korean War.
Makup of Load
The current distribution of the soldier's weight-load was given as follows:
Clothing, including a nine-pound armored vest, 23 pounds.
Battle load, including a rifle, grenades, ammunition, and so forth, 31 pounds.
The pack, called the "existence and comfort load" and including bed roll, gas mask, toilet articles, rations and such, 36 pounds.

Posted by regimentalrogue at 12:01 AM EDT