Sergeant Boyd--V.C. Imposter--Gets His Due
Topic: Stolen Valour

Sergeant Boyd—V.C. Imposter—Gets His Due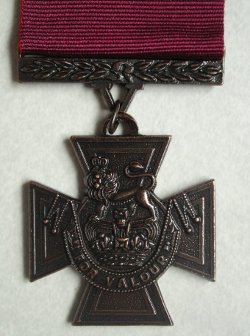 On 26 June 2016, we shared the story of the arrest of "Sergt. Boyd" for masquerading as a Victoria Cross recipient. That story had been published in the Montreal Gazette on 23 March 1918. Here is the result of Boyd's court appearance, published in a Florida newspaper on 2 April 1918.

Boyd Gets Seven Years
The Evening Independent, St. Petersburg, Florida, 2 April 1918
Information has been received here that the man known in this city as "Sergeant Boyd," claiming to be of the Princess Pat Canadian Regiment, has been convicted in Canada of impersonating another and wearing army medals illegally, and has been sentenced at hard labor for seven years. Boyd lectured here and was arrested here as an imposter, but was released on condition that he leave this country. He is said to have tried to resume his operations in the United States and was nabbed by the Canadian officers.


Posted by regimentalrogue at 12:01 AM EDT
Updated: Saturday, 20 August 2016 8:45 AM EDT