Soldier's Kit in South Africa
Topic: Soldiers' Load

Soldier's Kit in South Africa
The Campaigns and History of the Royal Irish Regiment, from 1684 to 1902, By Lieut.-Col. G. le M. Gretton, Late 3rd Battalion, Leicestershire Regiment, 1911
Extract from Regimental Orders of 4th of January 1900:—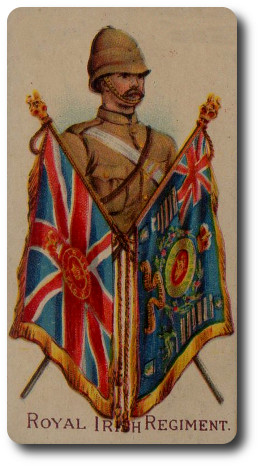 S.S. Gascon.
"The valise equipment will be drawn to-morrow. The valises will be packed with the following articles: Clothes' brush; field cap (to be carried in haversack on moving); hold-all, with knife, fork, spoon, shaving brush, razor and case, and comb; Housewife; flannel shirt; socks (2 pair); one suit drab serge; towel and soap; worsted cap; canvas shoes; boot-laces (spare); small-book; tin of grease; flannel belt.
Articles worn or carried by the Soldier:
"Full dress: head dress and cover; frock; flannel shirt; trousers; braces; socks; flannel belt; ankle boots; putties; haversack, with balance of day's ration; valise packed, straps and braces; waistbelt and frog; pouches; pocket-knife and lanyard; water-bottle (full), with strap; mess tin and strap; Field dressing and description (i.e., identity) card; rifle, with sling, pull-through, full oil-bottle, and sight protector; bayonet and scabbard; greatcoat and straps; entrenching tools (if in possession, 16 picks and 33 shovels in each company).
Articles to be packed in the sea kit-bags:
"1 frock (H.P.); 1 pair ankle boots; 1 pair trousers (H.P.); 1 black kit-bag."
By Regimental Order dated April 19, 1900, the weight was reduced:—
"The following articles only will be carried on the person of the soldier when the battalion moves (viz.): Khaki serge (trousers and jacket); flannel shirt; flannel belt; putties; socks and boots; helmet; drawers (if in possession); waistbelt; braces; two pouches with 50 rounds of ammunition in each; bayonet and frog; rifle and sling; haver-sack on back; mess tin; water-bottle; one blanket rolled on belt; jersey, either worn on person or rolled on the blanket; woollen cap (if in possession) in the haversack.
"If rations are carried, meat in mess tins, biscuit in haversack.
"All small kit must be carried in the haversack.
"In company waggon the following will be carried, viz.: greatcoat with one shirt and one pair of socks in the pockets; one blanket; one waterproof sheet."

Posted by regimentalrogue at 12:01 AM EDT