Physical Training of British "Tommy"
Topic: Drill and Training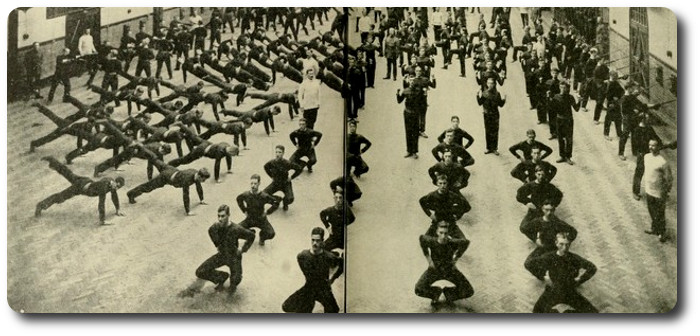 Physical Training of British "Tommy" Fits Him For Service
The Deseret Times, Salt Lake City, Utah, 29 December 1916
New York, Dec. 29.—In an interesting address on "The Making and Remaking of a Fighting Man" delivered at the annual meeting pf the National College Athletic association here yesterday. R.Tait Mckenzie, professor of physical education at the University of Pennsylvania and late Major R.A.M.C. England, said, in part:
"You do not need a watch to tell when it is 9 o'clock at the headquarters gymnasium at Aldershot. For 15 minutes or more groups of men in black trousers and jerseys, or officers in tennis kit, have been accumulating, and at 9 o'clock precisely a shrill whistle petrifies them in the position of 'attention.' There is a dead silence and the sharp command 'fall in' is succeeded by a scramble out of which emerge 20 classes of officers and men, each in a proportion of about 4 to 1, neatly arranged on the floor, each with a staff instructor in charge. At the command 'staff fall in' each instructor doubles to where the sergeant-major stands, and where they stand at attention to receive the day's orders. These given, they make a right turn, rise on the toes and scurry off to their respective classes. Another silence, and the sharp command 'carry on' is followed by a babel of orders as the various groups march out of the four doors to selected places in the 20-acre ground that surround the gymnasium. For the next hour and a half each class is put through the table of exercises for the day; each exercise detailed, repeated and corrected until officers and men have the proper speed and accuracy for which they strive.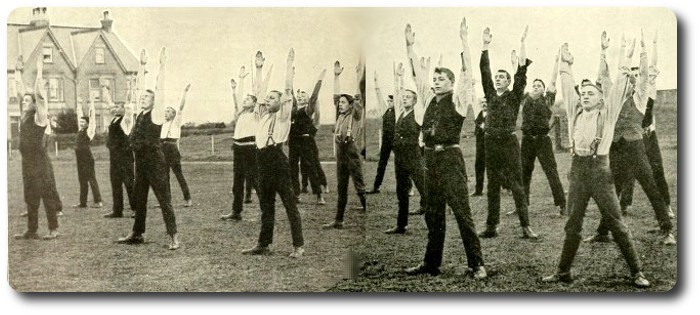 The Day's Work
"At 10:30 the whistle breaks the classes up into groups for a brief rest. After 15 minutes the same proceeding is gone through again, but this time the men are paired off; No. 1 teaching the last hour's work to No. 2 and back again from 2 to 1, under the fire of the instructor's criticism. Again a short rest and the bayonets are fixed, and the position of 'on guard,' 'point,' and 'parry' are explained, shown and demonstrated. There is an interval for lunch and at 2:15 the classes reassemble, and now they are marched out, combined into one mass drill of exercises selected from the eight tables of the British gymnastic law. After this display the mass breaks into its component classes and the detiling of exercises, bayonet fighting and gymnastic games fills the time until 4 o'clock, when the day's work is over. Every month a new class replaces those who have gone out into the great training camps.
"When the war broke out in August, 1914, the staff of gymnastic instructors, up to the inspector himself, dissolved overnight and rejoined their regiments, and after 10 days this department had no head. The new inspector was confronted by an urgent demand for instructors, with none to send, but he at once re-enlisted men who had gone into civil life (teachers in board and private schools), in fact anyone who had had training, and he reconstructed his staff from these veterans. Soon, however, their numbers were augmented in another way. Familiar faces reappeared (men from the trenches) one with a bullet through his shoulder blade, another with part of his foot gone from shrapnel. They were not fit for active service, but their experience as teachers was invaluable.
"The new armies had tapped every stratum of English society; the ill-disciplined lordling, whose whim was his only law; the stripling just from school and college; lawyers, doctors, merchants, clerks (soft from a sedentary life); ironworkers, navies, laborers (slow of action and speech)—all had to be wielded into a homogenous body, quick and alert of actions, sure of eye and hand and, about all, capable of endurance; able to march and take care of themselves; ready to obliterate themselves before a hostile aeroplane by day or a star-shell at night; able to dig like badgers even after a hard day's march; steady with the rifle; quick, powerful and relentless with the bayonet.
"The shooting and digging are taught elsewhere, but the headquarters gymnasium is the source of all knowledge on those fundamental exercises that train in accuracy, balance, and speed, without which the musketry instructor instructs in vain and the drill sergeant's shouts are futile. It is also the source from which has come the new practical methods of teaching the use of the bayonet. There is no hesitation or sparring for an opening or elaborate parrying; just a short jab, and on the next, the two simple parries taught being not for defence so much as to clear the way for attack, a subtle but important mental difference. This is the gist of the new bayonet fighting.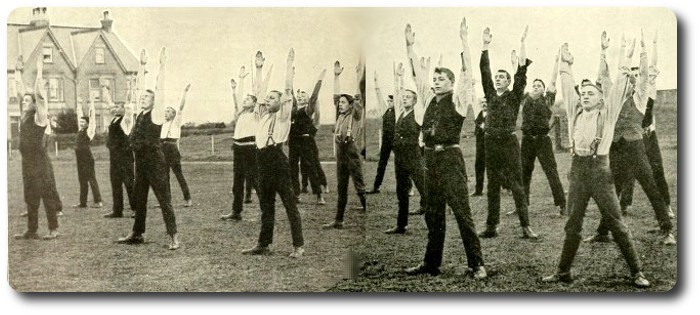 Another Function
"Physical training has, however, another function in the great armies that have already tasted the hardships and casualties of life at the front. The wounded man, treated first at the dressing station, then at the field station, sent back to the base hospital, and finally to a hospital at home, is frequently capable os being returned fit for active service if time and care can only be given to his treatment. From the general hospital all such cases are transferred to the convalescent camp or depot, and many are put under physical training at once, and return to their regiment within six weeks, but in the slower and more grave conditions a cure must be effected in months rather than weeks. It is these men who are sent to the command depots, after a 10 days' furlough, and they once again come under military discipline after their month or two of hospital life. From a standpoint of discipline, this month or two has produced great changes in most of them. Many of these cases of scarred and injured limbs, stiffened joints, and other painful wounds can begin only by the gentlest form of massage, given after the injured limb has been prepared by soothing baths of running water, or by the application of electricity or radiant heat. From this they go on to more active massage, regaining the strength and agility that have apparently left them.
"The injuries from which men suffer so enormously vary in extent and gravity that it is not possible bring all men up to this state, and some, although unfit for active service in the full sense of the word, are still able enough for service on lines of communications, or for garrison duty either at home or abroad, while others are unable to do more than sedentary work at home, or when not even this improvement can be obtained, they may be discharged from the army as unfit for all military service.
"By these means, however, at least half of these men who begin such a course of graduates treatment and exercises can be counted on as becoming effective members of the army once again, and the training which they have undergone, either at the beginning of their career, or after they have borne the burden and heat of the day, produces a lasting effect, and brings them to a higher level of physical efficiency and mental alertness than they could ever have hoped to reach without it."


Posted by regimentalrogue at 12:01 AM EDT