Few Armies Are So Unlike
Topic: European Armies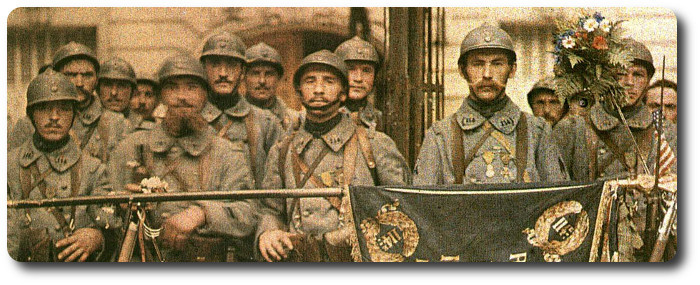 Few Armies Are So Unlike as Those of France and Germany
Soldiers of the Fatherland Form Force of Greater Strength and Strict Discipline—French Somewhat Lax, But Almost as Efficient
The Milwaukee Journal, 18 October 1914
By the Journal's Military Expert
The world war undoubtedly is the most gigantic struggle in history. To understand the situation one must compare the armies. It would be difficult to find two armies more unlike in every detail than those of France and Germany. The German army is a force of great strength and strict discipline. In France the discipline is less strict. Officers and men are closer, but efficiency is almost as great.
The largest military formation in Germany is an army corps, in time of peace about 22,000 men and in war about 45,000 men. Several army corps, generally four, form in time of peace an army inspection and in war time, a field army under a field marshal.
Has 25 Army Corps
The German army has twenty-five army corps. Each army corps has two or three divisions. The commanding general is a general of infantry, cavalry or artillery. A division commanded by a lieutenant general has two or three brigades of infantry, one brigade of cavalry and one brigade of artillery. A brigade is commanded by a major general and has two regiments, each regiment commanded by a colonel.
A regiment of infantry consists of three battalions. In time of war each battalion is 1,000 strong and is commanded by a major. A battalion has four companies, commanded by captains. A company has in war time 250 men and consists of three platoons. Each platoon, under a lieutenant, has in time of war eighty men. A platoon has five sections, each sixteen men under a sergeant. Eight men form a squad under a corporal.
A regiment of cavalry has five squadrons in time of peace, but only four during war. Each squadron is commanded by a captain and has two hundred men. A squadron has four platoons commanded by lieutenants.
A regiment of artillery has two battalions, each having three batteries. A battery has four guns in peace, six in war. A battalion is in charge of a major, each battery commanded by a captain. Two guns are a platoon in charge of a lieutenant. Besides these troops, an army corps has one battalion of sharpshooters, one of engineers, a supply train, rapid fire gun detachment, signal corps, hospital corps, ammunition and special supply detachment, aeroplabe detachment, and automobile corps.
Carry Full Knapsack
What is the field equipment of the German infantry man?
1. In his knapsack each man has: One shirt, one suit or underwear, four pairs of socks, a pair of lace shoes, a clothes and hand brush, a bottle of oil, cord and waste for cleaning his rifle, three little poles for his tent, three tent cords, three poles with iron tops, a prayer book, thirty rounds of ammunition and the "iron portion," consisting of a box of canned meat, three boxes of coffee, a package of canned vegetables, a package of biscuits, and a slt and pepper box.
2. On the knapsack each man carries an overcoat (rolled), a tent folded (used also as a waterproof wrap) and a tin kettle with drinking cup.
3. In the belt a bayonet knife, two cartridge boxes with 90 rounds of ammunition, a small shovel or hatchet, or crow-bar, or scissors to cut wire, a waterproof bag for bread and thirty rounds of ammunition. Each squad has a large waterbag.
4. Inside of the coat, a small package or dressings and bandages, with a description how to use them.
The entire outfit, including helmet and rifle, weighs seventy pounds. The uniform is made out of the best cloth. All material is stamped with the regimental, battalion and company number and has the name of the man inside. Every man has a metal shield for identification.
Service Begins at 20
The liability to serve begins at 17 and ends at 45. Actual service commences as 20. With the active army the term of service is seven years, two in the ranks and five in the reserve, for the infantry, five in the ranks and four in the reserve for the cavalry and horse artillery. The soldier is permanently attached to some corps and during his reserve service is twice summoned for training for eight weeks. From the active service the soldier passes into the landwehr. Landwehr I., five years for the infantry and three for mounted troops. Landwehr II., six to seven years for the infantry, eight and nine for mounted troops. The reserve is the landsturm, a force purely for home defence, in which the men remain until they have reached 45. Landsturm I is composed of all men between 17 and 39, who for any reason have received no military training. Landsturm II is composed of all men between 39 and 45.
The French Field Army
The French field army is composed of twenty army corps. Each army corps has two divisions, each division two brigades, and each brigade seven or eight battalions. Every division has a regiment of artillery of nine batteries of four guns each. The corps artillery directly under the command of the commanding general, includes nine field and three howitzer batteries, to which six reinforcing batteries are added upon mobilization.
Furthermore an army corps in the field includes a cavalry brigade of two regiments, one chasseur (cavalry) battalion, engineers companies, sanitary and service troops, etc.
The cavalry divisions are composed of three brigades of two regiments each, together with three batteries of horse artillery.
Military Service Compulsory
When mobilized the strength of an army corps is 33,000 men. The reserve army has two divisions, corresponding to the active army. Upon mobilization, the thirty-six reserve divisions contain virtually the same organization and strength as the troops of the first line. The territorial army has thirty-six divisions. Military service is compulsory from 20 to 48, the only exemptions being physical disability. After three years in the active army, the soldier passes to the reserve for eleven years, followed by seven years in the territorial army and seven in the territorial reserve. The troops stationed along the German fronteir are kept at a considerably higher strength than the others.

Posted by regimentalrogue at 12:01 AM EDT